Five takeaways from Indiana's win over Louisiana Tech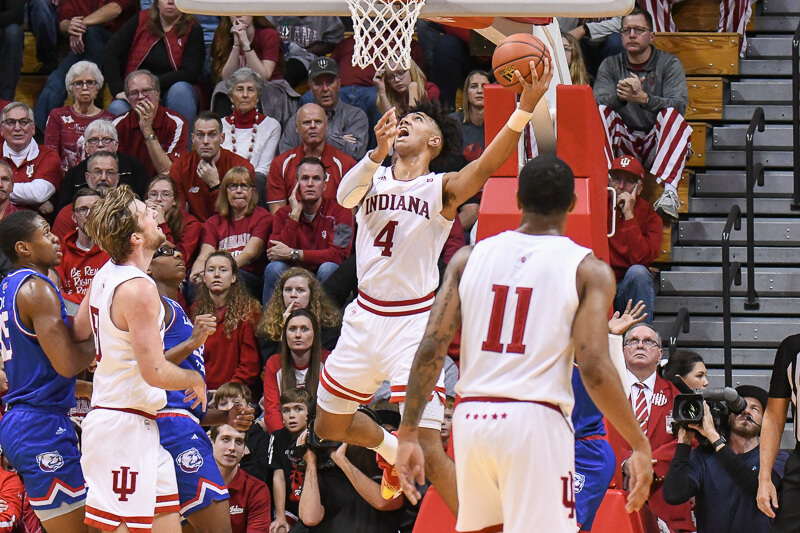 Indiana moved to 6-0 this season with an 88-75 win over Louisiana Tech on Monday night at Simon Skjodt Assembly Hall, a game which featured a strong opening half from the Hoosiers before turnovers and sloppy defense marred the second half.
Here are five takeaways from the win over the Bulldogs:
· Trayce Jackson-Davis remains go-to offensive presence: For the third time this season, Trayce Jackson-Davis recorded a double-double.
The freshman forward's stat line of 21 points and 11 rebounds, both team-highs, reflected the reliance Indiana had on its prized five-star recruit Monday night. Jackson-Davis scored 17 points in the second half, making nine free throws after intermission as the Hoosiers attacked the rim with the Bulldogs increasingly in foul trouble.
The ability of Jackson-Davis to draw contact around the rim, while having the athleticism and skill to not turn the ball over, was a big reason why Indiana kept Louisiana Tech at bay, despite a second half in which Indiana made just eight field goals.
"We've got trust in our post players," junior guard Al Durham said. "That's what they showed you guys when they (Louisiana Tech) were playing zone. They made great decisions, either scored or made a great pass out."
Indeed, with a number of Louisiana Tech players in foul trouble in the second half, the Bulldogs switched up their defense on the Hoosiers. The visitors used a 2-3 zone for a bit, and also made a habit of double-teaming Joey Brunk, De'Ron Davis and Jackson-Davis in the post, with the freshman faring the best of the group when it came to either successfully drawing a foul, passing out or scoring from that position.
"This week in practice, Coach Miller made a big emphasis on doubling every time we caught the ball," Jackson-Davis said. "So, just reverse pivoting and throwing it out of the post is a big thing especially when you have guards open for shots."
Indiana's struggle to create offensively in the second half meant the Hoosiers had to manufacture points through Jackson-Davis, a trend that has continued in the first six games.
· Indiana's free-throw shooting continues to be stellar: Relying on Jackson-Davis to draw fouls, get Indiana in the bonus and as a result visit the free-throw line means little if the Hoosiers can't convert from the charity stripe. But unlike last season, Indiana is making its free throws consistently, with Jackson-Davis leading the way.
For the season Indiana has made 139 of its 185 free throw attempts, good for a 75.1 percent rate, and the Hoosiers lead the nation in free throw rate (FTA/FGA).
Indiana has made more free throws than its opponents have attempted so far in the 2019-20 season.
Part of this comes from the nature of Indiana's schedule so far (the 10th easiest in the country) and the fact Indiana has played six straight opponents outmatched in size and skill, particularly in the frontcourt.
But the frequency with which Indiana has gotten to the foul line indicates Archie Miller's team is executing well with regard to his desired 'inside-out' playing style. They're also following up that philosophy by converting at the line.
There are seven Indiana players who have attempted at least 11 free throws and who are converting those free throws more than 70 percent of the time, led by Durham's 19-21 showing from the foul line.
"We're not going to win game after game after game by shooting 3s," Archie Miller said postgame. "We're going to win games by not turning it over. We're going to win games by drawing fouls, and we're going to win games by rebounding, period."
· 'Jekyll and Hyde' Devonte Green makes appearance: Part of that statement by Miller can also apply to Devonte Green, who matched his season-high with 16 points against Louisiana Tech.
Unlike his performance against Troy, Monday marked a much more polarizing display from the senior guard.
His first half showing was Green at his best: Dynamic playmaking came with dynamic shotmaking. Green scored 15 first-half points, making six of his eight shots including a trio of 3-pointers. He committed just one turnover in 14 minutes, showing a willingness to make the extra pass to facilitate ball movement and no hesitation when shooting from deep, helping stretch a Louisiana Tech defense that came to Bloomington with a plan to pack the paint.
But the second half was the polar opposite.
As Indiana's offense stalled, Green was at the center of sputtering sets. He missed all three of his shots, and committed three turnovers (a second-half stat matched by Durham) in just 12 minutes.
"What we can take from Devonte is obviously it can't be when the good is good and the bad is bad," Miller said. "Devonte has to stay even keel and grab the reins of the team."
· Indiana's backcourt falters with ball security: With Rob Phinisee out of Monday's game due to a buildup of injuries (Miller listed Phinisee's rib, abdominal and head as parts of his body in pain), it was crucial for Durham, Green and freshman guard Armaan Franklin to push the pace in transition and command Indiana's offense against an experienced Bulldog team.
This went to plan for the majority of the first half, before it slowly disappeared as halftime approached and then completely deserted the Hoosiers in the second half.
Indiana committed 18 turnovers in the game (Miller has said the team's goal is 12 or fewer for a game) and 12 turnovers in the second half alone.
Durham (5 turnovers in the game), Green (4) and Franklin (2) contributed significantly to the team's ball security issues.
"Second half, embarrassing really how we took care of the ball," Miller said.
What particularly bothered Miller was the fashion in which Indiana's turnovers took place. He referenced second half possessions which featured a lot of individual dribbling for the Hoosiers and a lack of movement and passing, two things Miller has repeatedly referenced as objectives for the Hoosier offense.
"We weren't able to really play the game the right way in terms of how we moved it, shared it, free-flowing," Miller said. "It just became a dribble-fest, a turnover-fest and there weren't a whole lot of people in my opinion in sync. It was really hard to play the second half based on that."
· Separation of Powers: Miller pointed to this lack of offensive cohesiveness as a reason for Indiana's defensive struggles.
In the first half, Louisiana Tech made 14 of 27 shots, including six 3-pointers. Those numbers actually dropped in the second half to 14-30 and four of 11 from behind-the-arc, but the defensive lapses began over the final eight minutes of the first half, as a 23-point Indiana lead shrank to 16 at the half, then was reduced to nine points with a minute to go.
Time for Indiana to fix its defensive issues is fast running out.
Saturday's home game against South Dakota State (5-3, KenPom No. 194) marks the final home nonconference game against what should be an overmatched opponent.
"You're seeing very few long possessions by the other team," Miller said. You're seeing quick shots in transition. You're seeing fouls. You're seeing drives that relate to 3s. The way that we play, our team has to be a team that makes the other team work on offense to get a shot."
Filed to: Aljami Durham, Devonte Green, Louisiana Tech Bulldogs, Trayce Jackson-Davis