'I feel good': Devonte Green returns in win over Troy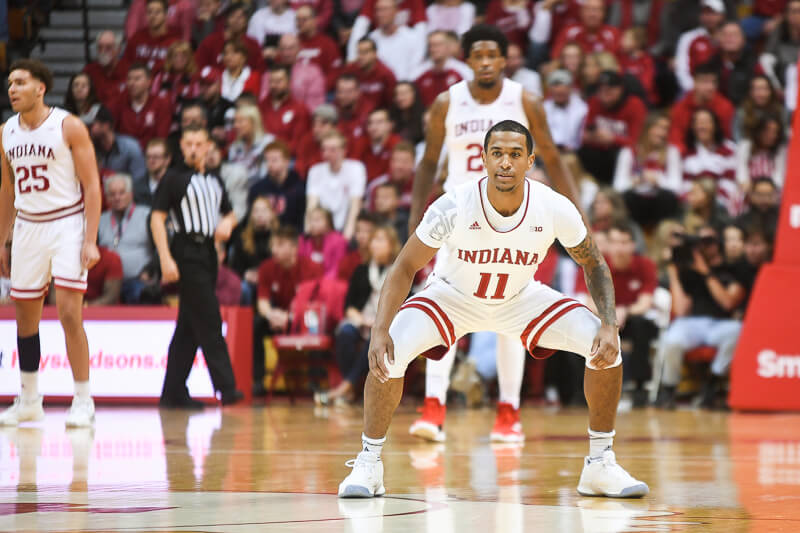 Two hard knocks from head coach Archie Miller on Indiana's postgame press conference table signaled hope that his backcourt will be healthy soon for the first time this season.
The first three games Devonte Green was out with a hamstring injury. Saturday night against Troy, Rob Phinisee had strep throat and was held out.
But the pieces are getting closer. Phinisee's sickness will pass, and for the first time this season, Green took the floor for the Hoosiers en route to a 100-62 victory.
Green hasn't practiced much over the last month with the hamstring injury and Miller said he only practiced a few days leading into Saturday's game. When he wasn't practicing, Green was walking or jogging on a treadmill, as well as riding a stationary bike to keep in shape.
When Indiana basketball tweeted out its gameday tweet last Tuesday before North Alabama, Green quote tweeted it, implying he was "itching" to get back on the court. So, when he took the floor pregame in his candy-striped pants and red buttoned shirt with the white script "Indiana" emblazoned on the back instead of a jacket and sweats pants, Green warmed up with an extra pep in his step.
"I mean, feels good to be back," Green said.
He didn't quite have the touch when it came to shooting the ball, going 2-of-8 in the game for a total of six points, but it didn't look like Green was laboring in any way.
Miller wanted to play Green 15-20 minutes, and he played 20 minutes, dishing out four assists and only having one turnover.
"I think athletically he's back, but he's got to shake some rust off and get his feet under him," Miller said. "He'll be fine. He plays an important role. I think when he was in there obviously forced one turnover. Took some shots that he'll make down the line."
Green provides a whole other dynamic for Indiana when he's on the floor. He's one of the team's best ball handlers, best scorers and best passers, especially when it comes to post-entries. Green is also another quick and sound defender to guard the perimeter, which is where Indiana has struggled as of late.
The Hoosiers did much better against Troy defending the 3-point line, holding the Trojans to just 5-25 (20 percent) from beyond the arc.
Although Green's performance didn't stand out on Saturday, the offense seemed to flow better when he was on the floor. His head was always up on the fastbreak, and he showed confidence orchestrating the offense for his first game back.
Green isn't a man of many words, so postgame when he was asked how it felt to be back, he simply said, "I feel good."
Whereas his teammate Justin Smith, who finished with a team-high 22 points, gave a more eloquent answer about what Green brings to the court.
"Oh, it's a big, big help. It's another shooter, another spacer, another ball handler," Smith said. "Also, defensively he makes things happen and offensively. We're glad to have him back. We're looking forward to him getting back into a rhythm."
Filed to: Devonte Green, Troy Trojans