Five takeaways from Indiana's win over Princeton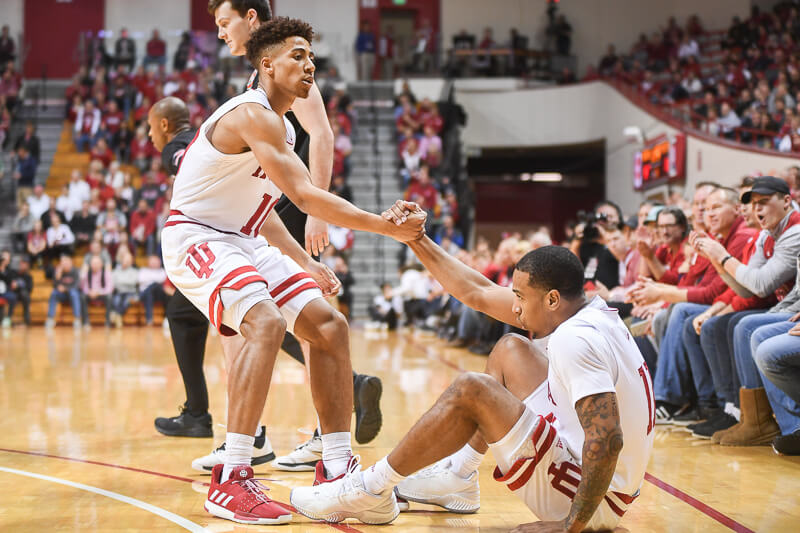 Indiana moved to 5-0 this season with a comfortable 79-54 win over Princeton on Wednesday night at Simon Skjodt Assembly Hall.
Here's a look at five takeaways from the win over the Tigers:
· Devonte the playmaker: In only his second game of the season, Devonte Green made his mark Wednesday night.
The senior guard played an ultra-effective 26 minutes in Indiana's fifth win, finishing with 16 points and four assists. Green should have finished with six or seven assists, but some of his sharp passes simply weren't finished by his teammates.
"He's only played two games with these guys," Archie Miller said. "He was better tonight. He was very impactful in tonight's game. I don't take a whole lot into the plus/minus, but when you're plus-29 in your minutes in the game, that's pretty good."
With Green back in the rotation, Indiana had its full assortment of guards available for the first time all season in the 79-54 win. Given that the schedule is going to stiffen significantly in the coming weeks, it appears the Hoosiers are getting healthy at the right time.
· Improved decision making a theme: Through five games, Indiana is showing improvement with its decision making and careless turnovers.
The Hoosiers committed just nine turnovers against Princeton and have finished with 12 or fewer turnovers in four of their five games. The mark of 12 or fewer turnovers has often been cited by Miller as a per game goal for Indiana.
"I look at our guard play," Miller explained. "When I see turnovers I look right to the guard play, and I thought tonight — Al 6 to 0, that's awesome. Devonte in two games now, 8 to 2. That's great. Armaan was 2 to 0 tonight. And Rob got in there with two more assists tonight."
Indiana's turnover percentage of 15.4 through five games is 30th in the country, according to Ken Pomeroy's numbers.
· Brunk shines in the post: After failing to reach double figures in scoring over Indiana's previous three games, redshirt junior Joey Brunk delivered his best offensive performance so far this season on Wednesday.
Brunk's 16 points tied Green for a team-high and he was 7-for-11 from the field and 2-for-2 from the free throw line.
He also had a team-high eight rebounds and did a good job limiting Princeton's Richmond Aririguzoh, who came into the game averaging 17.3 points. Aririguzoh finished with just four points in 24 minutes.
"He's a problem down low," Green said of Brunk. "He has such a presence and when we get them to force a double team or just focus so much on that, it opens up the floor."
· Free throw woes haven't carried over from secret scrimmage: Indiana's poor free throw shooting (24-for-43) in its narrow closed scrimmage loss against Marquette was a cause for concern.
The Hoosiers were a poor free throw shooting team a season ago (65.5 percent) and it looked like those woes would carry over to the 2019-20 campaign.
But through five games, Indiana is proving to be much improved from the line.
The Hoosiers are shooting a stellar 75.5 percent from the stripe, which ranks 57th nationally. Given Miller's emphasis on attacking off the dribble with the goal of getting looks in the paint or drawing fouls, it will be important for Indiana to keep converting at such an efficient rate.
· Defense locks in after halftime: Indiana led by just four – 35-31 – at halftime, but its defense picked up in a major way in the second half.
Princeton scored just 23 second half points on 32 possessions (.718 PPP) and finished the game with just .83 points per trip, which was Indiana's second best defensive performance of the season.
"We have an inexperienced team," Miller said. "So you try it out to start the game, see how things go here. Could go a lot of different ways. And second half, let's calm down, let's make a few adjustments and I think we'll be fine."
Filed to: Devonte Green, Joey Brunk, Princeton Tigers