The Minute After: South Dakota State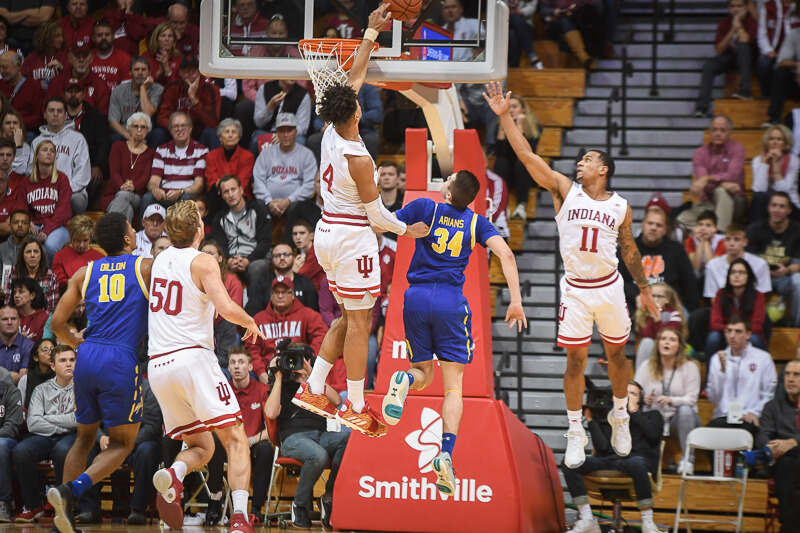 Thoughts on a 64-50 win against the Jackrabbits:
Call it a Thanksgiving hangover, perhaps, but today's game against South Dakota State was Indiana's worst effort of the season.
The Jackrabbits packed it in against the Hoosiers on defense, taking away Indiana's preference to establish the inside. So several of Indiana's offensive possessions this afternoon reminded you of last season, as the Hoosiers jacked up long 2s and 3-pointers outside the flow of the offense. Too many possessions ended in the Hoosiers settling for outside shots, playing into what the Jackrabbits appeared to want them to do. And after all the second half turnovers against Louisiana Tech led to the highest turnover percentage of the season for the Hoosiers (21.8) earlier in the week, they were worse today. Indiana turned it over on a whopping 27 percent of its possessions, a new season-high. Bad passes were the majority of the turnover issues against Louisiana Tech. While there were certainly some of those today, it was more a general lack of sharpness that doomed the Hoosiers.
This all led to some dismal offensive numbers. Along with the aforementioned turnover woes, Indiana failed to score over a point per possession (.92) for the first time all season. Because Indiana didn't get as much going in transition or down low, its free throw rate of 31 percent was essentially a tie for a season-low (30.9 percent against Princeton). And when the Hoosiers got to the line, it was rough. De'Ron Davis missed a pair in the first half. Overall, Indiana made just 50 percent (9-of-18) for the contest. Its 64 points were a season low.
While Indiana's offense sputtered out today, its defense helped make sure the Jackrabbits wouldn't pull off the upset. While Indiana certainly had some lulls — the pack line gave up its share of good 3-point looks for South Dakota State and the on-ball defense wasn't always there — it ended the contest with its best defensive mark from a points per possession perspective (.72). Couple IU's defense with strong offensive outputs from Trayce Jackson-Davis (19 points), Justin Smith (18 points) and Devonte Green (11 points) — the trio accounted for 75 percent of IU's points — and it was enough to keep the Jackrabbits at distance for a double-digit victory.
While this wasn't a great effort from the Hoosiers today, they still deserve credit for getting through this November slate unscathed at 7-0. As we've seen so far this college basketball season with home losses for Kentucky and Duke against inferior non-conference foes, no wins can be taken for granted. Indiana took care of business all month. It's clear this team has more balance and options on offense. The pieces seem to fit better. When the Hoosiers have it going, they're tough to stop. Jackson-Davis has been terrific. With Davis looking a little hobbled, Joey Brunk is filling the starting role at center and showing he can do a bit of everything. Devonte Green has been able to reintegrate himself after a hamstring injury and continues to show he can score in bunches.
Overall, Indiana's defense needs to get better, especially with this November slate of easier games done. And Indiana's recent turnover woes might get better whenever Rob Phinisee comes back. The sophomore being in and out of the lineup this month is going to have him behind the eight ball whenever he returns.
All and all, it's been an encouraging November for the Hoosiers. We'll soon see what December brings with Tuesday's matchup against Florida State.
Filed to: South Dakota State Jackrabbits