6-Banner Sunday: IU continues perfect start, Miller addresses 2020 class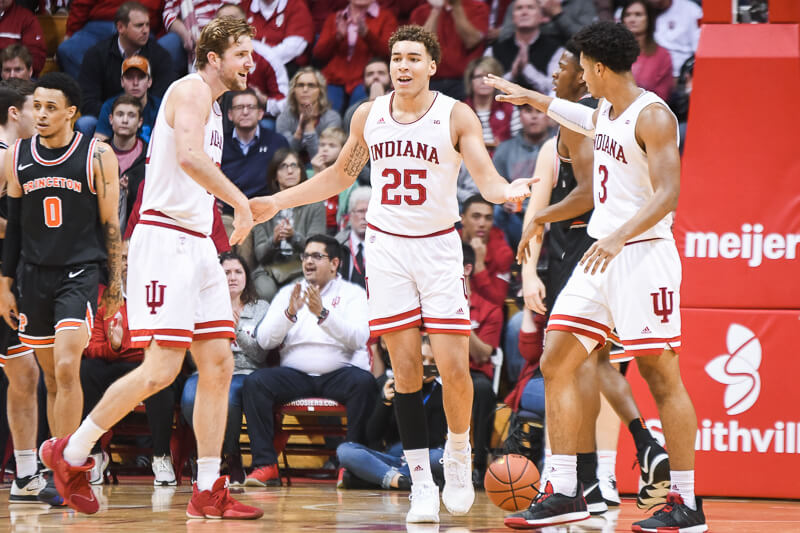 6-Banner Sunday is Inside the Hall's weekly newsletter in partnership with The Assembly Call. More than 6,500 Indiana fans receive the newsletter each week. In addition to appearing each week on the site, you can also opt to receive 6-Banner Sunday by email. A form to subscribe via email is available at the bottom of this week's 6-Banner Sunday.
Welcome to another edition of 6-Banner Sunday, a joint production between The Assembly Call and Inside the Hall where we highlight the five most essential IU basketball stories of the past week, plus take a look at how the other IU sports programs are doing.
As the college basketball season progresses and teams from around the country fall from the ranks of the unbeaten, Indiana remains one of the handful still left unscathed.
Archie Miller's 5-0 ballclub added a win over Princeton this past week to improve to 5-0 on the season, the team's best start record-wise since the 2013-14 season.
Devonte Green's role continued to increase as he returns from a hamstring injury, and we're closer to seeing what a full-strength IU backcourt looks like as a much-tougher schedule looms.
Miller also used his Monday radio show last week to speak publicly for the first time about IU's three recruits for the Class of 2020, showing an eye toward the future as his third season in charge begins.
In this week's edition:
• Indiana gets off to best start since 2013-14 season
• Miller comments on Class of 2020 recruits
• What has Indiana done from three-point range on both sides of the ball?
• Calbert Cheaney to enter National Collegiate Basketball Hall of Fame
• Juwan Morgan signs with Utah Jazz
• Hoosier Sports Roundup
Banner #1
Indiana gets off to best start since 2013-14 season
Wednesday night's 79-54 win over Princeton showed adaptation from Indiana against an unorthodox defense.
While past teams like Portland State pressed Indiana, Princeton double-teamed IU's big men (not including De'Ron Davis who didn't play) in the post, forcing players like Trayce Jackson-Davis and Joey Brunk to display their decision-making skills.
The result was Brunk's best game as a Hoosier, as he tied for the team-high in points with 16 while also bringing down eight rebounds. It was indicative of the inside-out style Miller has favored with this Indiana team, and the latest sign the Hoosiers are following the gameplan on the court.
"I thought in our previous games he's tried to play the right way.. But in many ways we need Joe to be selfish down there. He can score the ball with either hand," Miller said of the transfer big man from Butler.
Granted, Indiana hasn't played the best opposition to start the season. And on this week's edition of Assembly Call Radio, Jerod, Andy, and Coach discussed how to view Indiana's offensive and defensive showings through five games within the context of the teams they've played.
Banner #2
Miller comments on Class of 2020 recruits
During his weekly radio show Monday night, Archie Miller offered insight into how he views Indiana's Class of 2020 recruits.
With Anthony Leal, Trey Galloway, and Jordan Geronimo all having signed their National Letters of Intent, Miller was able to tell Don Fischer and those listening at home about how he views each player.
Inside The Hall's Dylan Wallace explored what Miller said about each player, and how they might fit in with what the Hoosiers look like next season.
These comments carry even more weight in the wake of Wednesday's decision by coveted Class of 2020 forward Dawson Garcia, who chose to attend Marquette instead of Indiana.
"We're always on a quest to add some pieces to what we're doing long term," Miller said. "But those three guys in particular, we're very excited about."
On this week's edition of Podcast on the Brink, Kyle Neddenriep of The Indianapolis Star went in-depth about Leal and Galloway, while also taking a complete look at Indiana's recent (and hopefully future) in-state recruiting prowess.
Banner #3
What has Indiana done from 3-point range on both sides of the ball?
Five games into the season we now have a better idea of what the Hoosiers will look like from behind the three-point arc on both offense and defense.
Archie Miller said the introduction of a new three-point line this season (more than a foot further back than it was last season) wouldn't affect three-point shooting too much, even if some of his Big Ten colleagues disagreed.
But now we have the numbers to look at how Miller's team is different in this regard compared to the 2018-19 season.
I crunched the numbers to find the Hoosiers are attempting almost four fewer three-point shots per game on average this season compared to last. The depth of Indiana's frontcourt, along with early-season matchups against undersized opponents, have played a part in this.
A note of concern though comes with Indiana's three-point defense. Opponents are launching more than 21 three-pointers per game against Indiana, something that is fine for overmatched nonconference foes, but likely won't lead to success against the Big Ten's best.
Banner #4
Calbert Cheaney to enter National Collegiate Basketball Hall of Fame
Sunday marks a banner moment in the career of Hoosier legend Calbert Cheaney.
Cheaney, who made an appearance at Hoosier Hysteria earlier this year, will be enshrined Sunday into the National Collegiate Basketball Hall of Fame during an induction ceremony in Kansas City.
The Big Ten's all-time leading scorer is part of a nine-member class this year which also includes Duke's Shane Battier and Purdue's Terry Dischinger.
Cheaney went to Evansville Harrison High School before starring for the Hoosiers and embarking on a 13-year NBA career, during which he averaged 9.5 points per game.
Of course, Cheaney is best known for his key role on Bob Knight's early-90's Indiana teams, and leading the Hoosiers to the 1992 Final Four.
Banner #5
Juwan Morgan signs with Utah Jazz
A second player from last season's Indiana roster has now joined lottery pick Romeo Langford in the NBA.
On Thursday, Juwan Morgan inked a deal with the Utah Jazz after several stellar weeks playing for the team's G-League affiliate, the Salt Lake City Stars.
The multi-year deal promotes Morgan from the Stars to the Jazz after the forward was not selected during the 2019 NBA Draft and signed an Exhibit 10 contract to first latch on with the team.
While with the Stars, Morgan averaged 15.6 points and 8 rebounds per game in five games, while shooting 71.8 percent from the field and an impressive 42.9 percent from three-point range.
Statistically, Morgan remains one of the all-time Hoosier greats.
He is top-25 in program history in the following categories: Points (24th), field goal percentage (5th), rebounds (10th), and blocks (8th).
Banner #6
Hoosier Sports Roundup
This content was contributed by Aaron Shifron
Football returned to action against Michigan, while Men's Soccer pulled off yet another Big Ten Title and Women's Basketball continued their undefeated start to the season.
• Football faltered against Michigan, losing 39-14, despite taking a 14-7 lead early in the game. Next week's Old Oaken Bucket game will kick off at 12pm on ESPN2. Also, Head Coach Tom Allen was named a semifinalist for the George Munger Coach of the Year Award and two Hoosiers earned invites to the East-West Shrine Bowl.
• Men's Soccer won the Big Ten Tournament over Michigan to go along with their regular season title. They will be a five seed in NCAA Tournament where they will take on Kentucky. Away from the pitch Indiana got two players on the Top Draw Soccer Weekly Team.
• Women's Basketball dominated Jackson State and Florida. They move up to no. 18 in the AP Poll and entered the Coaches Poll for first time this season.
• Volleyball fell to Ohio State and Penn State.
• Cross Country earned a bid to the National Championship. Here the Men finished 13th and the Women 19th. Also, Head Coach Ron Helmer was inducted into the Georgetown Hall of Fame and the team signed a seven man recruiting class.
• Wrestling's Jason Covaciu finished runner up at the Black Knight Invite while the whole team lost to North Dakota State. Also Brock Hudkins was named a Scholar Athlete of the month.
• Women's Golf had Mary Parsons Canadian 2020 National Amateur Squad.
Softball released their schedule for next spring.
• Water Polo signed their recruiting class.
• Men's Tennis also announced their recruits for next year.
• Several IU Athletes participated in Dance Marathon.
Thanks for your continued support for The Assembly Call. We'll be back next weekend with a new roundup.
Now go enjoy yourself a 6-banner Sunday.
Filed to: