6-Banner Sunday: Dawson Garcia announces final seven, Big Ten previews begin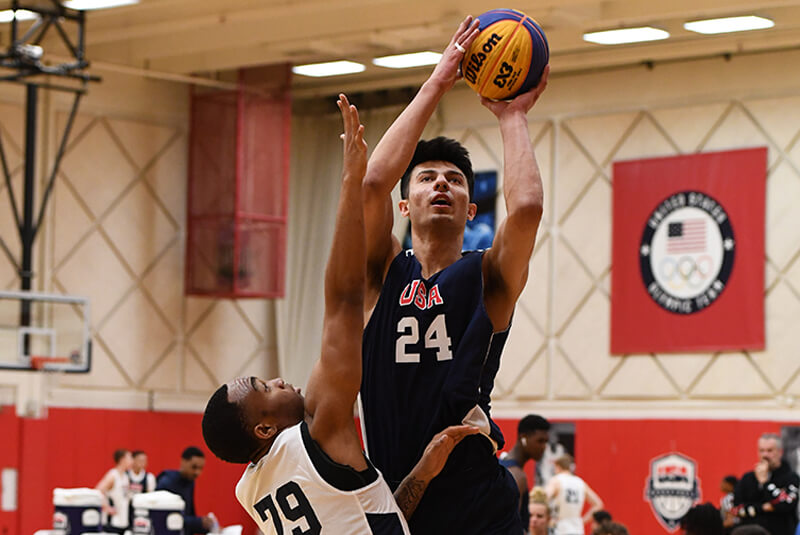 6-Banner Sunday is Inside the Hall's weekly newsletter in partnership with The Assembly Call. More than 6,500 Indiana fans receive the newsletter each week. In addition to appearing each week on the site, you can also opt to receive 6-Banner Sunday by email. A form to subscribe via email is available at the bottom of this week's 6-Banner Sunday.
Welcome to another edition of 6-Banner Sunday, a joint production between The Assembly Call and Inside the Hall where we highlight the five most essential IU basketball stories of the past week, plus take a look at how the other IU sports programs are doing..
It was a scarce week in Indiana basketball news, but it's the calm before the storm as IU media day is scheduled for Sept. 24/25, Big Ten media day is Oct. 2, and Hoosier Hysteria is Oct. 5.
Despite the lack of team news, plenty of content surfaced from potential future Hoosiers, former Hoosiers, and opponents within the conference.
In this week's edition:
• Dawson Garcia selects Indiana in final seven
• Inside the Hall's season previews
• Archie Miller joins Big Ten tailgate
• Eric Anderson inducted into 2019 Hall of Fame
• Don Fischer given IU Bicentennial award
• Hoosier Sports Roundup
Banner #1
Dawson Garcia selects Indiana in final seven
On Tuesday, four-star power forward Dawson Garcia took to Twitter to announce his final seven schools, and Indiana made the cut. Indiana joins North Carolina, Kansas, Missouri, Auburn, Marquette and Minnesota to make up Garcia's options.
As a junior at Prior Lake, Garcia averaged 27.5 points and 11 rebounds per game. If Garcia chooses Indiana, he will take the final projected open scholarship for 2020 and join Anthony Leal, Trey Galloway and Jordan Geronimo in what is currently ranked as the sixth-best 2020 recruiting class in the nation per 247Sports.
The 6'11, 225-pound forward is ranked as the 29th best prospect in the class of 2020 in the 247 composite ranking. There is no official date set for Garcia to make his final decision.
Banner #2
Inside the Hall's season previews
Inside the Hall's Alex Bozich, Ryan Corazza and student interns Dylan Wallace and Cameron Drummond began previewing every Big Ten team for the 2019-20 season.
This week's slate of previews featured Rutgers, Northwestern, Minnesota, Nebraska and Iowa. Inside each piece contains detailed information regarding how the team fared last season, a breakdown of its roster, and realistic expectations for this season.
Although Purdue's season preview isn't scheduled for later next week, Bozich and Assembly Call's Jerod Morris were joined by Dustin Dopirak of The Athletic to preview the Boilermakers in this week's edition of Podcast on the Brink.
The trio discuss the positive and negative differences from this year's Purdue team compared to last year's. They also indulge in an interesting topic about the differences between Purdue's and Indiana's programs. Toward the end, they turn their focus to Indiana's expectations for the season, and specifically focus on the potential impact of Butler transfer Joey Brunk.
The focus on Indiana continued for this week's edition of Assembly Call Radio, where Morris, along with Andy Bottoms and Ryan Phillips, took a deep dive in discussing how good Indiana's defense can be this season.
Banner #3
Archie Miller joins Big Ten tailgate
Ahead of Indiana football's game against UConn, Big Ten Network's Michelle McMahon was joined by Archie Miller at the BTN Tailgate to discuss Hoosier Hysteria, former Indiana greats, and what to look forward to in the upcoming season.
Miller said Hoosier Hysteria is a "great kick off" to the team's season and that the fans will create a great environment for the players.
The third-year head coach then talked about Eric Anderson, who was inducted into the IU Athletics Hall of Fame Friday night, and Calbert Cheaney, who will be honored at Hoosier Hysteria. Miller said Anderson was a great friend of his when he first got to Indiana and that it was nice to honor him. As for Cheaney, Miller said he is one of the Big Ten's greatest players and to have him at Hoosier Hysteria in front of the fans again will be great.
Lastly, Miller talked about the upcoming season. He said, "We have a lot of guys back that played significant minutes. We have some new additions that I think are really going to help us. We have a deep team, so, knock on wood, hopefully we stay healthy like everybody wants to. I think we have a group that's really committed. They like one another, and here in the early part of the season there's an excitement from our office because we have a really good group of kids."
Banner #4
Eric Anderson inducted into 2019 Hall of Fame
The late Eric Anderson was among six individuals Friday night to be inducted into the 2019 Indiana University Athletics Hall of Fame. Anderson, along with Kay Burrus (field hockey and women's basketball), Chris Gartner (football), Jeff Overton (men's golf), Rose Richmond (track and field), and Donnie Thomas (football) make up the 38th IU Hall of Fame class, which was established in 1982 and now has 237 inductees.
Anderson is one of the most prolific players in IU basketball history. He ranks 11th in scoring in program history with 1,715 points, eighth in rebounding with 825, and eighth in blocked shots with 136. He is one of only four players in program history to score more than 1,700 points and pull down at least 800 rebounds. He played at IU from 1989-92, where the team won two Big Ten titles and went to the Final Four in 1992.
Anderson passed away in December last year at the age of 48. He, and the rest of the 2019 inductees, were also honored at halftime of the football game Saturday.
Banner #5
Don Fischer given IU Bicentennial award
At the Hall of Fame dinner Friday night, Indiana Athletic Director Fred Glass presented Don Fischer with the IU Bicentennial medal.
Fischer came to Indiana in 1973, and since then has become the voice of Indiana football and basketball for nearly five decades, calling play-by-play for three of Indiana's five NCAA Championships.
According to IU Athletics, the IU Bicentennial medal is awarded to organizations and individuals who, through their personal, professional, artistic, or philanthropic efforts, have broadened the reach of Indiana University around the state, nation, and world.
"As we recognize and chronicle the history of Indiana University during our Bicentennial year, no one has narrated IU Athletics' history like Don has," Glass said in an IU athletics press release. "He is an icon in his profession, is beloved by multiple generations of Hoosier fans, and is a very deserving recipient of this prestigious honor."
Fischer has awards to show for it in addition to this medal, as he has been honored as the National Sports Media Association's Indiana Sportscaster of the Year 26 separate times throughout his career.
Banner #6
Hoosier Sports Roundup
This content was contributed by Aaron Shifron (twitter @ashifron).
All the major fall sports continued to chug along this week with the most events yet. Assembly Call will continue to have coverage of IU's Olympic sports this fall in the Assembly Call Community for those with a subscription under the 'Men's Soccer' and "Other Sports" topics.
• Football did as expected and trounced UCONN, 38-3. Unfortunately, the game was marred by a serious injury to top offensive lineman Coy Cronk.
• Men's Soccer is still undefeated at 4-0-2 following a tie with Notre Dame and a victory over Wisconsin to open Big Ten play.
• Women's soccer beat rival Kentucky before falling to Iowa in their Big Ten opener.
• Volleyball beat Florida Gulf Coast and Cleveland State before picking up their signature win of the season so far upsetting no. 15 Kentucky in Lexington. This was followed up with two more wins over Samford and Florida Gulf Coat to improve to 10-2 on the year.
• Field Hockey beat St. Louis and No. 23 Michigan State but fell to Fairfield this week.
• Women's Golf saw three players compete as individuals at the Cardinal Classic. Also former golfer Shannon Johnson advanced to the round of 16 at the US Women's Mid-Amateur.
• Men's Golf finished 9th at the Windon Memorial to open their season.
• Cross Country competed at the Commodore Classic. Also Bailey Hertenstein earned the programs first ever USTFCCCA award following her win in the event. Hertenstein also received Big Ten athlete of the week along with Kyle Mau on the Men's side.
Thanks for your continued support for The Assembly Call. We'll be back next weekend with a new roundup.
Now go enjoy yourself a 6-banner Sunday.
Filed to: