6-Banner Sunday: Archie Miller's priorities are clear as new recruiting period opens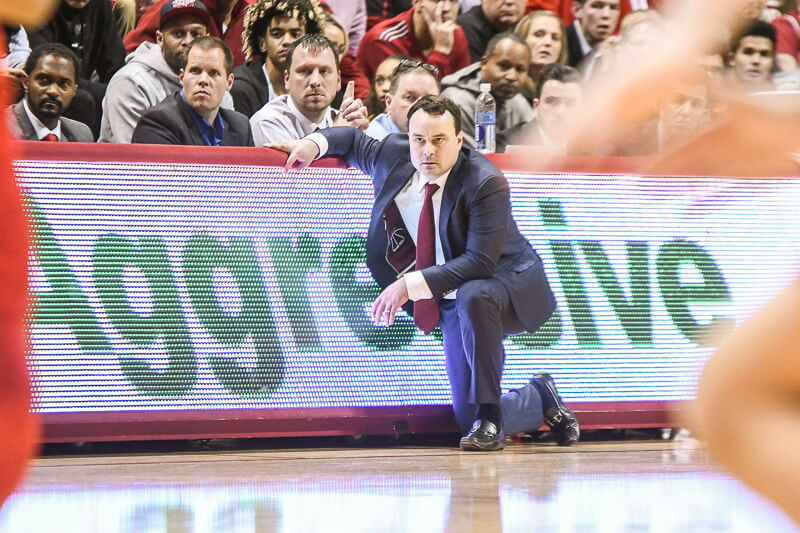 6-Banner Sunday is Inside the Hall's weekly newsletter in partnership with The Assembly Call. More than 6,500 Indiana fans receive the newsletter each week. In addition to appearing each week on the site, you can also opt to receive 6-Banner Sunday by email. A form to subscribe via email is available at the bottom of this week's 6-Banner Sunday.
Welcome to another edition of 6-Banner Sunday, a joint production between The Assembly Call and Inside the Hall where we highlight where we highlight the five most essential IU basketball stories of the past week plus take a look at how the other IU sports teams are doing.
The week in Indiana basketball news lacked the fireworks of last week's commitment from class of 2020 wing Jordan Geronimo, and instead focused more on future projections for the Hoosiers.
Archie Miller and his staff were out in full force on the recruiting trail, locking down official visits for potential future Hoosiers, including Class of 2021 point guard Khristian Lander. Elsewhere, another preseason projection came out for the upcoming Big Ten season, along with a top 25 listing of the conference's best players.
In this week's edition:
• Archie Miller hits recruiting trail
• Preseason Big Ten hoops predictions
• Assembly Call Radio discusses Indiana's preseason projections
• State of the Indiana basketball program
• Indiana news and notes
• Hoosier Sports Roundup
Banner #1
Archie Miller hits recruiting trail
With off-campus contact now allowed between college basketball coaches and recruits during the fall recruiting period, this week saw Miller and his staff spread out across the midwest to evaluate priority recruits.
The most important result of this was Khristian Lander, from Evansville's Francis Joseph Reitz High School, electing to take an official visit to Indiana. Lander's official visit is scheduled for Hoosier Hysteria on Oct. 5, which is also when Class of 2020 commits Trey Galloway and Anthony Leal will be making official visits.
Additionally, Indiana also watched Class of 2020 center Dawson Garcia of Prior Lake (MN) and Class of 2020 point guard Hassan Diarra of Putnam Science Academy (CT). All this is to say Miller and other Indiana coaches have moved quickly to identify the players they prioritize for the coming recruiting cycles.
Banner #2
Preseason Big Ten hoops predictions
With the Big Ten schedule and tip-off times now revealed for the 2019-20 season, projections for how the conference standings will shake out have been in full swing for some time now.
Another college basketball preview magazine – Street and Smith's college basketball preview – came out this week and projects Indiana to finish 11th in the conference. Street and Smith has the Hoosiers ahead of only Rutgers, Nebraska, and Northwestern, with Michigan State winning the conference.
This follows in the footsteps of modest expectations from other preview magazines, with Athlon Sports projecting a 9th place finish and Lindy's Sports projecting a 10th place finish for the Hoosiers.
Additionally, there wasn't much love for Indiana players in the preseason listing of the Big Ten's top 25 players compiled by UMHoops and Inside the Hall. The lone Hoosier included in the top 25 was incoming freshman forward Trayce Jackson-Davis, who checked in at No. 24. The list was loaded with Michigan State players with senior guard Cassius Winston claiming the top spot.
Banner #3
Assembly Call Radio discusses Indiana's preseason projections
This top 25 list, and debate surrounding the number of Indiana players included in it, was one of the talking points discussed on this week's episode of Assembly Call Radio. They also dove into the modest preseason projections for IU and what the media is getting wrong … and right … in their pessimistic views of the Hoosiers. Host Jerod Morris was joined by Brian Tonsoni and new Inside the Hall and Assembly Call student intern Dylan Wallace for the episode.
Elsewhere, this week's edition of Podcast on the Brink from Inside the Hall featured Morris interviewing Joe Hillman, a member of Indiana's last national title-winning team in 1987. Hillman discusses playing for Bob Knight, the 1986 "Season on the Brink" team, as well as plenty of anecdotes from Indiana's championship campaign.
Banner #4
State of the Indiana basketball program
The Athletic's Dustin Dopirak dropped two in-depth stories this week on the Indiana program, one focusing on new assistant coach Mike Roberts and one as part of The Athletic's "State of the Hoops Program" series.
In the Roberts story, Dopirak focuses on Roberts' close connection to high school coaches in the state of Indiana and how that will help the Hoosiers continue to pursue top in-state talent.
In the State of the Program story, Dopirak details the lack of confidence which penetrated the Indiana locker room last season and why a reserved leadership style won't work again this season.
"You have to have some people that show some emotion and play with heart," Miller says in the story. "Whether they score two points or 22."
Miller also mentioned the importance of Indiana improving its outside shooting this season, with Jerome Hunter and Devonte Green singled out as players likely to have a large impact.
Banner #5
Indiana news and notes
Indiana's Big Ten / ACC Challenge matchup against Florida State now has a tip time. The meeting between the Hoosiers and the Seminoles will take place at 9 p.m. on December 3 in Assembly Hall. The game will be broadcast on ESPN2
Additionally, another Hoosier basketball alum came back to Bloomington this week. Cody Zeller, still with the Charlotte Hornets in the NBA, became the latest former Indiana player to sign the team's new alumni wall during his visit, joining the likes of Romeo Langford, Victor Oladipo and Calbert Cheaney.
Banner #6
Hoosier Sports Roundup
This content was contributed by Aaron Shifron (twitter @ashifron).
All the major fall sports continued to hum along this week. Assembly Call will continue to have coverage of IU's Olympic sports this fall in the Assembly Call Community for those with a subscription under the 'Men's Soccer' and "Other Sports" topic.
• The Football team faced Ohio State this weekend. (This week's version of 6BS went to press before the game was played on Saturday.)
• Men's Soccer went to overtime again, but had their three game win streak end with a tie vs. Seattle. Later in the week starting goalie Sean Caulfield was named Big Ten Defensive Player of The Week for his performance in that game.
• Women's soccer beat Morehead State and UT Martin this week to improve their record to 3-3.
• Volleyball beat Yale and Florida Gulf Coast to improve to 6-2 on the season.
• Field Hockey beat Ball State.
• Women's Golf opened their season in New Mexico this week. The Hoosiers saw junior Priscilla Schmid tie for second and the team as a whole finish seventh. Schimd's performance earned her Big Ten Golfer of Week.
• Women's Basketball announced the rest of their non-conference schedule and released the date of their Candy Stripe Crew Clinic.
• Wrestling's schedule for this year was revealed.
Thanks for your continued support for The Assembly Call. We'll be back next weekend with a new roundup.
Now go enjoy yourself a 6-banner Sunday.
Filed to: