6-Banner Sunday: Bob Knight returns; Langford and Forrester say goodbye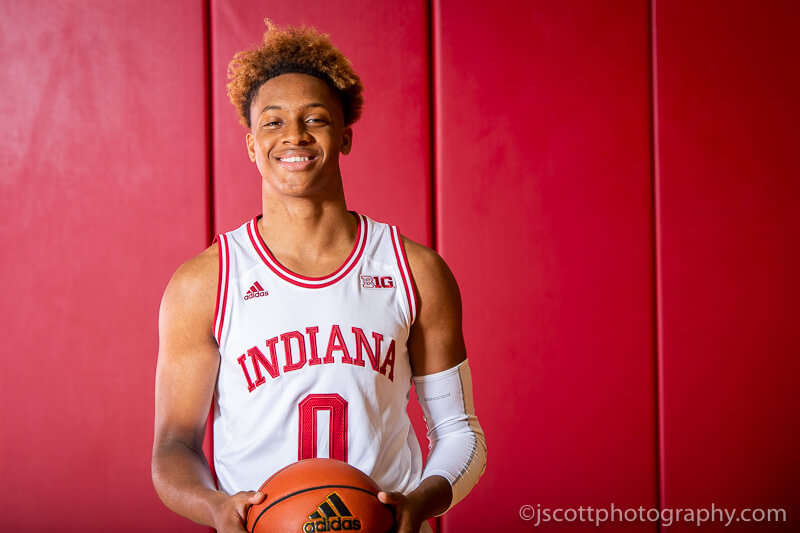 6-Banner Sunday is Inside the Hall's weekly newsletter in partnership with The Assembly Call. More than 6,000 Indiana fans receive the newsletter each week. In addition to appearing each week on the site, you can also opt to receive 6-Banner Sunday by email. A form to subscribe via email is available at the bottom of this week's 6-Banner Sunday.
Welcome to another edition of 6-Banner Sunday, a joint production between The Assembly Call and Inside the Hall where we highlight the six most essential IU basketball stories of the past week.
Last week was the first full week of IU basketball's offseason. The dust is far from settled — in fact, it's just beginning to pile up.
In fact, the week turned into one of the most eventful weeks Hoosier Nation has seen in quite a while.
The postmortems on the 2018-19 season were quickly overshadowed by several bits of roster news and an unexpected campus appearance by an IU legend.
So even while the national champion will be decided tomorrow night, there's plenty to dive into from the last week of Indiana basketball.
In this week's edition:
• The General returns
• Forrester to transfer, IU targeting former Butler forward
• Romeo Langford to declare for NBA Draft
• That's a Wrap
• Devonte Green feature
• Spring sports roundup
Banner #1
The General returns
Saturday was a really nice day in Bloomington, the sun shining and temperatures in the mid-to-upper 60s. It seemed like IU was ready to move on from a week filled with news of basketball transfers and announcements into Little 500 week.
And then, the completely unexpected happened:
Bob Knight came back.
The famed IU basketball coach made his first public appearance on campus since his 2000 firing on Saturday at Bart Kaufman Field to check out Indiana baseball against Penn State. He was accompanied by former Bloomington Herald-Times editor and longtime friend Bob Hammel.
Knight's career accomplishments are memorable for many. He led Indiana to three national championships, including the 1976 team that still stands as the last NCAA team to finish a season undefeated. He's been inducted to the Basketball Hall of Fame and the College Basketball Hall of Fame. He's one of 10 basketball coaches at any level with 900 wins.
Of course, his legacy has been muddied since the millennium changed, with his high-profile firing in 2000, his refusal to associate with IU or even return to campus publicly until yesterday, and the extensive coverage — including the ESPN 30 for 30 — of his well-known outbursts and incidents.
Knight was in the area this week, as he spoke with Hammel at Center Grove on Thursday. Per Mike Miller, it's unclear if this appearance will lead to anything more formal down the road.
Banner #2
Forrester to transfer, IU targeting former Butler big man
Indiana's roster changes continued this week. Jake Forrester announced that he's transferring from IU. His destination is unknown, but his name is in the transfer portal. He joins Clifton Moore and Vijay Blackmon, both of whom announced their transfers last week.
We recap Forrester's season a little more in Banner #4, but he was unable to make a consistent impact. His main highlights were his thunderous dunks in pregame warmups. Had he returned next season, he would have certainly been behind De'Ron Davis, Trayce Jackson-Davis, and Race Thompson in the playing time pecking order.
IU's interest in Butler grad transfer Joey Brunk suggests Forrester likely would've faced a similar lack of playing time next season as a whole. Since that linked IndyStar story was published, Brunk visited IU's campus in addition to IU visiting Brunk at home.
Brunk — 6-foot-11, 230 pounds — averaged 7.6 points and three rebounds per game in 18.6 minutes per game last season (he played 33 games). Adding a player like him could theoretically allow Archie Miller to start both De'Ron Davis and Trayce Jackson-Davis without leaving IU's forward depth thin.
Banner #3
Romeo Langford to declare for NBA Draft
The other piece of roster news was more expected, although with a caveat.
Romeo Langford announced his intention to declare for the NBA Draft. He hasn't officially declared yet, but this erases questions over whether he'd stay or not.
The caveat was the other part of the news: Langford had surgery on Thursday to repair a torn ligament in his thumb on his shooting hand. He suffered the injury in late November, just before the Duke game, and played through the injury all season. His hand was noticeably wrapped for much of the season, so that injury is clearly the reason behind it.
Langford was one of the biggest recruiting wins in IU history and entered with much fanfare. The injury didn't prevent him from being one of IU's top players, but he said in the ESPN piece that he never played his best at IU because of the injury occurring so early in the season.
We recap his season more in-depth below, but he excelled all year. Opponents double-teamed him and took away his driving lanes often in Big Ten play, which, combined with the injury, made it difficult for him to have the massive impact many expected. But averaging 16.5 points per game and shooting 44 percent from the field looks even better considering he was playing through pain in his shooting hand for an entire season.
Langford missed Indiana's NIT run with a back injury suffered in IU's Big Ten tournament loss to Ohio State, and there's a non-zero chance the thumb issue was also part of his reasoning for not playing. In that NIT run, we got a good taste of what IU's backcourt will look like without Langford next year, and the early returns were promising. Devonte Green stepped up in March, Rob Phinisee showed a lot of promise and Al Durham may have been the most improved player on the team.
Banner #4
That's a Wrap
In the midst of all the news from last week pouring in, Inside the Hall began its postseason "That's a Wrap" series, recapping the 2018-19 season for each member of the Hoosiers.
This week we reviewed Damezi Anderson, Rob Phinisee, Jake Forrester and Romeo Langford.
Anderson (21 games: 1.5 points, 1.1 rebounds, 27.9% FG, 23.3% 3FG in 9.6 minutes per game) played a little bit early in the season, but saw his playing time diminish once more of his teammates got healthy. His shot never looked like the asset IU desperately lacked throughout the year. As Alex Bozich said in his piece, "It's never easy for a heralded freshman to come into college and struggle, but the hope for the IU coaching staff has to be that Anderson learns and grows from his first season."
Phinisee (32 games: 6.8 points, 3.3 rebounds, 2.9 assists, 1.1 steals, 36.1% FG, 31% 3FG in 27.3 minutes per game) may have provided more hope for the future of Indiana basketball than any other individual this season. His numbers don't jump off the page, but his impact went far beyond the numbers. He became the quiet heartbeat of this IU team through his high basketball IQ and his calming presence. Archie Miller's description of Phinisee as "rock steady" toward the end of the season was perfect. He was also responsible for two of the three biggest individual plays of Indiana's season.
Forrester (13 games: 2.1 points, 1.3 rebounds, 54.5% FG in 4.3 minutes per game) was never really able to grasp any significant playing time this season, mainly entering late as a mop-up man. His season highlight came in Indiana's win over Michigan State in East Lansing, when he slammed home a dunk and gave Archie Miller some quality minutes after Juwan Morgan went down with an injury. He was tabbed as an energy guy going into the season, but we basically only ever saw it in warmups and through his reactions on the bench. Now that he's transferring we can accurately say we never saw Forrester reach his full potential in Bloomington.
Langford (32 games: 16.5 ppg, 5.4 rpg, 2.3 apg, 44.8% FG, 27.3% 3PFG, 72.2% FT in 34.1 minutes per game) was one of Indiana's best players this season. While his outside shot didn't come around the way many hoped it would, he was one of the main creators and scorers on IU's offense, along with Morgan.
Some fans felt like he didn't live up to expectations, and he never truly took over a game, but his season looks even better given this week's news of his injury. Especially in Big Ten play, he was double-teamed almost every time he touched the ball, and opposing defenses packed the paint to take away his driving lanes, both of which caused some inconsistency in the last few months of the year.
His season highlights include his game-winning layup in double-overtime in IU's upset win over Wisconsin, his crossover that sent Nojel Eastern to the ground, and his two 28-point performances in early January.
Banner #5
Devonte Green feature
Green has been a confounding player throughout his IU career. At his best — which he was for all of March — he can be the key that unlocks Indiana's offense. At his worst, he can hand momentum over to the other team pretty quickly. The way Green ended the season provided a lot of hope he can finally develop more consistency as a senior and be a significant piece of IU's offense.
During that strong run that extended into NIT play, images of Green's Grand Theft Auto cheat code tattoo blew up on social media.
Last week, Eddie Cotton of The Hoosier Network took a deep look at Green, the person, as opposed to Green, the player. He outlined how much more there is to Green beyond what you see on the surface.
Additionally, Cotton joined Alex and Jerod on this week's episode of Podcast on the Brink to discuss the piece. The trio discussed Green extensively on the podcast, but also got into IU's outlook for next season, Jerome Hunter and the attitude of IU students toward the program.
And one final note before the spring sports roundup: Juwan Morgan and the Big Ten team continue to play well in the 3-on-3 tournament. They went 3-0 in pool play and will begin play in the final 16 on Sunday at 12:10 p.m. Eastern.
Banner #6
Spring sports update
Spring sports continue to chug along. Several IU teams were once again in action in the last week. Some very positive results occurred as well as several less stellar happenings:
• Baseball is currently playing the role of Dr. Jekyll and Mr. Hyde depending on the day. Some days the offense feasts as has been the case on most of the weekend games. However, many mid-week and Friday games have been complete famine. This continued in the last week with blowout wins last weekend of 20-5 and 19-4 over Maryland on the road. The team then returned home Wednesday vs. Wright St and Friday vs. Penn State. Both Games resulted in losses of 15-4 and 3-0.
• Softball swept a struggling Michigan State team last weekend before losing to a solid Michigan team Friday.
• The No. 18 Rowing team competed last weekend.
• Men's Tennis went 2-1 in last week with wins over Michigan St. and Wisconsin and a loss to no. 21 Michigan.
• Women's Tennis suffered a loss to Iowa last weekend.
• Men's Golf finished tied for 10th in an 18 team field at a tournament in the Seattle area.
• In football, no games were played but the team got a victory off the field. This occurred when 4-star quarterback Jack Tuttle was granted a waiver for immediate eligibility next year.
And with that, the joy of hanging Banner #6 is now one week closer.
Thanks for your continued support for The Assembly Call and Inside the Hall. We'll be back next weekend with a new roundup.
Now go enjoy yourself a 6-banner Sunday.
Filed to: