6-Banner Sunday: Two big wins provide postseason hope for Hoosiers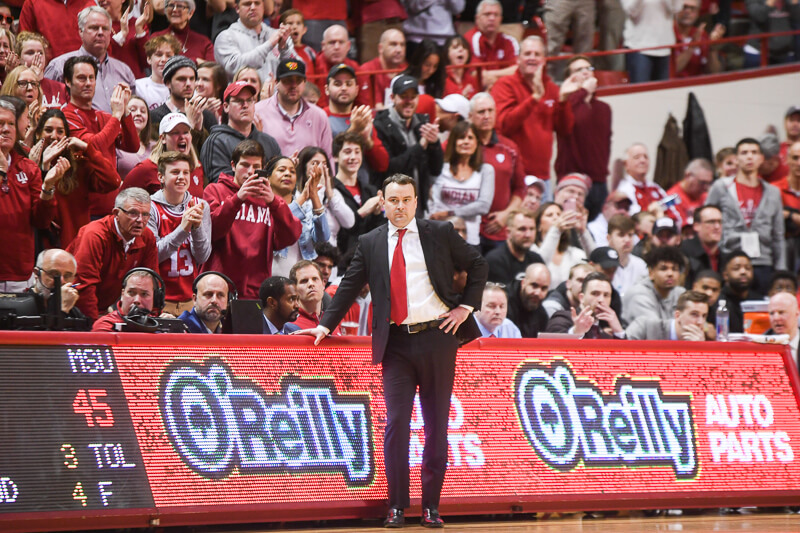 6-Banner Sunday is Inside the Hall's weekly newsletter in partnership with The Assembly Call. More than 6,000 Indiana fans receive the newsletter each week. In addition to appearing each week on the site, you can also opt to receive 6-Banner Sunday by email. A form to subscribe via email is available at the bottom of this week's 6-Banner Sunday.
Welcome to another edition of 6-Banner Sunday, a joint production between The Assembly Call and Inside the Hall where we highlight the six most essential IU basketball stories of the past week.
Just as everyone was ready to write off the Hoosiers, they sprang back to life. Last week was the best week of Indiana basketball in quite some time, as IU knocked off two consecutive ranked opponents for the first time since 2016.
Indiana has been playing with significantly improved effort and intensity over the last month, aside from the Minnesota game, and it finally paid off on the scoreboard.
Can IU keep up the strong play and turn it into an NCAA tournament berth? Time will tell. But for now, bask in the glory of the week that was for Indiana basketball.
In this week's edition:
• Indiana outlasts Wisconsin in double overtime
• IU sweeps Michigan State
• POTB and AC Radio
• Big Ten Roundup
• NBA draft update
• Hoosiers in the NBA
Banner #1
Indiana outlasts Wisconsin in double overtime
IU entered Tuesday's game against No. 19 Wisconsin on a five-game losing streak, and four of those five losses were of the close, painful variety. But the Hoosiers had played hard in those four games, especially during the two most recent games against Purdue and Iowa, and that's what IU was banking on to get back on track.
It paid off.
Romeo Langford hit the winning layup with less than a second remaining in double overtime as IU outlasted the Badgers 75-73. Langford finished with 22 to lead the Hoosiers, and Juwan Morgan grabbed a career-high 15 rebounds. It was Indiana's first win over Wisconsin since Jan. 2016.
On Inside the Hall, Seth Tow chronicled all the heartbreak Indiana moved past with the victory. Ryan Corazza broke down some of Indiana's defensive possessions in his Film Session. Alex Bozich offered his five takeaways, including commentary on Race Thompson's defensive performance.
On the Assembly Call Postgame Show, Jerod, Andy and Ryan discussed Langford's winning bucket and his performance, Rob Phinisee's key contributions, and much more.
Banner #2
IU sweeps Michigan State
For Indiana to climb back into the NCAA tournament conversation, it would have to prove the Wisconsin win wasn't a fluke. After all, the Hoosiers took down Michigan State in early February only to lose five straight afterwards.
This time, IU backed it up.
Indiana hung around for much of the afternoon against No. 6 Michigan State — whenever the Spartans went on a run, IU was able to answer and stay within striking distance. The Hoosiers took the lead with 1:46 to play (their first lead since the first minute of the game) on a Juwan Morgan and-one free throw, and they held on to that 63-62 score to the end. The student section stormed the court after the buzzer.
Michigan State had a chance at the end, but Rob Phinisee locked up Cassius Winston on defense and didn't let the MSU star get an open look.
Indiana has Justin Smith to thank for this victory. He put up a career-high 24 points and drained a career-high three 3s. He was integral in IU hanging around in the first half, as he was the only Hoosier to make a field goal during the first 14 minutes of the game.
At ITH, Alex Bozich discussed Phinisee's defense in his five takeaways. Seth Tow wrote about the unlikely heroes that led Indiana and why that encapsulates the mentality IU has taken into the home stretch of the season. Ryan Corazza discussed IU's defense and Smith's performance in The Minute After.
With Jerod, Ryan and Andy in Bloomington for the weekend (what a weekend to be in town!), the Assembly Call Postgame Show made some calls to the bullpen. Josh Wilson and Chad Schwartzkopf manned the mics, and Jerod and Andy called in to discuss the game as well. The gang broke down Smith's career day, Indiana's rebounding efforts, how IU responded to the slow start and much more.
Banner #3
POTB and AC Radio
On this week's edition of Podcast on the Brink, Alex and Jerod dove into the mailbag and answered listener questions. Topics of discussion included potential roster turnover in the upcoming offseason, Indiana's coaching staff and what they need to emphasize, Rob Phinisee's ceiling, Race Thompson's role, and much more.
On this week's Assembly Call Radio, Jerod, Andy and Coach discussed potential end-of-season scenarios for the Hoosiers. They also pick the players that give them confidence as building blocks going into the future.
Banner #4
Big Ten Roundup
With one week remaining in the regular season, the Big Ten is pretty chaotic. Purdue sits in the driver's seat to win the regular season title, as the Boilermakers are a game ahead of Michigan and Michigan State, who play each other in East Lansing this week. With Indiana and Penn State playing better of late, the Big Ten Tournament won't have many 'gimmes.'
There were several non-IU games of note last week. Ohio State downed Iowa by 20 on Tuesday, which prompted Fran McCaffery's NSFW explosion at officials that earned him a two-game suspension. On Wednesday, Penn State took down Maryland 78-61. On Saturday, Rutgers defeated Iowa on the Hawkeyes' senior day.
Here are the current conference standings:
Purdue (15-3)
Michigan State (14-4)
Michigan (14-4)
Maryland (12-6)
Wisconsin (12-6)
Iowa (10-8)
Ohio State (8-10)
Minnesota (8-10)
Rutgers (7-11)
Illinois (6-11)
Indiana (6-12)
Nebraska (5-13)
Penn State (5-13)
Northwestern (3-14)
Indiana could finish as low as the 13 seed or as high as the nine seed in the Big Ten Tournament, which starts Wednesday, March 13 in Chicago.
Banner #5
NBA draft Update
As college basketball begins to head toward its postseason and the NBA season rolls on toward the home stretch, NBA draft analysis is beginning to pick up a bit more. Sam Vecenie at The Athletic posted an updated top 100 on Friday containing two Hoosiers.
He ranks Romeo Langford No. 8 on his board, and Juwan Morgan is at No. 83.
Earlier in the week, Vecenie posted some analysis of Langford he obtained through talking to coaches. His strengths and weaknesses are clear to anyone who watches Indiana regularly this season: Langford is one of the best in the country at driving to and finishing at the rim, but his shooting has left room for improvement. Here are a few more specific comments from the anonymous coaches in Vecenie's piece:
"He's going to have to become a better defender, a better wide open corner 3-point shooter at least. Be able to play off of guys. I do think he moves well without the ball. He does some things cutting off the ball that will translate. But he's also going to have to just make some shots. That needs to become a strength. And he needs to be a better lockdown defender."

"In open space, shit, if you watch their game against Marquette earlier this year where they were able to turn them over a bunch and they got him in the open floor, he looked really dynamic. But in a tight, half-court offensive game, that's not really where he's going to look his best. I still think he's got a chance to be a really good player. I just don't think he can shoot it. And if he can't, he becomes less than incredible."

"He's fast. He's got such a great burst. He's great in transition. He can get to the rim at will. He's very, very strong for a kid that age. He just has a knack for scoring the ball."
Banner #6
Hoosiers in the NBA
Cody Zeller enjoyed a huge week with Charlotte. He scored a career-high 28 points along with nine rebounds and three blocks in a loss to the Warriors on Monday. He put up 13 points and seven rebounds in the Hornets' loss to the Rockets on Wednesday, and he posted 12 points and nine boards in their win over the Nets on Friday.
Thomas Bryant had a big game against Brooklyn on Wednesday with 18 points but a quiet night against Boston on Friday with two. OG Anunoby had a rough week with just five points against the Celtics on Tuesday and two points against the Trail Blazers on Friday.
Eric Gordon put up 16 in Houston's win over Atlanta on Monday, but he dealt with an injury later in the week. He missed the Rockets-Heat game on Thursday with a sore knee, although he should be returning to action today.
And with that, the joy of hanging Banner #6 is now one week closer.
Thanks for your continued support for The Assembly Call and Inside the Hall. We'll be back next weekend with a new roundup.
Now go enjoy yourself a 6-banner Sunday.
Filed to: