Unlikely heroes lift Indiana to second-straight upset over Michigan State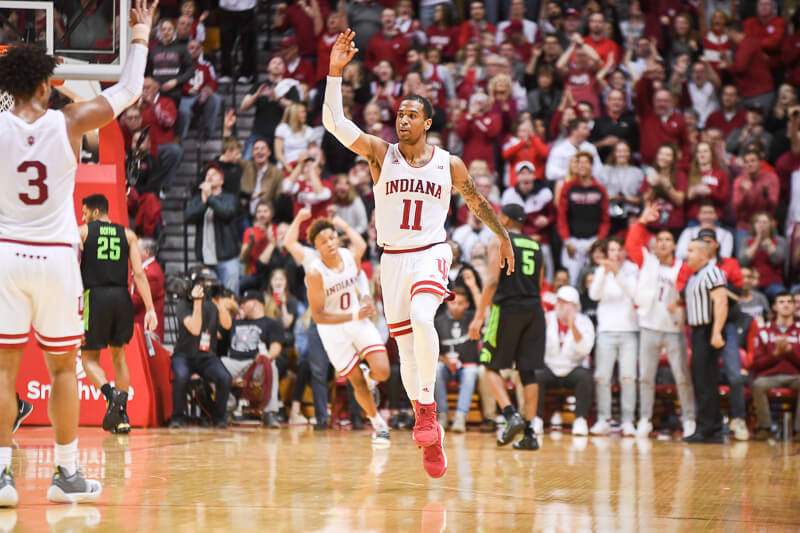 Out to prove its win over Wisconsin on Tuesday wasn't a fluke, Indiana leaned on a pair of players who, at various points in the season, were cast as representations of what was wrong with IU.
Both Justin Smith and Devonte Green had fallen out of favor recently. Smith was benched for the entire second half and overtime in Indiana's loss at Iowa, and Green played just four minutes in the second half of the Wisconsin game and only played the final 1:37 of double overtime because Rob Phinisee fouled out.
But when needed most, Smith and Green came through. Behind a career day from the former and a clutch performance from the latter, the Hoosiers may just have revived their NCAA tournament hopes by taking down No. 6 Michigan State for the second time this season.
Smith led IU with a career-high 24 points, 16 of which were critical in keeping Indiana in the game in the first half. He also hit a career-high three 3-pointers. His confidence was noticeable from the opening tip, and it only increased every time he found the bottom of the net.
The sophomore forward adjusted his mentality after the Iowa game, and it's paid off in the last week.
"Attitude is everything," Archie Miller said. "(When) your attitude is great, you're focused in on doing whatever you can to help, good things tend to happen. And I think that's where Justin really changed his mindset after Iowa. With De'Ron (Davis) getting sick, not really being very available this past week, he was thrust back in there. And today, obviously, I wasn't going to take him off the floor very much. He had a career day."
Smith was seen as an offensive liability at points in the season as his shot hadn't developed as many hoped it would. Even at the beginning of this game, Michigan State seemed content leaving him open looks from 3-point range in favor of double-teaming Romeo Langford or Juwan Morgan.
"I was due to hit some shots," Smith said. "Once I got a couple going, my teammates kept giving me confidence, told me keep shooting it, and that's what I did. And I was able to make a couple."
For Green, consistency has been an issue throughout his IU career. His 3-point shot was always a strength, but his shot selection and decision-making would often prevent him from getting those opportunities. Those factors combined have made it difficult to rely on Green every night.
But much like he did in East Lansing on Feb. 2, Green channeled his clutch gene. He scored 13 points, 11 in the second half, and he shot 3-for-5 from 3-point range. His points were all significant in the game.
His 3 with 13:31 to play began a 9-0 IU run over 1:45 that cut the Spartan lead to one. The last play of that run before Tom Izzo called timeout was a Green steal that turned into a Phinisee assist after an over-the-shoulder pass on the fastbreak. His free throws after the under-8 media timeout brought Indiana within three. His 3 with six minutes to go prevented Michigan State from capturing momentum. And his 3 with 3:20 remaining sparked the Hoosier run that saw them take the lead and the win.
"He's a really good player," Phinisee said. "He just stepped up, knocked down threes when it mattered and helped us."
"When he's engaged, he's as talented of a guy as you can have," Miller said. "I think he was engaged today, made some plays."
That two of IU's less heralded players led them to such a monumental victory encapsulates the mindset the team has carried into the season's home stretch. Just when it seemed like Indiana was finished, had nothing left to offer and would sulk its way through the remainder of the schedule, the Hoosiers have shown fight, intensity, effort and resilience in the least expected times and ways.
"There's no lay-down in them," Miller said. "We've talked a lot about it. We've had some disappointing moments, but at the end of the day there was a lot to play for with our schedule, and this was a huge week for us just in terms of earning more confidence, finding a way to play your best at the right time, and like I said, our everyday approach really drastically needed to change. It really did. And it has, and it's led to good things just in terms of how hard we're playing."
Filed to: Michigan State Spartans