6-Banner Sunday: Morgan makes history and remembering Hutch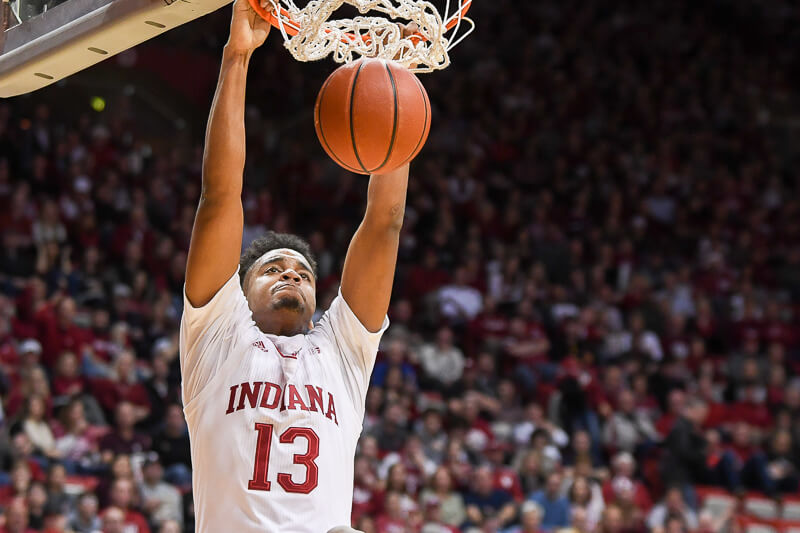 6-Banner Sunday is Inside the Hall's weekly newsletter in partnership with The Assembly Call. More than 6,000 Indiana fans receive the newsletter each week. In addition to appearing each week on the site, you can also opt to receive 6-Banner Sunday by email. A form to subscribe via email is available at the bottom of this week's 6-Banner Sunday.
Welcome to another edition of 6-Banner Sunday, a joint production between The Assembly Call and Inside the Hall where we highlight the six most essential IU basketball stories of the past week.
Indiana is certainly feeling jolly these days. The Hoosiers are riding a six-game winning streak and they've gained increasing national attention in recent weeks, climbing to No. 22 in the AP Poll (although they're still unranked in the USA Today Coaches Poll).
IU will have a solid holiday break this week. The players went home following last night's game against Jacksonville and will not return to Bloomington until Thursday, Dec. 27. IU will then have a week to prepare for the start of Big Ten play and its first matchup against Illinois.
For the penultimate time in 2018, here's what's up in the world of IU basketball.
In this week's edition:
• Indiana takes down Central Arkansas
• Morgan makes history in IU's win over Jacksonville
• Remembering Terry Hutchens
• POTB and AC Radio
• Young fan pens letter to Phinisee
• Big Ten Roundup
Banner #1
Indiana takes down Central Arkansas
IU started slow on Wednesday but the Hoosiers overcame it for its first comfortable win in several weeks. Before Central Arkansas, the last time IU won a game by more than one possession was against UC Davis on Nov. 23 (and that game was close until late in the second half).
Rob Phinisee banged his head going for a rebound in the first half and didn't return, so the Hoosiers needed Devonte Green to step up. And step up, he did. The junior led IU in scoring with 19 points in what I consider to be the best performance of his IU career. He played smart basketball, something you can't always say about Green.
Romeo Langford had a strong night with 18 points, and Juwan Morgan and Justin Smith chipped in 10 each.
On the Assembly Call Postgame Show, Jerod, Ryan and Andy discussed Phinisee's injury, Smith's night, the slow start, and more.
Ryan Corazza broke down Green's big game in Inside the Hall's Film Session. Alex Bozich made note of IU's improvement in the turnover department in his five takeaways.
Miller said on his pregame radio interview with Don Fischer that he wanted Indiana to have 10 or fewer turnovers in Wednesday's game.

The Hoosiers didn't hit the goal as they turned it over 12 times, but the overall turnover numbers have been better lately.

Indiana's turnover percentage this season is now 20.1, which ranks 237th nationally. Given how well the Hoosiers are shooting on 2s (59 percent) and 3s (37 percent), continued improvement in taking care of the ball is pivotal moving forward.

"12 turnovers we finish with, which is fine," Miller said. "But you know, clearly the slow starts and some of our problematic starts definitely stems from our offensive execution and just being able to take care of it, so it's a big concern."
Wyandotte Safety Solutions is your one-stop shop for safety training and safety products. WSS offers CPR & First Aid training, fall protection, and lift training. We also sell PPE, AEDs, and First Aid supplies.
We are an Indiana company serving Indiana and all of North America. Check out our website for more information: ptsarcflash.com.
Banner #2
Morgan makes history in IU's win over Jacksonville
Indiana took care of business against Jacksonville in a 94-64 win in Bloomington. But the final score wasn't the main story from this ballgame; Juwan Morgan was.
Morgan posted the second triple-double in IU history with 10 points, 10 rebounds, and 10 assists. The only other triple-double in program history came from Steve Downing in 1971. And if those stats weren't enough for Morgan, he added three blocks and two steals as well.
Morgan is clearly among the early favorites for Big Ten Player of the Year, and performances like these are why. It's been one heck of a week for Morgan, as this game came less than a week after his spectacular 35-point outing in the Crossroads Classic against Butler.
The senior's development throughout his career has been exceptional. Back when he was a freshman, coming off the bench on IU's last Big Ten Championship team, it wasn't easy to imagine him blossoming the way he has. But he's become a great post scorer, an outstanding post passer, a good rebounder, and a reliable leader.
Though Morgan deservedly gets the headlines from this game, Al Durham quietly had a really nice night. He shot 6-for-8 and 3-for-5 from 3-point range for 18 points. With Rob Phinisee sidelined, Devonte Green had a solid 13-point game. Romeo Langford shot 6-for-9 for 15 points.
Banner #3
Remembering Terry Hutchens
Last week, IU basketball lost a great beat writer and even better person in Terry Hutchens, who passed away at age 60. Hutch covered the Hoosiers for over 20 years for IndyStar, Scout Media, Btown Banners, and CNHI Sports Indiana. He was named Indiana Sports Writer of the Year five times, and he authored 11 books.
But Hutch's legacy goes beyond his work covering IU. He was a lynchpin on the tight-knit IU beat. Days without Hutch stories in the press room were simply less enjoyable. His signature character traits were his sense of humor and his generosity, and I was on the receiving end of both at times throughout the last few years.
Near the end of my sophomore year, I was covering an IU baseball game. Hutch was running late, and I wasn't sure if he'd be coming to the game or not, so I sat in his seat at the end of the press box (which was next to my assigned seat) to give myself some extra space. I moved over when he arrived, but he let me hear it. The audacity I had to sit in a grizzled vet like Hutch's seat! He'd wait until I was just scared enough to start laughing about it.
My junior year, I was on my way out after covering the IU football press conference before the Hoosiers played at Penn State. Before I left, Hutch pulled me aside to ask if I was going to the game. I told him I wasn't because I didn't have a car at school and I thought the trip was too long anyway. Hutch told me to think about going, and offered me a ride. I ended up going, and although logistics prevented me from going with Hutch, that was one of the coolest experiences I've had. And if it wasn't for Hutch offering me a ride, I wouldn't have even gone.
Tributes poured in on social media over the past few days. This, from Hutch's good friend Phillip B. Wilson, was particularly excellent.
The news of Hutch's passing was absolutely heartbreaking, and my thoughts are with his family that he cared for so deeply. The IU beat just won't be the same without Hutch.
Banner #4
POTB and AC Radio
In this week's episode of Podcast on the Brink, Alex and Jerod brought back the reader mailbag. They discuss a wide range of topics, from Juwan Morgan's NBA prospects to Big Ten and IU projections to Keion Brooks Jr.'s recruitment.
Meanwhile, in this week's episode of Assembly Call Radio, Jerod, Ryan and Andy discuss IU's turnover issue, look ahead to the Big Ten schedule, and attempt to pick creative Christmas gifts for Archie Miller.
Banner #5
Young fan pens letter to Phinisee
Warning: the content you are about to see is very cute.
Earlier this week, fourth grader Nicolas Aguilera gained a lot of attention for this letter he wrote to IU freshman guard Rob Phinisee. Aguilera congratulated Phinisee on his buzzer-beater to win the game against Butler, called him a role model, and asked if the freshman could come check out one of his games in Jasper.
But here's where the story gets especially cool: Phinisee did respond to the letter. He talked with Aguilera on Instagram, and Phinisee congratulated the fourth-grader on his own buzzer-beater. Aguilera's mother shared his basketball schedule with Phinisee's mother.
To Phinisee, an interaction like this probably doesn't stick out; one can only imagine the number of congratulations he received for his incredible shot against Butler. But a kid like Aguilera won't soon forget this.
Banner #6
Big Ten Roundup
As the non-conference season heads toward its conclusion, the Big Ten is in pretty good shape. The conference has seven teams in the AP Top 25 (No. 4 Michigan, No. 10 Michigan State, No. 15 Ohio State, No. 16 Wisconsin, No. 22 Indiana, No. 23 Iowa and No. 25 Nebraska).
Here's how Big Ten teams stack up in Kenpom as of Saturday night:
Michigan (No. 4)
Michigan State (No. 6)
Wisconsin (No. 12)
Nebraska (No. 14)
Purdue (No. 19)
Indiana (No. 22)
Ohio State (No. 23)
Maryland (No. 32)
Iowa (No. 33)
Northwestern (No. 45)
Penn State (No. 46)
Minnesota (No. 59)
Illinois (No. 106)
Rutgers (No. 114)
Schedule-wise, last week was a quieter one. Some solid matchups were mixed in a much higher number of games against weaker opponents. Here's an overview of the Kenpom top-100 matchups from the last week.
Nebraska picked up a neutral-site win over Oklahoma State (Kenpom No. 81) in a 79-56 rout last Sunday in Sioux Falls, South Dakota Northwestern fell at home to Oklahoma (Kenpom No. 24) 76-69 in overtime on Friday. Penn State couldn't overcome a 24-0 run by Alabama (Kenpom No. 65) on Friday in a 73-64 Crimson Tide victory in Tuscaloosa. Ohio State took down UCLA (Kenpom No. 67) 80-66 in the CBS Sports Classic in Chicago Saturday afternoon. And Maryland dropped a close one to Seton Hall (Kenpom No. 55) 78-74 in College Park, Md on Saturday evening.
With Christmas this week, there are no Big Ten games until Saturday, Dec. 29 when 10 B1G teams are in action.
And with that, the joy of hanging Banner #6 is now one week closer.
Thanks for your continued support for The Assembly Call and Inside the Hall. We'll be back next weekend with a new roundup.
Now go enjoy yourself a 6-banner Sunday.
If you'd like to receive this newsletter in your inbox each Sunday, please enter your email address below:
Filed to: