Remembering Terry Hutchens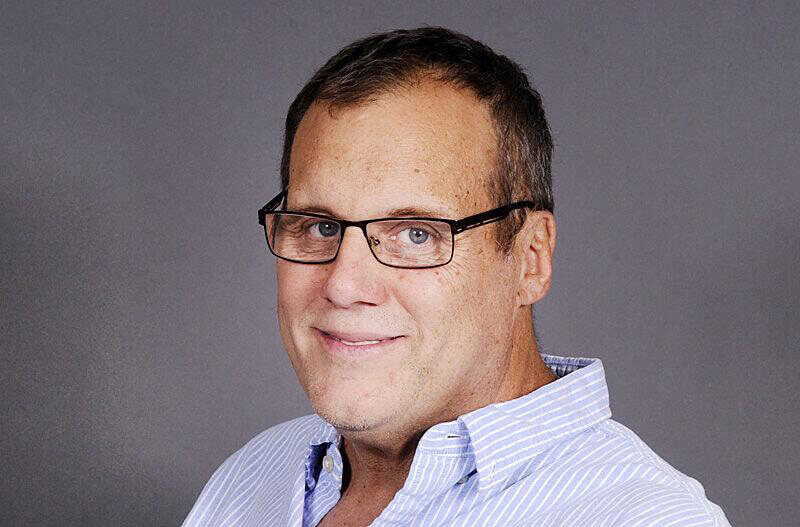 Terry Hutchens, a longtime journalist for the Indianapolis News, the Indianapolis Star and CNHI who covered Indiana University athletics for more than 20 years, passed away on Friday at the age of 60.
A five-time Indiana sports writer of the year and an author of 11 books, "Hutch" was a dear friend and colleague to those of us who had the opportunity to work alongside him in the media.
More importantly, he was a devoted husband to his wife, Susan, and a proud father to his two sons, Bryan and Kevin. Hutch touched many lives and never hesitated to go out of his way to help others.
In remembrance of Hutch, we've collected thoughts, memories and stories from several media members who were fortunate enough to work with and learn from him over the years that we would like to share below:
Jordan Littman
I first met Terry Hutchens when I was a young, hungry and inexperienced sports journalist as a freshman at Indiana University. I was about to start my first-ever sports writing course, and Terry happened to be the professor for that class.

Of course, I did my research prior to the class beginning, and I quickly became starstruck as to who I was about to learn from. Here I was, about to learn the keys to sportswriting from someone who has covered IU athletics for years. And let me just say, learning from him was an absolute privilege. He showed me how to interact with sources. How to engage in conversations with people whose backgrounds are so different from your own. How to write better. How to simply be a better journalist, overall. I owe so much of my journalistic foundation to Terry.

Over the years, I was fortunate enough to join Terry on the IU beat, first on the football beat at the Indiana Daily Student in 2012 and later on the IU basketball beat with Inside the Hall during the 2013-14 and 2014-15 seasons. During that time, Terry not only viewed me as a peer instead of a former student, but he also (on multiple occasions) would go out of his way to help me on my career path. Of course, I couldn't evade being the subject of his quick-witted jokes; he would always comment on my work attire after I wore pajama pants to his class one too many times.

Terry Hutchens had a massive impact on my career. Without his guidance, I don't know if I ever would have gone on the career path to join Inside the Hall and, later, the Chicago Tribune. But I know that I'm not alone in my sentiment of him having a huge impact on my career. He mentored so many other young, aspiring sports journalists, going out of his way to help year after year. And I am incredibly grateful to him for that. We'll all miss you, Hutch. Thank you for everything.
Rick Bozich
These are the times that words aren't adequate. But when I look at all the tributes I have seen to Hutch over the last week from all the young sports writers that he encouraged, mentored and guided in their careers, all I can say is job well done.

Not that I was surprised by the outpouring of love for Terry. He walked the walk. You could always see him connect with folks in the press room at Assembly Hall or the press box at Memorial Stadium. Might be with a wisecrack. Might be by grumbling about the state of the newspaper business. Might be by complimenting you on a story. But he was always eager to connect on a personal level.

I'm especially grateful for the time he invested in helping Alex and Justin Albers. It can be tough gaining your footing in this business but Hutch was an unflappable and caring sounding board.

For a guy who grew up in California, he plunged himself into the IU culture and knew everybody. I respected the heck out of his work ethic and the way he was always willing to chase a story. He knew everybody at IU and across the Big Ten. He didn't back away from tough stories but he was always eager to write something that humanized the people he covered. He was there for the end of the Bob Knight era and was always ready to work.

I'll never forget the time a day or two after Kelvin Sampson was fired. Hutch went to the upper arena of Assembly Hall, crawled into one of the entrances and got a look at which players were practicing. Nobody was going to shut him out.

Hutch and I were at similar stations in our careers and we shared stories about the challenges we faced staying relevant. But he was never bitter or angry about the curveballs that the news business threw him. He just kept grinding and reinventing himself. I marveled at the energy he showed writing books or putting together the group of papers that he worked for in recent seasons. Some people and coaches talk about working hard and dealing with challenges. Hutch lived it.

His passing leaves a hole in the IU journalism world but he left us all with a smile and a blueprint for how to treat other people and do our work. We can all honor him best by remembering it.

#RIPHutch.
Justin Albers
I met Terry Hutchens by happenstance in 2006, and once I did, the trajectory of my life forever changed. I was a high school freshman at Hamilton Southeastern, and I opted not to try out for the school basketball team for the first time in my life.

My parents wouldn't let me sit idle after school, so they suggested I attend an evaluation for the Catholic Youth Organization (CYO) team at our church — Holy Spirit at Geist.

Hutch was running that evaluation, and even though the team he coached had been together for several years, he graciously added me to his roster.

I played on his team for the next two years, and enjoyed it more than I ever expected to. Hutch coached our CYO team like it was an NBA franchise, and we had great success because of it.

Hutch wrote pregame speeches for every game. He drafted detailed scouting reports on every opposing team. He wrote lengthy emails to the parents after each game, summarizing what had happened — undoubtedly because of his instinct as a reporter.

It was because of those emails that I became a writer. I often responded to Hutch's emails with thoughts of my own, and through those interactions, Hutch saw a passion in me that I had never recognized myself.

Hutch took me on countless job shadows to Indiana University, and challenged me to write a game story on the same deadline he had at The Indianapolis Star. He got me my first paid writing opportunity covering the Butler-Florida Gulf Coast game in 2007 for the Fort Myers News-Press. And many more after that.

Hutch opened doors for me I never could have opened myself, and led me down a path that eventually brought me back to him — at Scout Media — where we worked as partners for two years from 2013-15.

Hutch was my basketball coach. My mentor. My college professor. My boss. And always — my friend. He's one of the best men I have ever known, and I feel so incredibly lucky to have had him in my life. I would not be where I am today without Hutch.

There's an aching in my heart that won't go away. I'm heartbroken that Hutch is gone. But he will never be forgotten. Hutch touched so many lives, launched so many careers, and impacted this world in such a profound way. Anybody who ever spent even five minutes around Hutch could tell what a terrific human being he was.

There will never be another Hutch. Rest easy in heaven, my friend — and thank you so much for everything you did for me. I love you, and I'll miss you dearly.
Alex Bozich
I first got to know Hutch in 2011 when I regularly began covering games in Bloomington, but it didn't take long to consider him a friend. On the IU basketball beat, we are a tight knit group and Hutch was always the most welcoming man in the room.

Over the last seven-plus years of our friendship, I watched him reinvent himself a couple of times in an ever-changing media landscape and I also witnessed him go out of his way to help and mentor countless student journalists. In a business that is often driven by ego and trying to one-up the competition, Hutch supported and rooted for everyone. He was a man of high character and although he was the most experienced man on the beat, he treated everyone equally.

In the early years of our friendship, I fell victim to several of Hutch's patented practical jokes and sense of humor that was truly one of a kind. We once took a 6-hour road trip to Iowa City together, just the two of us, in which I think he spent a majority of the trip trying to see how many times he could pull one over on me. By the car ride back, I think I finally started to figure him out, but he always kept all of us on our toes. Hutch could always keep you smiling and laughing.

One thing that I always respected most about Hutch was his love for his wife and his two sons. He was so proud of his family. We would talk about them often on long car rides and he would often ask me about my wife and two children as well. On one of our last road trips we took together, he handed me his children's book "Hoo Hoo Hoo Hoosiers," and asked me to give it to my son, Colin.

In terms of knowledge of IU athletics, Hutch was an encyclopedia. On press row, no one had a better handle or feel for the program's history than he did. It was truly amazing to listen to him recall past performances and statistics as easily as he did.

Hutch's passing leaves a void that simply cannot and will not be filled, but the lessons he taught all of us can be carried on. He was truly a great man who cared deeply about his work, his family and his friends. He also treated everyone with respect and truly had the heart of a teacher and storyteller. Rest in peace, Hutch. We will never forget you.
Seth Tow
I just missed having Hutch as a professor in his sports writing class. The semester I took it was the semester just after he stopped teaching it, and I had his good friend Phillip B Wilson. Phil B had Hutch in class on the first day, both to make sure we respected Phil B and to pass on a couple things. One story Hutch shared with us during that class sticks with me to this day. He was talking about the importance of getting details correct in stories, particularly people's names. And he brought up an article he wrote about a high school wrestler. The piece wasn't significant to Hutch when he wrote it, but when he followed up with the family of the wrestler after the story was published, he found out the family had framed the story and hung it on the wall at their house. The lesson was that no story is insignificant; if Hutch had spelled the kid's name wrong, the family wouldn't have framed it or been quite so proud of it.

Hutch's sense of humor was one of his defining character traits. So it's pretty fitting that my last interaction with Hutch was in the Bankers Life Fieldhouse media room before IU played Butler in the Crossroads Classic, when many IU beat writers were waiting for the Purdue-Notre Dame game to end and joking around. When Hutch had a story to tell — and man, did he tell a lot of stories — no matter what was happening in the room, everything just stopped while he talked. Some of my hardest laughs over the last three years covering the Hoosiers have been from stories Hutch has told.

His other defining character trait was the way he helped out and looked out for others. I was lucky enough to be on the receiving end of that generosity several times. When I was getting started on putting together a big story, I went to Hutch for assistance to see if he could connect me to good people to talk to. And I was expecting him to maybe have one or two people for me. But he went into his contacts and rattled off four or five people I could contact, and a few other people that might know other people I could talk to. That story remains my proudest accomplishment, and I couldn't have pulled it off without Hutch's help.

Hutch meant so much to so many that crossed paths with him over the years. While the news of his passing is heartbreaking, the many tributes that have poured in have been equally heartwarming. To me, that's the sign of a life well-lived.
Josh Margolis
It's hard to find the right words to say in a moment like this. What do you say when such an omnipresent titan of the Indiana sports media landscape passes? Plenty of words have already been said by those who knew him far better than I did, but I'll do my best.

I can't pinpoint the first time I met Hutch, simply because he's just always around. If there was an IU basketball or football game, you knew he'd be there.

I'll never forget the road trip from Iowa City back to IU last basketball season. Hutch was gracious enough to give me a ride in his car along with fellow media members Jim Coyle and Stuart Jackson when nobody else could. It was the most entertaining road trip I have ever taken part in.

Hutch pulled so many legendary pranks on me that I lost count long ago. Whether it was fooling me into thinking I was in trouble with J.D. Campbell at the Big Ten Tournament or giving me a good-natured ribbing in the Assembly Hall press room after I asked a poorly-phrased question, Hutch never passed on an opportunity to make others laugh. Hutch never pulled punches, but what really made him special was his heart. He also would go the extra mile to help a student, fellow press member or fan when they needed it most. Hutch never stood up a fan of his work and always made time to chat with whoever, whenever.

Hutch meant so much to the IU community that it's impossible to put into words. His legacy will continue to live on through his award-winning books and articles, anecdotal stories and the countless people he mentored and helped.
Hailey Hernandez
Even if you only met him once, it was easy to tell Terry Hutchens was a special person. He was respected by so many people in so many different paths of life and that makes the news of his passing so hard to swallow. Like many, I can recount my fair share of stories with Hutch from around media rooms and events at IU. But perhaps the biggest thing I learned from him was that hard work and confidence can get you just about anywhere you need to go.

About week before the 2015-16 basketball season started, Hutch asked me to come write with him at Btown Banners. He created a weekly section just for me to have a chance to get my name out there. I didn't have credentials, but I went to games and sat in the balcony and waved to him on press row. He gave me a shot. In a world where this was my biggest opportunity at the time, Hutch not only read my work, but this is just one occasion where he showed how much he cared.

Months later, as soon as I sat down on press row for the first time as part of his class, Hutch came over and said, "Isn't this nice, you get to sit with the media for a change. You can thank me later, but you'll be back in the balcony next week." Classic Hutch.

He not only showed me that I had a place in the IU sports media world, but that I fit in. As a female in the sports industry, he never treated me any differently from the guys.

In the advanced class I took with Hutch, we were working on a feature of former IU players. I did mine on Pat Graham. In the last week of class, Hutch was reading through what I hoped and prayed was going to be the final copy. Hutch asked me if I was done, I could turn it in right now and finish class early.

I knew it was one of his tricks.

I asked, "What do you think my grade would be if I did that?"

He had that smirk on his face and said, "Well for the perfectionist that you are, I don't think you'd like to know this grade."

Factual errors were no joke with Hutch. He took off 25 points for them. He told me I had one thing wrong that would cost me my much-desired "A". How could he just pick this one thing out without looking at any of the sources or quotes or anything?

Yep, that was Hutch. Sounds about right.

I went back and found I missed the final score for the opposing team in one of Pat Graham's high school games, buried about 2,000 words deep. Easy fix, and I turned it in. I got the grade back and it wasn't what I wanted to see. I got docked for a factual error.

I emailed Hutch asking for an explanation. Of course, he got back to me right away saying the grade was final, I didn't correct the error and there was no way I could get the points back. But then another email came through, he didn't even notice I missed the score from the high school game. He was actually talking about some other fact. He didn't want to admit it, but he did give me half of the points back for the error because I caught something that he didn't.

That's just the kind of guy he was. Competitive, honest, always willing to help. It's hard to imagine what Indiana sports will be like without him. I know I speak for a lot of people when I say that he changed my life personally and professionally, all for the better. The last thing I can do is say thank you to his family— his wife Susan, and his sons Bryan and Kevin, for allowing him to spend so much time doing what he loved. The world is a better place because of him.
Chris Korman
I'd tell you that Hutch's ability to be both caustic and charismatic was unique, but in a way he was playing up to the stereotype of the gruff sports writer — and he played it better than anybody. He was cantankerous. He busted balls. He was sarcastic. And most of it was an act. Underneath it all he was a big-hearted family man swelling with pride for his sons and love for his wife.

Others have relayed stories about those elements of Hutch. As they should. But if I'm being honest, as I've thought about Hutch over the past week I've thought mostly about how difficult he made my life — and how thankful I am for that. So many nights I stirred, unable to sleep, wondering what story he might have in the next morning's paper. That made me better. I worked at the tiny Herald-Times in Bloomington and he was *the* authoritative voice on the beat. I wanted to break every story and convince every reader that we had the better coverage and could become the paper of record on all things Hoosiers.

So while Hutch and I were certainly cordial, we were also fiercely competitive. We fought for every inch. But we fought fairly. Hutch never big-timed me (plenty of other Star people did) and he'd congratulate me when I did score a rare win. We were covering a remarkably tumultuous time at IU, with Terry Hoeppner's illness and Kelvin Sampson's troubled tenure giving way to Tom Crean's frantic and fraught rebuild, and he and I were entrenched in the muck, trying to sort out what would happen next. Yet he never hesitated to answer my questions about things that had happened before I got there, or to fill me in on who did what deep inside the athletic department. He could have had an edge there but chose to help me anyway. All class.

Hutch did have a penchant for skulking around Assembly Hall, darting out of the press room as if he was about to break the biggest story in college basketball history when in fact he was just sneaking away to check in with an old friend or grab a bag of popcorn. But I came to enjoy that gamesmanship. It was part of his charm.

In my last week on the beat, Hutch gave me what I'd always sought: he told me that I'd been worthy competition and had earned his respect.

I always thought I'd see Hutch again, and that nothing would have changed at all. He was the type of character you figured would always be there. I'd read his recent work and file away the barbs and jokes I would have thrown his way if I saw him that night.

I'm sad that I won't get a chance to use them and hear his distinctive snicker in return. And that he won't get a chance to shoot back. But mostly I'm devastated for his family and all the people who loved him and were shaped by such a kind and gentle soul.
Saddened to hear the news of the passing of Terry Hutchens! Our deepest thoughts and prayers go out to his wife Susan, mother Dena, sister Kelly and two sons Bryan and Kevin. RIP Terry, you were truely one of the best!

— Arch Miller (@Archie_Miller) December 21, 2018
A statement from Indiana broadcaster & Hutchens' family friend, Don Fischer. pic.twitter.com/6tUDhqEofd

— Indiana Hoosiers (@IUHoosiers) December 21, 2018
— Indiana Basketball (@IndianaMBB) December 21, 2018
Filed to: