Five takeaways from Indiana's win over Central Arkansas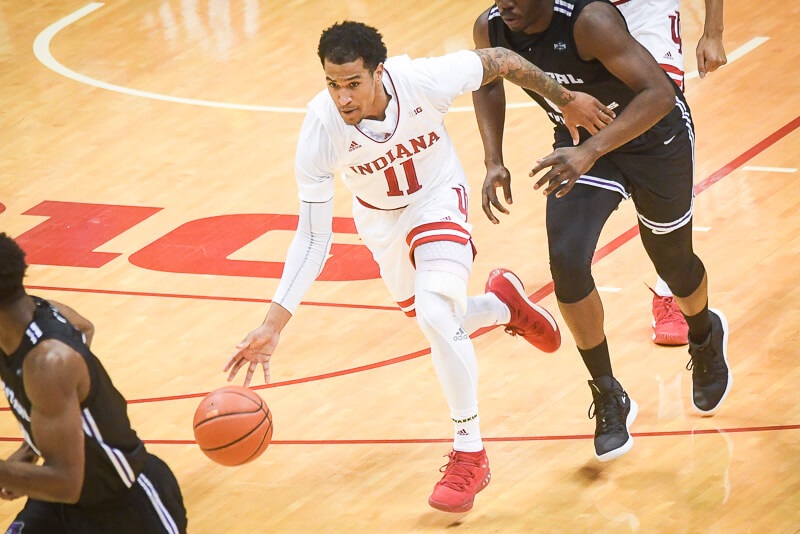 Indiana improved to 10-2 this season with an easy 86-53 win over Central Arkansas on Wednesday night at Simon Skjodt Assembly Hall. The win was the fifth straight for the Hoosiers.
Here's a look at five takeaways from the victory over the Bears:
• After slow start, Indiana rolls: The Hoosiers have made a habit of starting slow this season and Wednesday's game was no different.
Less than six minutes in, Indiana trailed Central Arkansas 19-14 and it looked as if another tight contest could play out on Branch McCracken Court.
But the Hoosiers quickly snapped out of an early turnover funk and then began to lock down defensively. The result was a 19-0 run that quickly put the game out of reach.
Still, the slow start was top of mind for Archie Miller in his postgame press conference.
"Didn't start the game very well, clearly," Miller said. "They got 19 points off on us, and we weren't ready to start the game and sometimes that happens coming off of a big win."
With just one more tune up before Big Ten play resumes, Indiana needs to find a way to become more crisp in terms of taking care of the ball and defending early in games.
• Phinisee suffers head injury: Indiana freshman guard Rob Phinisee logged less than seven minutes in IU's win after suffering a head injury less than six minutes into the contest.
Phinisee appeared to take an inadvertent knee to the head near the Central Arkansas bench and was slow to get back to his feet.
He remained in the game until committing a foul at the 13:09 mark, but did not return after that. The McCutcheon product was not on the bench for the second half and is in concussion protocol, according to Miller.
"I don't know what Rob's situation is," Miller explained. "He's in concussion protocol and from my standpoint right now we're planning on having to be without him for a while."
• Green makes the most of increased minutes: With Phinisee sidelined, Devonte Green got an opportunity for more minutes on Wednesday night.
And he made the most of it.
The 6-foot-3 guard stuffed the stat sheet with a game-high 19 points to go along with nine rebounds, six assists, four steals, a blocked shot and two turnovers in 29 minutes. Green was 6-for-10 on 3s and was one point shy of tying his career-high.
"He is a huge part to what we are doing," Miller said. "He hasn't had a great shot at it. The month of November he was hurt and he's had to play his way into games and I was happy for him to be able to bust some shots."
• Langford notches second career double-double: Romeo Langford still hasn't found his shooting stroke from outside, but it hasn't stopped him from scoring efficiently from inside the 3-point arc.
On Wednesday, Langford was 7-for-10 on 2s and finished with 18 points and 11 rebounds in 33 minutes. Langford also added five assists, two blocks and committed just one turnover.
Through 12 games, Langford is averaging a team-high 17.8 points on 49.3 percent shooting from the field.
• Turnovers slowly improving: Miller said on his pregame radio interview with Don Fischer that he wanted Indiana to have 10 or fewer turnovers in Wednesday's game.
The Hoosiers didn't hit the goal as they turned it over 12 times, but the overall turnover numbers have been better as of late.
Indiana's turnover percentage this season is now 20.5, which ranks 253rd nationally. Given how well the Hoosiers are shooting on 2s (59 percent) and 3s (36.7 percent), continued improvement in taking care of the ball is pivotal moving forward.
"12 turnovers we finish with, which is fine," Miller said. "But you know, clearly the slow starts and some of our problematic starts definitely stems from our offensive execution and just being able to take care of it, so it's a big concern."
Filed to: Central Arkansas Bears