6-Banner Sunday: Recruiting updates, rules changes and much more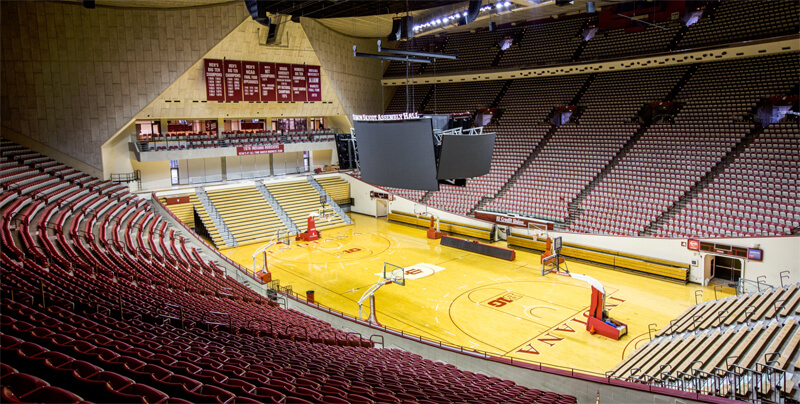 6-Banner Sunday is Inside the Hall's weekly newsletter in partnership with The Assembly Call. More than 5,800 Indiana fans receive the newsletter each week. In addition to appearing each week on the site, you can also opt to receive 6-Banner Sunday by email. A form to subscribe via email is available at the bottom of this week's 6-Banner Sunday.
Welcome to another edition of 6-Banner Sunday, a joint production between The Assembly Call and Inside the Hall where we highlight the six most essential IU basketball stories of the past week.
With Hoosier Hysteria less than 50 days away, we take a look at the latest in IU recruiting, the new NCAA rules, and much more.
In this week's edition:
· Latest on Class of 2019 recruiting
· NCAA makes major rule changes …
· … but they don't really solve much
· Don Fischer and the Suhrs
· The 1981 Championship squad
· Best of the rest
Banner #1
Latest on recruiting
Even though we're now in the middle of a quiet period on the recruiting calendar, there were still plenty of IU-centric recruiting updates over the last week.
Below is a summary of the biggest news of the past week regarding the class of 2019:
· Five-star big man Trayce Jackson-Davis trimmed his list to six, with IU making the cut. He will take his official visit to IU on Sept. 26 during Hoosier Hysteria.
· Jackson-Davis and his AAU teammate Keion Brooks, Jr., were both at the Nike Skills Academy over the last several days, learning from the likes of LeBron James and Rasheed Wallace.
· Four-star guard James Bouknight cut his list to five, with IU among the schools remaining in contention.
· Four-star guard Anthony Harris has scheduled four visits, and while Indiana isn't one of them the Hoosiers remain in the mix for a possible fifth visit.
· Four-star point guard Kira Lewis is off the board after committing to Alabama. He will reclassify to 2018.
· Rising star Zeke Nnaji has scheduled an unofficial visit to Indiana. The big man will be in Bloomington on August 26. Earlier in the week, he received an offer from Kansas.
· Guard Armaan Franklin, who has already announced his final three of Indiana, Purdue and Xavier, will visit Bloomington from August 24-26.
· Indiana is one of the scores of schools to have sent an offer to center Kadim Shedrick over the past few weeks. The prospect out of North Carolina has risen into the top 100 of 247Sports rankings with a strong summer on the AAU circuit
More from the recruiting trail:
· 2019 recruiting roundup, 2019 recruiting board (Inside The Hall)
· Highlights of 2020 prospect Anthony Leal, a Bloomington native quickly rising up the rankings
Wyandotte Safety Solutions is your one-stop shop for safety training and safety products. WSS offers CPR & First Aid training, fall protection, and lift training. We also sell PPE, AEDs, and First Aid supplies.
We are an Indiana company serving Indiana and all of North America. Check out our website for more information: ptsarcflash.com.
Banner #2
NCAA makes major rule changes …
In the wake of the FBI investigation into college basketball, the NCAA has decided to institute a series of rule changes that are meant to curb corruption and give the athletes more freedom. The changes are a result of recommendations submitted by the Commission on College Basketball, which was led by Condoleeza Rice.
The details of the changes, most of which take effect August 15, can be found at the link above, but below are some of the most notable:
· Student-athletes can take a lot more official visits than previously allowed — up to 15 total from junior year to the end of their college eligibility.
· Pending acceptance by the NBA and NBPA, "elite" prospects can hire an NCAA-certified agent beginning July 1 of their senior year
· Players that participate in the NBA Draft Combine and are not selected in the draft can return to school, as long as they decide to do so by the Monday after the draft.
· There will be more rigorous certification requirements for high-school events that college coaches are allowed to attend.
· There will be increased penalties for rule-breaking, including longer postseason bans, coaching suspensions, and recruiting restrictions
· The NCAA can use info turned up by outside entities for its own investigations.
Banner #3
… but they don't really solve much
Although these reforms are meant to cleanse the sport of college basketball, they don't really accomplish much. As many analysts and pundits have written, it's kind of like putting a band-aid on a ship with gaping holes.
Why? Mostly, because it doesn't address the lack of compensation players receive for their likeness.
Here's what one assistant coach at a top-10 school told Rick Bozich of WDRB:
"The NCAA just gave more access and power to the people who have been the problem all along: the agents. They've given them more control. In fact, they've made what they do legal."
What is all the more perplexing is that both USA Basketball and the NBA appear to have been blindsided by these changes, as Adrian Wojnarowski of ESPN writes:
USA Basketball doesn't have the infrastructure or interest in accepting the role of evaluating the nation's top prospects for selecting a yet-to-be-determined number of players who will annually be allowed to sign with agents at the end of their junior years, sources told ESPN.
Fellow ESPN reporter Myron Medcalf noted that the changes raise more questions than answers, including how exactly agent certification will work:
What will the NCAA's certification process entail? Who gets to decide the standards for a good agent and a corrupt agent? The NCAA will also force players to terminate the relationships if they come back to school. Why? Let the players hire agents. That's smart. Allowing the NCAA to limit the relationship and control of which agents get certified according to an undetermined standard could convolute a measure that's supposed to benefit players.
Lastly, our friend Rob Dauster of NBCSports says these changes are more public relations puff than actual substance:
It's quite clear that the NCAA rushed through these decisions simply because it behooved them to have some good PR, and that will happen. The headlines will fool the people that read the tweet and don't actually click on the article.

So good for them, I guess.

But they are kidding themselves if they think that any change is actually possible without addressing the amateurism model.
More on the NCAA rule changes:
· On this week's Assembly Call Radio, the new rules were a major topic of discussion. Other subjects included the latest recruiting news, what to expect from Clifton Moore's sophomore year, and whether Rob Phinisee is being overlooked
Banner #4
Don Fischer and the Suhrs
Legendary IU broadcaster Don Fischer has been calling Hoosier football and basketball games for decades. The 45-year veteran of IU broadcasts has won a staggering 25 Indiana Sportscaster of the Year Awards and there are countless fans that listen to his broadcasts exclusively, even going as far as muting the television and syncing up the radio feed.
For the last several years, there has been a pair of family members by his side for practically every broadcast. The father-and-son combo of Buck (65) and Errek (34) have been on color commentary duties for football and basketball, respectively. Both have direct experience in the sports they cover, as Buck was the running backs coach for IU football from 1984-95, while Errek suited up for IU basketball from 2003-07.
Buck has been on the call for IU football full-time since 2010, while Errek has been calling basketball since 2015.
As Jordan Guskey wrote for The Indianapolis Star, the Suhrs and Fischer have developed quite a bond:
As Fischer said, he's known the kid since Errek was tiny. Errek, born in 1984, grew up a fan of the Hoosiers as his dad coached with Mallory and remained with the program under Cam Cameron. Through that time the scrappy Bloomington North High basketball product, who would graduate from IU in 2007, watched his dad's friendship with Fischer grow.

But for most of that time he was also just a kid who barely knew how to make it to the local Wal-mart, let alone foster a relationship with Fischer. In college he was an undersized guard who tried to earn playing time as he juggled class and friends.

"You go years and years of knowing someone where it's not like I've done anything to really strengthen the relationship but just years and years of not screwing up," Errek said.
Banner #5
The 1981 Championship squad
This summer, Podcast on the Brink has turned back the clock to look at the IU championship teams of year's past. This past week, the podcast recapped the season that was in 1981, when Isiah Thomas led the Hoosiers to their fourth banner.
Kent Sterling of CBS 1430 was the guest. Sterling was a freshman at IU during that season and shared his insight from that special season. Topics included:
· The players, besides Thomas, that stood out that season
· Bob Knight's trust in Zeke
· How a team lacking seniors played with such poise
· The differences between the Big Ten then and now
· The role players that made a difference
Other Podcasts on the Brink covering the banner seasons:
· Author Bill Murphy on the 1940 and 1953 championships
· Rick Bozich on the greatness of the undefeated 1976 Hoosiers
Banner #6
Best of the rest
Although pretty much the entirety of IU basketball news has been included above, there was also tons of news this past week on the other varsity sports on campus:
· With the IU football season less than a month away, head coach Tom Allen is searching for playmakers
· Senior defender Andrew Gutman of IU soccer was named to the MAC Hermann Trophy watch list. The award is given at the conclusion of the season to the best player in collegiate soccer
· IU swimmers have won a total of seven medals through three days of the Pan Pacific Championships
· Wilkinson Hall, the new venue for IU wrestling and volleyball, is two months behind schedule and may not be ready to host events until late November
Before you go:
· With the top two Eagles quarterbacks injured, Nate Sudfeld started Philly's first preseason game and threw for a pair of touchdowns
And with that, the joy of hanging Banner #6 is now one week closer.
Thanks for your continued support for The Assembly Call and Inside the Hall. We'll be back next weekend with a new roundup.
Now go enjoy yourself a 6-banner Sunday. If you'd like to receive this newsletter in your inbox each Sunday, please enter your email address below:
Filed to: