6-Banner Sunday: Gavitt Games schedule, recruiting rankings and more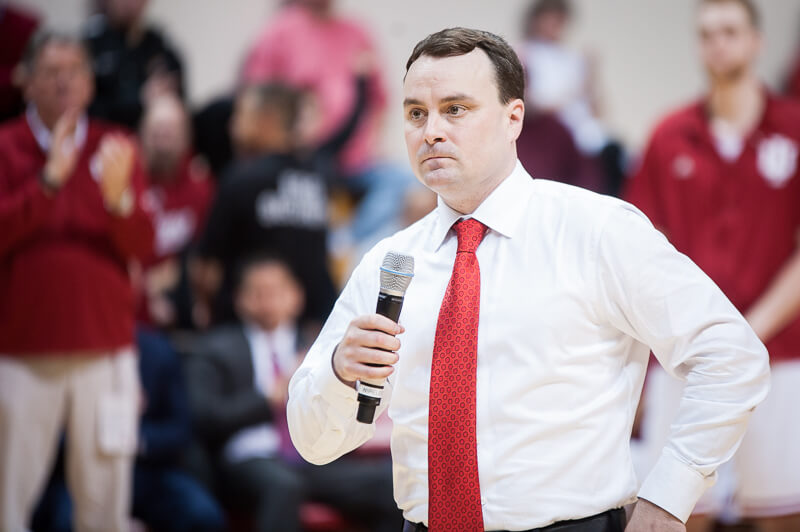 6-Banner Sunday is Inside the Hall's weekly newsletter in partnership with The Assembly Call. More than 5,000 Indiana fans receive the newsletter each week. In addition to appearing each week on the site, you can also opt to receive 6-Banner Sunday by email. A form to subscribe via email is available at the bottom of this week's 6-Banner Sunday.
Welcome to another edition of 6-Banner Sunday, a joint production between The Assembly Call and Inside the Hall, where we highlight the six most essential IU basketball stories of the past week.
We are getting to that time of the year when IU basketball news starts to become more sparse … and yet we had still plenty to cover in this edition of 6-Banner Sunday, with links left over at the end. It certainly is a good, active, eventful time to be an IU fan.
In this week's edition:
· Indiana will face Marquette in this season's Gavitt Tipoff Games
· Recruiting targets for 2019 keep rising up the rankings
· Is Devonte Green primed for a breakout junior season?
· We will know Juwan Morgan's decision soon
· Romeo Langford is preparing to take the next step in his basketball career
· Highly regarded 2020 prospect very familiar with Archie Miller
Banner #1
Indiana will face Marquette in this season's Gavitt Tipoff Game
One more piece of Indiana's schedule puzzle fell into place this week when Jon Rothstein reported that Indiana's opponent for this season's Gavitt Tipoff Games will be Marquette. The Hoosiers will host the Golden Eagles, with the date and time to determined at a later time.
Inside the Hall has additional details on the other Gavitt Games matchups for this season, as well as the history of the event and what to expect in terms of Indiana's involvement moving forward.
If you want to relive the last time Indiana played Marquette, which featured a strong performance by a youngster named Dwyane Wade, The Daily Hoosier has you covered.
For more on the IU-Marquette matchup, listen to Stu Jackson's podcast interview with Ben Steele, who covers Marquette basketball for the Milwaukee Journal-Sentinel.
Wyandotte Safety Solutions is your one-stop shop for safety training and safety products. WSS offers CPR & First Aid training, fall protection, and lift training. We also sell PPE, AEDs, and First Aid supplies.
We are an Indiana company serving Indiana and all of North America. Check out our website for more information: ptsarcflash.com.
Banner #2
Recruiting targets for 2019 keep rising up the rankings
247Sports released its updated player rankings for the class of 2019 this week. Nearly all of the updates were positive for Indiana's targets:
· F Matt Hurt #6 (down 2 spots)
· C Isaiah Stewart #8 (up 15)
· F Keion Brooks #9 (up 7)
· F Trendon Watford #17 (down 2)
· C Trayce Jackson-Davis #21 (up 3)
· G DJ Carton #23 (up 14)
· G Kira Lewis #24 (up 24)
· G Jahmius Ramsey (up 6)
· G Tyrell Terry #88 (up 151)
· G Armaan Franklin #131 (down 26)
· G Brandon Newman #140 (up 28)
Indiana projects to have three scholarships open for the 2019 class with Juwan Morgan and Evan Fitzner set to exhaust their eligibility and Romeo Langford expected to declare for the NBA Draft. If the Hoosiers end up pulling a class that includes three players from this list, it's going to be another strong foundational class for Archie Miller to work with.
For more on Indiana's recruiting, our friends at Heard on the Hoosier put together a nice Stock Up/Stock Down podcast episode discussing Indiana's 2019 recruiting targets.
Banner #3
Is Devonte Green primed for a breakout junior season?
On both The Assembly Call and Podcast on the Brink this week we discussed the importance of Devonte Green's development as a junior.
On Podcast on the Brink, the topic came up somewhat unexpectedly in response to a mailbag question about potential breakout candidates for the 2018-19 season. On The Assembly Call, we structured this week's radio show around analyzing Devonte's strengths and weaknesses and assessing our confidence level in his ability to add more focus and consistency to his arsenal as an upperclassman.
You can subscribe to Podcast on the Brink and The Assembly Call wherever you listen to podcasts.
For quick links to each episode:
· AC: [404] Is Devonte Green Primed For a (Gulp) Breakout?
· POTB: [228] The reader mailbag is back again
Banner #4
We will know Juwan Morgan's decision soon
The only outstanding roster issue left to be settled for the 2018-19 season is whether Juwan Morgan will be back for his senior season.
Juwan declared for the NBA Draft, and has participated in a few workouts, but thus far he doesn't seem to be gaining a lot of attention as a potential draft pick. He has until May 30th to decide whether he wants to return to Indiana, or keep his name in the draft and potentially play in the G League or Europe.
Banner #5
Romeo Langford is preparing to take the next step in his basketball career
Romeo Langford has been top of mind for so long as a high school basketball player that it still seems a bit surreal that he will actually be playing in college next season.
Earlier this week, Alex Bozich detailed how Romeo is approaching his preparation for next season.
Langford said that he's remained in regular contact with the coaching staff and is planning to talk with them this week to finalize plans for his arrival on campus. He's also stayed in regular contact with one of his future teammates, Robert Phinisee.

While he hasn't set specifics on goals or expectations for next season, Langford said that work ethic is his top priority.

'I just want to be the hardest worker when I get there,' he explained. 'One of the hardest workers out there in practice. I don't want to get out worked.'
Something tells me Archie Miller is going to really enjoy Romeo's one year in Bloomington if the highly regarded freshman walks the walk he's talking.
In other Romeo news, you may have heard that the Washington Post published an article detailing several facts that we already knew about Adidas sponsoring Romeo's AAU team. This caused quite a bit of uproar, and it inspired a few terribly misguided and irresponsible takes that I won't link to here.
The two most reasonable reaction pieces to the Washington Post story were this one by Tim Sullivan of the Louisville Courier Journal and this one by Zach Osterman of the Indianapolis Star.
Banner #6
Highly regarded 2020 prospect very familiar with Archie Miller
Ethan Morton is one of top recruits in the Class of 2020, and the Western Pennsylvania native already has a scholarship offer from Indiana.
So how did Morton nab a scholarship offer from Archie "Inside-Out" Miller despite living several states away? As Mike Miller explains for Hoosier Sports Report, it turns out there is mutual familiarity given the Miller family's deep roots in the area.
Growing up in Western Pennsylvania, Ethan Morton has a keen understanding of Archie Miller's basketball lineage.

Morton, a rising junior prospect in the 2020 class, recognizes what the Miller family name means to the basketball community in those parts. It's where Archie's father, John, coached for 35 years, retiring with 657 career wins and legendary status at Blackhawk High School.

It's where Archie's brother, Sean, led Blackhawk to back-to-back Western Pennsylvania Interscholastic Athletic League Class 3A title games in the late 1980s. And It's where Archie, himself, propelled Blackhawk to state championships during his sophomore and junior seasons.

So it was a pleasant development for Morton when Indiana extended an offer last month.

'I respect the heck out of Coach John Miller, Coach Sean and Coach Archie,' Morton said. 'It's incredible what they were able to do in high school and how they are able to have success at the college level. There's no comparison to what they've been able to do.'
Before you go:
· Our friends at the Mind Your Banners podcast put out two new episodes this week: Mailbag | IU enjoying a "refreshing" offseason
· A closer look at the Evan Fitzner addition (ITH)
· An updated look at who is coming and going in the Big Ten next season (ITH)· · Eric Gordon exploded for 27 points in the Rockets' Game 2 victory over the Warriors (NBA.com)
· Gordon was named a finalist for the NBA's 6th Man of the Year Award (Houston Chronicle)
· Thirty-One Hoosiers Qualify for the NCAA East Preliminaries in Tampa (IUHoosiers.com)
And with that, the joy of hanging Banner #6 is now one week closer.
Thanks for your continued support for The Assembly Call and Inside the Hall. We'll be back next weekend with a new roundup.
Now go enjoy yourself a 6-banner Sunday. If you'd like to receive this newsletter in your inbox each Sunday, please enter your email address below:
Filed to: