As deadline approaches, several key Big Ten NBA draft decisions will shape league race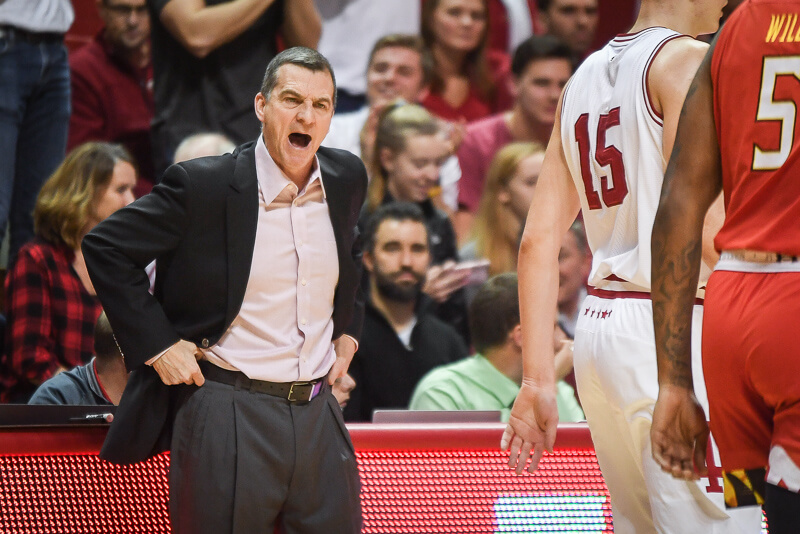 The 2018 NBA draft combine wrapped up on Sunday in Chicago, which means we are now 10 days from learning much more about Big Ten rosters for the 2018-19 season.
The deadline to withdraw from the draft for those who haven't hired an agent is May 30 and several Big Ten programs are awaiting key decisions that could shape the conference race next season.
By our count, here's a full list of the Big Ten players who have their name in the NBA draft pool who haven't hired an agent:
· Charles Matthews, Michigan
· Juwan Morgan, Indiana
· James Palmer Jr., Nebraska
· Isaac Copeland, Nebraska
· Tyler Cook, Iowa
· Isaiah Moss, Iowa
· Nick Ward, Michigan State
· Nojel Eastern, Purdue
· Carsen Edwards, Purdue
· Ethan Happ, Wisconsin
· Kevin Huerter, Maryland
· Bruno Fernando, Maryland
From this list, only three players received draft combine invites: Edwards, Huerter and Fernando. And the situation for each player is different.
Huerter was one of the breakout performers at the draft combine in Chicago and is now projected by some as a potential late first round pick, according to The Washington Post:
Soon, Huerter will have a decision to make. He is a professional prospect without an agent, which means he has until May 30 to decide whether he will keep his name in the draft (and forfeit his college eligibility) or return to Maryland for his junior year. That choice became more complicated after a strong showing at the combine: Many analysts and scouts projected him as a late-first-round pick.
Fernando, meanwhile, went from a guy that wasn't even in Jonathan Givony's top 100 over at ESPN.com a few weeks ago to receiving a combine invite. In various mock drafts, Fernando is listed by some as a late first round pick and others have him going undrafted.
As The Washington Post explains, NBA scouts are intrigued and still skeptical at same time by Fernando:
Bruno Fernando caught the ball behind the three-point line, took two dribbles before faking a hand off to a guard, then zipped a pass to a teammate, just beyond the reach of a defender. He finished the play by setting a ball screen.
"That's the kind of simple stuff he has to do with consistency," said a Western Conference scout while watching Fernando, a 6-foot-10 forward who just finished his freshman season at Maryland, play in a five-on-five scrimmage at the combine Thursday. "He certainly looks the part, but one red flag were his turnovers in college and his decision-making with the ball, because in the NBA big men are asked to do a lot of different things."
Edwards was a late addition to the draft combine and is given a second round grade at best in most projections. His decision, however, still seems to be up in the air based on his comments at the draft combine:
Once the lottery picks shake out, the more difficult task for NBA teams begins, trying to project among a field of mostly rotation players and developmental projects.

A lot of them will fail to stick, which is where Carsen Edwards comes in. If he spends another year at Purdue, will he be better prepared and can his draft position improve enough in 2019 to make that wait worthwhile?

"That would be the feedback I'll need to leave (with). I know they won't give me a guarantee or anything," Edwards said at the NBA Draft Combine. "If not first (round), early second round. If I get the feedback of the things I need to work on, that's going to be just as helpful to go back to school and do those things. For me to stay it would be a certain position, a certain spot I want to go in."
Here's the latest on a few other key Big Ten players who weren't at the combine:
· Matthews, one of the stars of the 2018 NCAA tournament, is still in mulling things over, according to John Beilein:
"He's had some tryouts, he'll have some more. I'm encouraging him to do all of those so he can make an educated decision," Beilein said. "He's right here in Chicago, if some people decide not to go, maybe he'll be sent. I'm all for him going. The more education the better.

"We were waiting on a combine invite. After that, I'm sure we'll talk a little bit. He's been training and working really hard. He has more workouts scheduled. After that, he'll know a bit about where he stands."
· Here's Iowa's Fran McCaffery on his roster for next season along with comments on Cook and Moss, who are both expected by most to return to Iowa City:
· Several weeks back, Tim Miles said that it's trending in the direction that Copeland and Palmer return to Lincoln:
"I'd say it's more likely they come back than they go (professional),'' Miles said.
· Mum has been the word with Morgan, who has had several workouts with NBA teams, but didn't receive a combine invite. The CBSSports early entrant tracker lists Morgan as "second round/undrafted" in its projections.
· Happ, who will be a popular pick for Big Ten preseason player of the year if he returns to school, also didn't receive a combine invite but has worked out for several teams. However, as Landof10.com writes, it would be a surprise if Happ remains in the draft:
"I think we're going to do a couple more workouts over the next couple of weeks," Greg Gard said of Happ, who's already reportedly worked out for the Oklahoma City Thunder, Los Angeles Lakers, Milwaukee Bucks and Cleveland Cavaliers.

On the surface, there's a lot to like at the next level: The poise, the passing, the precision in the paint, to name but a few tools in the shed. But Happ also is neither fast on his feet nor a classic rim-protector, which means the NBA likely will try to cast No. 22 as a stretch 4 or a big 3.

As a Badgers standout, Happ is a lifetime .091 shooter from beyond the arc (1 for 11) and a .564 shooter from the free-throw stripe. Which means it's not a role that he seems particularly well-suited to play, given the body of evidence to this point.

Or lack thereof.
Filed to: 2018-19 Big Ten preview