A closer look at the Evan Fitzner addition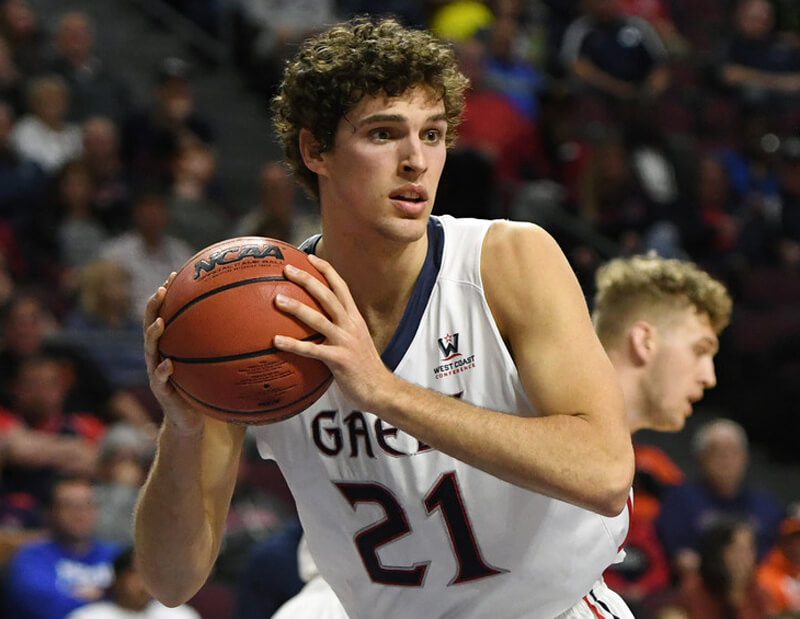 Indiana added a 13th scholarship player to its roster earlier this month in Evan Fitzner, a graduate transfer from Saint Mary's who will be eligible immediately.
The 6-foot-10 Fitzner, a native of San Diego (Calif.), has one year of eligibility remaining.
How will Fitzner impact the program next season? Here's what Archie Miller said about Fitzner in the program's press release announcing his addition:
"Evan is an experienced player who will have the ability to help us because he helps our team become older. He is a career 40 percent plus shooter from three-point range and is someone we are going to look for to stretch the floor with his range. He's a physical presence who brings much needed depth to our frontcourt and his skillset gives us versatility that will be invaluable. The overall experience he gained at the high level he played over the last three years will be a tremendous asset to our program."
What a player adds from a leadership perspective is difficult to forecast, but Miller is correct in terms of Fitzner making IU an older team. He will be the oldest scholarship player on the next season's roster and the second oldest contributor behind Zach McRoberts.
Beyond giving the Hoosiers another senior, Fitzner also brings the potential to contribute in several key areas, including perimeter shooting.
In three seasons at Saint Mary's, Fitzner made 125 3-pointers in 105 career games. More importantly, he connected at a 41.5 percent clip on 3s and his career effective field goal percentage is 58.8.
Looking at his offensive profile in Synergy Sports, there are four areas where Fitzner figures to help the Hoosiers. Most notably, he ranked in the 76th percentile nationally as a spot-up shooter, scoring 1.06 points per possessions in such situations.
As a team, Indiana ranked in just the 25th percentile last season in spot up situations and scored .89 points per possession on spot up possessions. The addition of Romeo Langford should obviously help, but adding a veteran floor spacer like Fitzner could also prove very beneficial.
As you'll see in the clips below, Fitzner is great at finding space on the perimeter and catching and shooting:
In addition to his efficiency in spot up situations, Fitzner also moves well without the ball. According to Synergy, he ranked in the 73rd percentile nationally in cut situations. Fitzner scored 1.27 points per possession off of cuts.
With more talent around him, Fitzner should be able to continue to excel by simply moving without the ball and getting open for teammates to find him.
While he's not an elite athlete, Fitzner can also be effective as the roll man in pick-and-roll situations. He ranked in the 54th percentile in such situations last season at Saint Mary's, according to Synergy.
As Fitzner told us earlier this month, one underrated aspect of his game is his ability to put the ball on the floor, which we've shown a few times in the clips below.
Fitzner can either pop out and shoot the three as the roll man or he can put the ball on the floor, get in the lane and score:
Finally, Fitzner was effective (albeit in very limited opportunities) in transition. In 12 transition possessions last season at Saint Mary's, he scored 15 points.
As you'll see below, many of these opportunities came from teammates simply finding Fitzner for open looks with the defense on its heels:
With grad transfers effectively acting as a free agent market in college basketball, it makes sense for programs to fill in gaps for a season without tying up scholarships for more than that season.
Indiana has taken three graduate transfers in recent seasons and the results were a mixed bag. Going back to the 2013-14 season, the Hoosiers added Evan Gordon from Arizona State, which didn't work out particularly well for the program or Gordon. Indiana later had success with Nick Zeisloft (who played two seasons) and Max Bielfeldt, who played one and was named the Big Ten sixth man of the year.
It's worth noting that the most successful grad transfers are typically the guys who aren't being asked to do too much in their new situation. Last season, Mark Alstork (Illinois) and Jaaron Simmons (Michigan) both had major expectations going into the season and were both moving up to the Big Ten from the mid-major ranks. Neither met expectations.
With Fitzner, he's already played frequently against some of the nation's best programs and he's unlikely to be asked to take on a featured role at Indiana. For that reason, it's probably not unrealistic to expect him to make an impact in line with what Zeisloft and Bielfeldt brought during their years in Bloomington.
Filed to: Evan Fitzner