6-Banner Sunday: First look at promising 2019 recruiting board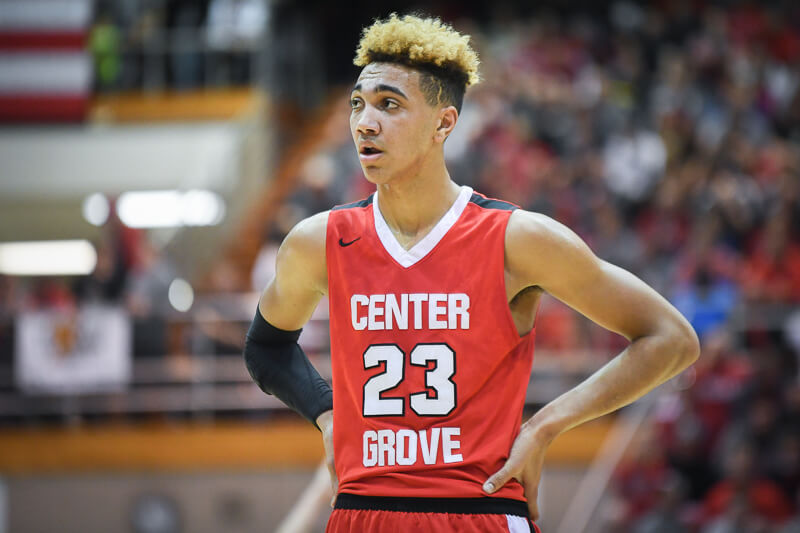 6-Banner Sunday is Inside the Hall's weekly newsletter in partnership with The Assembly Call. More than 5,000 Indiana fans receive the newsletter each week. In addition to appearing each week on the site, you can also opt to receive 6-Banner Sunday by email. A form to subscribe via email is available at the bottom of this week's 6-Banner Sunday.
Welcome to another edition of 6-Banner Sunday, a joint production between The Assembly Call and Inside the Hall, where we highlight the six most essential IU basketball stories of the past week.
Archie Miller and the IU staff have already cemented a top recruiting class for 2018, and are now focused on 2019 and beyond. One name of note from the 2019 class is guard DJ Carton, who recently trimmed his college list to six schools.
In this week's edition:
· 2019 IUBB recruiting board, IU makes Carton's final six
· Romeo gets his own court
· Hoosiers' screenwriter Angelo Pizzo chats with POTB
· Eric Gordon and Rockets set for Western Conference Finals
· Joe Smith back on the job
· Postseason underway for IU spring sports
Banner #1
2019 IUBB recruiting board, IU makes Carton's final six
With Indiana having solidified an elite recruiting class for 2018, the focus has now moved to 2019.
That's why Inside The Hall unveiled its 2019 Indiana Basketball Recruiting Board. It contains information and links to videos on more than a dozen players currently on the radar of the IU coaching staff. For all Inside The Hall posts on any recruit, just click on their name. The board will be updated throughout the next year.
One of the rising 2019 recruits that is on the list is guard DJ Carton. A four-star prospect out of Bettendorf, Iowa, With a stellar AAU season so far for Quad City Elite, Carton's profile has risen considerably, and he's now ranked as a top-35 player by 247.
On Friday, Carton unveiled the final six schools he's considering, and Indiana was included. Also named: Ohio State, Michigan, Iowa, Marquette, and Xavier.
For further updates and exclusive content from the Inside The Hall crew, subscribe to the Premium Forum. Make sure to take advantage of the current promotion: through midnight tonight, if you purchase a 1-year subscription, you get a $15 Amazon gift card!
More on the class of 2019:
· Highlights: Point guard Tyrell Terry (ITH)
· Video interview with wing Brandon Newman (ITH)
· Video interview with guard Tre Mann (ITH)
Wyandotte Safety Solutions is your one-stop shop for safety training and safety products. WSS offers CPR & First Aid training, fall protection, and lift training. We also sell PPE, AEDs, and First Aid supplies.
We are an Indiana company serving Indiana and all of North America. Check out our website for more information: ptsarcflash.com.
Banner #2
Romeo gets his own court
As Romeo Langford prepares to head to Bloomington to play for the Hoosiers, the people from his hometown of New Albany have continued to show their appreciation for the local superstar.
The latest honor Langford received was the naming of an outdoor basketball court in his honor. Yes, there will soon be a "Romeo Langford Court."
The news was made official at a ceremony on Friday with Romeo and Tim Langford, along with New Albany coach Jim Shannon, speaking at the event.
The court will be part of Kevin Hammersmith Memorial Park in New Albany and is expected to open on July 14. Steve LaDuke, the vice president of the county parks board, spoke about the impact the court will have on the community:
"So many people in Floyd County have enjoyed watching Romeo play over the past four years, and naming the court in his honor is a way for our community to look back and say 'thank-you' to him. Every kid that steps on any outdoor court should not only try to emulate Romeo's actions on the court, but also his demeanor and kindness off-the- court."
More on Langford:
· IU makes Langford, Fitzner additions official (ITH)
Banner #3
Hoosiers' screenwriter Angelo Pizzo joins Podcast on the Brink
Podcast on the Brink is always worth your time, but this week's edition was extra special.
That's because esteemed screenwriter and producer Angelo Pizzo was the guest. Pizzo is best known for his work on the films "Hoosiers" and "Rudy."
Pizzo joined Jerod Morris and Alex Bozich to discuss the Romeo Langford signing, his early memories of IU basketball, his films, and the future of the program. He also dishes out his thoughts on the newly released ESPN film about Bob Knight's last season as IU coach.
More podcasts from the past week:
· For the Indy Star podcast, "Mind Your Banners," legendary Hoosier Jordy Hulls joined Chronic Hoosier to chat about his playing career, Bloomington and more
· IU sports media alum Griffin Weinberg was the guest on the newest edition of "Ball Isn't Life," where he discussed his brief music career and his favorite moments broadcasting games for BTN Student U
Banner #4
Eric Gordon and Rockets set for Western Conference Finals
For the first time in Eric Gordon's 10-year NBA career, he's going to play in the Conference Finals.
The reigning Sixth Man of the Year, Gordon has averaged 13 points per game through the first two rounds as the Rockets dismantled both the Timberwolves and Jazz in five games.
Now the No. 1 seeded Rockets, who won a league-high 65 games this season, will face the defending champion Golden State Warriors. Although the Rockets will have home-court advantage, Golden State comes in as favorites, but Houston will be a formidable opponent.
As Gordon told the Houston Chronicle this week, the Rockets have been preparing for the Warriors all season:
This is definitely what we wanted, no question, to be at this point we're at right now. Our mentality is to win a championship. We're very fortunate and happy we're in the position we are, playing the Warriors in this series.
The series tips on Monday night at Toyota Center in Houston. Game 1 will begin at 9 p.m. eastern and will air on TNT.
Banner #5
Joe Smith back on the job
One of the most legendary sports media figures in Bloomington is back on the job after a year recovering from a devastating fall.
An Indiana Sportscasting Hall-of-Famer and the voice of pregame, postgame, and halftime radio for IU basketball and football, Joe Smith made his long-awaited return to WGCL this week. A staple on the Bloomington airwaves for nearly five decades, Smith told Mike Miller of The Herald-Times that he never considered retiring:
"The accident changed me as a person, but it also made me feel how important each and every day is to be able to get up and go out and do a job. I was blessed with a voice, and even though I'm 70 now, I think I can still communicate. I feel good about it and I'm raring to go."

Smith's return comes a little more than a year to the day that he tumbled backwards down 12 steps at his apartment complex on May 3, 2017, fracturing his C6 and C7 vertebrae. Smith spent 23 days in the hospital, undergoing two major spinal cord surgeries.
We're glad that Smith is back, and can't wait to hear his voice on IU basketball broadcasts in a few months time.
Banner #6
Postseason underway for IU spring sports
With the exception of baseball, every spring IU varsity sport is now in the postseason. Here is a look at where they all stand:
· Baseball: The regular season concludes in less than a week with Indiana needing wins to stay off the NCAA Tournament bubble. A win against Nebraska today to clinch the weekend series would certainly help
· Softball: A season headlined by a remarkable turnaround came to an end on Saturday when Indiana fell 9-4 to Minnesota in the Big Ten Semifinals
· Track & Field: The Big Ten Championships are underway in Bloomington and several Hoosiers have already personal and school records. Most notably: Willie Morrison, who took home gold in the shot put with a school-record throw
· Rowing: No. 14 Indiana will look to take home the Big Ten Championship today in Indianapolis
· Women's Golf: Erin Harper became the first Hoosier since 1989 to qualify for the NCAA Championships by battling through tough conditions at the conference tournament to finish with a three-round score of -3
And with that, the joy of hanging Banner #6 is now one week closer.
Thanks for your continued support for The Assembly Call and Inside the Hall. We'll be back next weekend with a new roundup.
Now go enjoy yourself a 6-banner Sunday. If you'd like to receive this newsletter in your inbox each Sunday, please enter your email address below:
Filed to: