Archie Miller announces Romeo Langford and Evan Fitzner as additions to 2018-19 roster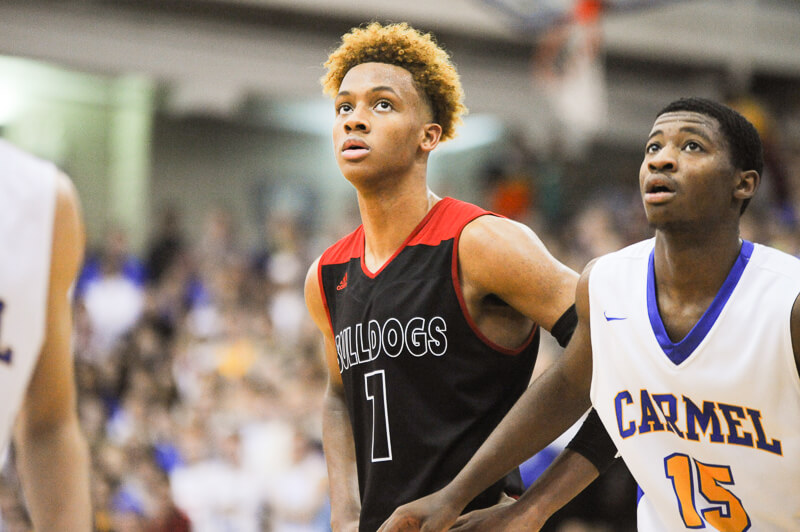 Indiana coach Archie Miller announced on Monday afternoon that the Hoosiers have signed five-star guard Romeo Langford to a National Letter of Intent and also will welcome St. Mary's graduate Evan Fitzner to the roster for next season.
The full release is available below:
BLOOMINGTON, INDIANA — Indiana University men's basketball coach Archie Miller has announced that Indiana Mr. Basketball and McDonalds All-American Romeo Langford, a 6-6, 200 lb., guard from New Albany (Indiana) High School, has signed a national letter of intent to attend IU and play basketball for the Hoosiers and that Evan Fitzner, a 6-10, 230 lb. forward, who played his first four seasons at St. Mary's (California), will join the Hoosiers as a graduate transfer and have one year of eligibility.

MILLER ON LANGFORD
"Romeo absolutely fits the profile of who you would want to represent the Indiana University men's basketball program as a person, an athlete and as a student. He has a team-first mindset and brings great size to a position of need for us and makes the game look effortless. He can score in any situation. He can shoot over defenders and is relentless in attacking the rim. He has great vision and is a willing passer who makes others better. As a defender with a 6-10 ½ wingspan, he plays with great poise and discipline. He's not afraid to challenge shots on the perimeter and will only get better as he embraces a strength program that will help him attain his goal of playing at the next level."

MILLER ON FITZNER
"Evan is an experienced player who will have the ability to help us because he helps our team become older. He is a career 40 percent plus shooter from three-point range and is someone we are going to look for to stretch the floor with his range. He's a physical presence who brings much needed depth to our frontcourt and his skillset gives us versatility that will be invaluable. The overall experience he gained at the high level he played over the last three years will be a tremendous asset to our program."

THE RECRUITING CLASS
The duo joins small forward Damezi Anderson (South Bend Riley/ranked 114th), power forward Jake Forrester (Harrisburg, Pa./Westtown School/ranked 128th), small forward Jerome Hunter (Pickerington, Ohio/North/ranked 49th) and guard Rob Phinisee (Lafayette/McCutcheon/ranked 100th) to form the seventh highest rated recruiting class in the country according to Rivals.com, which also rates as the best in the Big Ten. Langford, Anderson and Phinisee will play for the Indiana All-Stars against Kentucky later in June, giving the Hoosiers three future players in the event for the first time since 2012 and just the second time since 1989.

THE LANGFORD FILE
• Will be the 27th former Indiana Mr. Basketball to play for the Hoosiers and 21st former McDonald's All-American to suit up for the Hoosiers … also named the Gatorade Indiana Player of the Year, one of three finalists for its National Player of the Year and one of seven considered for the Morgan Wooten Award which is presented to a player who displays outstanding character, shows leadership and embodies the values of a student athlete … named a Naismith All-American twice and MaxPreps All-American as a senior… was selected as the National Player of the Year for the sophomore class in 2016 by MaxPreps.

• Had 19 points in the McDonald's All-Star Game and 14 points in the Jordan Brand Classic … also selected to play for Team USA in the Nike Hoop Summit but sat out due to injury… attended the USA Basketball Men's Junior National Team minicamp in October 2017 … played on USA Basketball's FIBA U19 World Cup Team in Egypt that earned a bronze medal.

• Played four years at New Albany High School for Coach Jim Shannon and led the team to a 110-10 record, a 2016 Class 4A state championship, multiple sectional and regional championships and four Hoosier Hills Conference crowns … finished as the school's all-time leading scorer and rebounder (907) … broke the school's single-season scoring record with 923 points as a senior… he also scored a school-record 63 points in a game against Jennings County as a senior.

• For his career, he averaged 28.0 points, 8.5 rebounds, 2.1 steals, 2.9 assists, 2.2 blocks, and shot 56.0% from the field, 36.0% from three-point range and 79.0% from the line …was the top vote getter for Indiana AP All-State honors three times and four-times on the All-Hoosier Hills All-Conference team. • Averaged 35.5 points and 8.9 boards as a senior, 28.7 points, 8.9 rebounds and 3.4 assists as a junior, 30.2 points and 9.0 rebounds as a sophomore and 17.1 points and 6.0 rebounds as a freshman.

• Four-time New Albany News and Tribune Boys Basketball Player of the Year, three-time Louisville Courier-Journal Player of the Year and Male Athlete of the Year… a four-time member of the Indiana Basketball Coaches Association Supreme Top 15 squad.

• Played AAU ball with Twenty Two Vision prior to his senior year … also played AAU ball for the Eric Gordon All-Stars.

• He is the son of Tim and Sabrina Langford of New Albany and has two sisters, Tiffany and Tisha … born on October 25, 1999.

• Langford will be the first player from New Albany High School to play for the Hoosiers since Paul Poff was with the program from 1953-55 … he played in 46 career games for Indiana averaging 2.5 points.

THE FITZNER FILE
• Fitzner is a native of San Diego, California and attended Francis Parker School where he graduated from in 2014 … was a redshirt at St. Mary's in 2014-15 … is graduating with a degree in business administration.

• Fitzner started 76 games for the Gaels over the last three years and averaged 6.4 points and 3.5 rebounds in 105 games … shot 41.4% from three-point range and made 126 of 304 attempts from long distance … also shot 78.1% from the free throw line.

• Last year, he averaged 5.0 points and 2.8 rebounds and shot a career-high 48.2% from the field … had a season-high 20 points against Washington in the NIT … as a redshirt sophomore, he averaged 5.5 points and 3.2 rebounds and shot a career-best 42.9% from long range as he helped his team to a 29-5 record … as a redshirt freshman, he was named to the West Coast Conference All-Freshman Team when he averaged 8.7 points and 4.4 rebounds … had a career-high 21 point effort at Santa Clara and also scored 20 that season in a win over Gonzaga.

• Played for Coach Jim Tomey at Francis Parker School and led his team to a 26-6 record and a Coastal League title as a senior … was a two-time All-League selection and was league MVP as a senior … squad also went to the San Diego CIF Division IV semifinals in 2013 …also played AAU Basketball for Double Pump Elite.

• He is the son of Mark and Cheri Fitzner … Mark played basketball at Stanford and Cheri was an All-American volleyball player at the University of Hawaii… brother, Bryce, was the San Diego Prep Athlete of the Year as a football and volleyball player in 2012 and played football at Kansas State … born on January 1, 1996.
Filed to: Evan Fitzner, Romeo Langford