An early look at Indiana's 2017-2018 frontcourt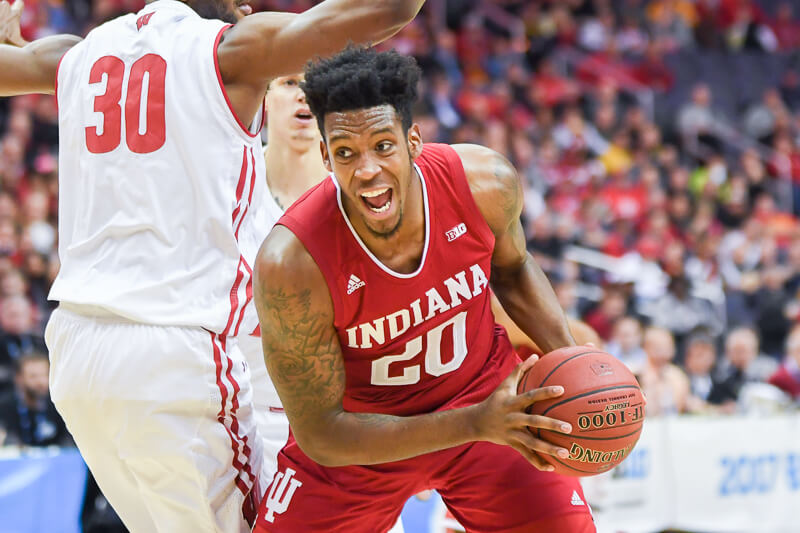 With the official start of practice less than a month away, the 2017-2018 season is growing closer. We'll have comprehensive player-by-player previews next month, but here's an early look at some of the storylines to keep an eye on with this season's frontcourt:
· Will the physical transformation of De'Ron Davis lead to improved production? One of the biggest storylines this offseason is the physical transformation of De'Ron Davis.
After a challenge in April from Archie Miller to get in better shape, Indiana's sophomore big man is down more than 20 pounds. How will it change his game?
First, the improved conditioning and weight loss should allow Davis to play more minutes. As a freshman, injuries and a lack of conditioning held Davis back from carving out a bigger role. He was effective at times, but logged more than 20 minutes just three times as a freshman. With the departure of Thomas Bryant to the NBA, Davis has to take on a bigger role for the Hoosiers to be successful.
The other key for Davis breaking out as a sophomore is learning to defend without fouling. Davis averaged seven fouls per 40 minutes as a freshman. Did some of the fouling have to do with fatigue? Davis believes that it did.
"I used to foul a lot when I got tired, I would try to get a breather," Davis said in early July. "So me getting in better shape, me losing the weight, taking away some of those foul-prone tendencies."
· Can Juwan Morgan stay healthy? After battling a shoulder injury as a freshman and a foot injury as a sophomore, Indiana needs Juwan Morgan to stay healthy as a junior.
This offseason should end up being far more productive than last for Morgan, who had to rehab last summer following shoulder surgery.
With Bryant and OG Anunoby gone, Morgan will step into a leadership role in IU's frontcourt. If he can consistently play 28 to 30 minutes a game, Morgan should be a double figure scorer and IU's top rebounder.
"We're all healthy," Morgan said in July. "We're all ready to go."
· Hartman's return: One of the biggest offseason coups for Archie Miller and the new IU coaching staff was the return of Collin Hartman for a fifth season.
Statistically speaking, Hartman's return may not seem like a big deal on paper. But having a player who was an integral part of a Big Ten championship team in 2016 back in the fold is big from a leadership perspective.
Hartman's absence a season ago, according to Morgan, was a significant setback for the Hoosiers.
"Me and OG used to joke about it calling him the annoying guy you always hated hearing, but you knew he was right," Morgan said of Hartman in July. "I think that's what we really missed last year."
· Who else steps forward? Beyond Davis, Morgan and Hartman, the rest of the frontcourt has more questions than answers.
Can Justin Smith, a four-star forward from the Chicago area, contribute right away? His athleticism and Big Ten ready body suggests he can.
Is Clifton Moore ready to physically compete in the Big Ten? There's no debating his talent and potential, according to his AAU coach.
Will Freddie McSwain show noticeable improvement? McSwain was a capable finisher last season, but had a turnover rate over 26 percent.
Indiana might not have a potential star up front like Bryant or Anunoby, but collectively this group has the talent to outperform expectations.
Filed to: 2017-2018 season preview, Deron Davis, Juwan Morgan