Davis down 21 pounds, vertical up eight inches in 12 weeks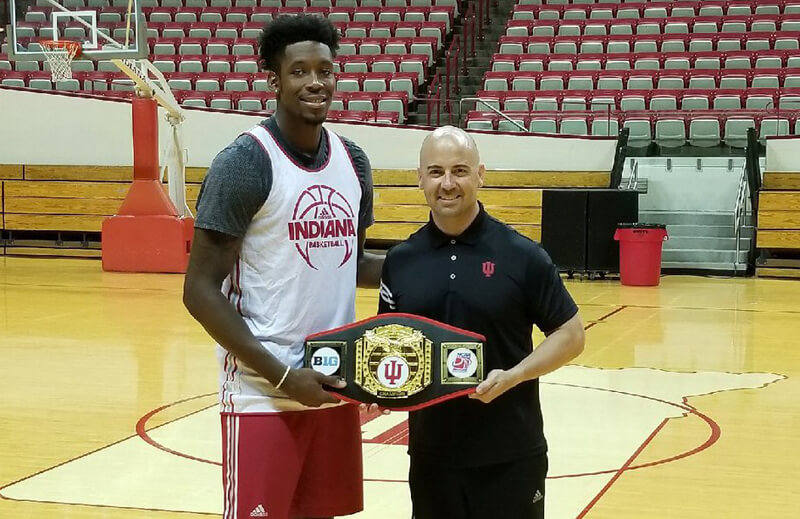 It's been a summer of major progress for Indiana sophomore De'Ron Davis.
In April, Archie Miller went straight to the point when discussing the offseason progress he wanted to see from Davis, who had an up and down freshman season in Bloomington.
"We've just got to find a way that when you guys see him in October and November that you say, wow, what happened to him," Miller said back in April. "If you're not saying that, then we didn't get it done. That's just the way it's going to be. If we say that, then you're like wow, he looks like a new man, then he's going to have a chance to have a good year."
It appears Davis and director of athletic performance Clif Marshall took Miller's directive and ran with it. On Tuesday, Miller shared some eye popping numbers regarding Davis.
The weight loss portion has been well documented already this summer, but Davis is down 21 pounds. The Colorado native also trimmed his body fat by five percent, increased his vertical jump by eight inches and did 50 extra cardiovascular sessions.
The progress was enough to earn Davis a WWE style belt as summer workouts concluded from Miller and Marshall.
"OFF SEASON is when you earn the right to be great, proud of entire team, efficient and got results," Miller tweeted. "One stood out above all though!"
Congrats @DDavis2016 on an incredible 12 Weeks! Took home the BELT! @ClifMarshall is a proud coach! #TotalDevelopment??? pic.twitter.com/sXAVLYFEEB

— Arch Miller (@Archie_Miller) July 26, 2017
In addition, Marshall shared some photos of the offseason progress made by Robert Johnson and Collin Hartman. Freddie McSwain also shared a photo of his progress on his Twitter account.
.@IndianaMBB seniors @CollinHartman30 & @RoJoJr reaped the fruit of their labor this summer! "All hard work brings a profit." pic.twitter.com/uqdGqsQQrs

— Coach Clif Marshall (@ClifMarshall) July 25, 2017
S/O to @ClifMarshall for getting me right this summer. #bestinthegame pic.twitter.com/EZAt60DyFQ

— Freddie McSwain Jr (@Mcswain_swain) July 25, 2017
Our guys leveled ?? this summer.

Here are our biggest improvers.

??? #IUBB pic.twitter.com/PmJ0Is0Cq6

— Indiana Basketball (@IndianaMBB) July 27, 2017
Filed to: Clif Marshall, Deron Davis