Miller on De'Ron Davis: "The opportunity is there"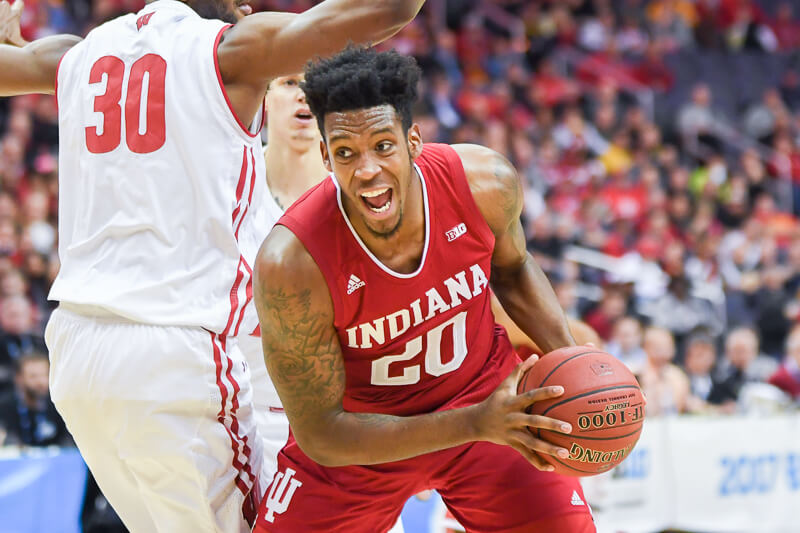 De'Ron Davis had an up and down season as a freshman at Indiana.
The 6-foot-10 center remained in Denver last summer to finish up academic requirements before arriving in Bloomington just before the start of classes last fall.
Missing summer workouts put Davis behind in terms of strength and conditioning as did a couple of minor injuries. As a result of being behind, his minutes were limited.
But Davis also showed signs of being a player with All-Big Ten potential. He was unstoppable at times in the post and when he avoided foul trouble, he provided a true back to the basket scoring option for the Hoosiers.
After spending the last month meeting, evaluating and working out Indiana's returning players, Archie Miller said Tuesday that this offseason will be critical for Davis.
"Getting my eyes on De'Ron this spring really put me in, I guess, an aggressive mode with him in terms of what he has to do for next year," Miller said. "He's going to be a major, major league player for us next year. The opportunity is there."
The plan is for Davis to remain on campus all summer, which Miller called a "big step."
"He should be one of the most improved players in all of college basketball if we can get done what we want to get done," Miller explained. "It starts with his work ethic in these next, I guess, 12 weeks physically. He's got to change his body. He's got to change his motor. He's got to prevent injuries and do some things which he didn't have the opportunity to do a year ago as he entered campus."
The main priority for the new coaching staff and director of athletic performance Clif Marshall will be getting Davis into better shape to allow his minutes to increase.
Miller said Davis has "terrific hands and footwork," but also noted that he's got to be able to play more without fouling. As a freshman, Davis averaged seven fouls per 40 minutes.
"When he can play 25 plus minutes a game without fouling, you're going to see a guy that can do a lot of different things," Miller explained. "Post, operate off the post with him, offensive rebound, has a great motor, get fouled, he's a good free-throw shooter, so get fouled.
"Defensively be able to be a presence for us, be physical inside with his size. Also do some things in transition that he hasn't done before as well. So I think there are some things that we're going to ask him to do, where he's going to have to really grow up."
The defensive part of the puzzle is something all four of Indiana's coaches discussed on Tuesday.
Assistant coach Bruiser Flint, who worked for Kentucky coach John Calipari for several years at UMass, said that he and Calipari agree that having a post presence is essential in building a team.
"One of the things we always talked about was having post presence," Flint said. "We think if you don't have post presence, you're a little bit of a fraud."
With a full summer ahead of him to improve, Davis has the opportunity to step up and be that post presence in Bloomington. Sophomore Thomas Bryant could also return, but is currently working through the NBA draft process after entering his name without hiring an agent.
If Bryant opts to stay in the draft, the role and expectations for Davis will immediately increase.
"We've just got to find a way that when you guys see him in October and November that you say, wow, what happened to him," Miller said. "If you're not saying that, then we didn't get it done. That's just the way it's going to be. If we say that, then you're like wow, he looks like a new man, then he's going to have a chance to have a good year."
Filed to: Deron Davis