What Collin Hartman's return means for Indiana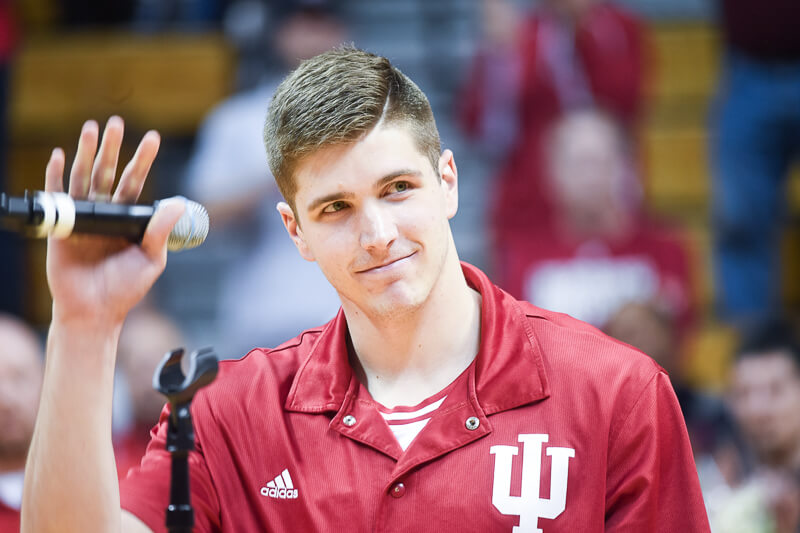 Indiana's senior night festivities after a narrow 63-62 win over Northwestern on Feb. 25 acted as a celebration for one of the program's most vital pieces over the last four seasons.
Collin Hartman, who committed to the program in November of 2011, helped IU win a Big Ten title and battled through various injuries, stood at midcourt on Branch McCracken Court and delivered a speech that felt like a goodbye. Fans applauded him, showed their appreciation and also watched as he proposed to his longtime girlfriend.
Hartman was lost for the season in September with a knee injury and his absence last season was a significant setback for the Hoosiers. With Yogi Ferrell, Max Bielfeldt, Nick Zeisloft, Ryan Burton and Troy Williams all gone from 2015-16's Big Ten championship team, the expectation was that Hartman would help fill a leadership void.
Instead, Hartman's role last season was confined to being a spectator on the bench as the Hoosiers took a nosedive in Big Ten play. The injury narrative was overplayed nationally as Indiana underachieved and lost to Georgia Tech in the NIT, but there's also no denying that Hartman's absence was a tangible factor in IU's struggles.
Now that we know Hartman's senior speech wasn't a goodbye, what does his return mean for Indiana moving forward? Several things.
First, it's our first major validation that the current Indiana locker room is embracing the Archie Miller era with open arms. Hartman was recruited from his early days at Cathedral by Tom Crean. It would have been understandable for him to look around and play elsewhere as a graduate transfer with the coaching change. It was certainly within his right. But he didn't. And Miller has to be looked at as a major part of Hartman's reason to come back. If Hartman didn't believe in what Miller will implement in Bloomington, he wouldn't have committed to a return. Hartman had options beyond basketball, but chose to put them on hold for a chance at one more run.
His decision also serves as a strong indicator that Hartman believes he will be healthy enough to play a significant role on next season's team. Hartman has battled knee injuries throughout his career and constant rehab can be mentally exhausting.
"I needed to make sure that I could fully dedicate myself both mentally and physically to the process," Hartman said in the release issued by Indiana on Thursday. "It is important that I am able to come back and perform at the level I was at before the injury occurred."
The on-court impact of a Hartman return will also have a statistical impact, even though the numbers might not be eye popping. He's a capable 3-point shooter who is also crafty at times in getting to the basket and moving without the ball. Hartman moves the ball, he's willing to make the extra pass and he generally helps make others around him better. He's also versatile enough to play multiple positions, which he proved when he started at center in multiple games as a sophomore.
There's also the intangibles Hartman will bring that Miller, who talked toughness and "attacking mindset" in his introductory press conference, will appreciate. Hartman played three NCAA tournament games in 2016 with a fractured wrist. He also tore his ACL after his forgettable freshman season and came back a totally different player as a sophomore. As a freshman, he could barely sniff the rotation on a team that didn't make the postseason. As a sophomore, he routinely started on a team that won 20 games and made the tournament.
When Miller spoke about his recruiting approach on Monday, he cited the need to recruit his current players first and said that "even thought I didn't recruit them, they're mine." With Thursday's news that Hartman will come back for a fifth season in Bloomington, it's clear that Miller's words are being embraced in the Indiana locker room.
Filed to: Collin Hartman