Collin Hartman returning to Indiana for 2017-18 season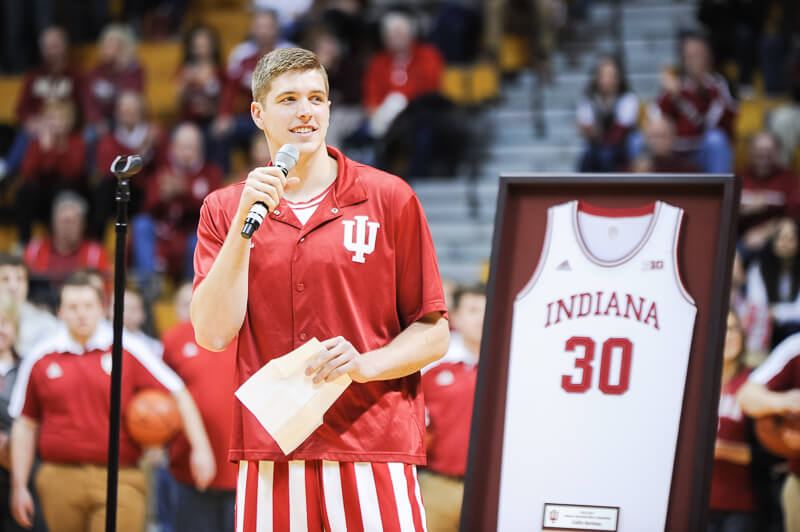 Indiana forward Collin Hartman, who missed the entire 2016-17 season with an injury, will return to the Hoosiers next season as a redshirt senior.
Hartman confirmed the news in a video on Twitter:
Decision time… #hoosiernation #iubb ??? pic.twitter.com/5R6FMOjz9B

— Collin Hartman (@CollinHartman30) March 30, 2017
Hartman, who got engaged on senior night in Bloomington on Feb. 25, had left his status up in the air for next season in his last public comments.
"This is something that I had been leaning toward since before the season had ended and I needed to make sure that I could fully dedicate myself both mentally and physically to the process," he said in a statement. "It is important that I am able to come back and perform at the level I was at before the injury occurred."
"I'm so happy that Collin has made his decision to return to IU basketball to finish the last chapter of his basketball journey," Hartman's mother, Melissa Compton, said in a statement.
After playing an integral role on 2015-16's Big Ten championship team, Hartman suffered a non-contact left knee injury during an individual workout on Sept. 20. He underwent surgery on Monday, Sept. 26.
Hartman, who started 24 games as a junior, averaged five points, 3.1 rebounds and 1.7 assists in 21.9 minutes per game in 2015-16. He shot 35.8 percent from behind the 3-point line.
He played several games at the end of that season with a fracture in his wrist, an injury he suffered in Indiana's 72-69 loss to Michigan in the Big Ten tournament in Indianapolis.
Following Hartman's freshman season at Indiana, he suffered a torn ACL in his right knee after planting his knee wrong in a drill. As a result of that injury, Hartman missed Indiana's trip to Montreal in August of 2014. He returned as a sophomore to play in 32 of Indiana's 34 games.
His return is a major boost for first-year coach Archie Miller as he builds his roster for the 2017-18 season.
"We are thrilled that Collin has decided to come back and play next season," Miller said in a statement. "Having an individual who has won a Big Ten championship and had success in the NCAA Tournament gives our program a big lift. He brings leadership and intangibles that can do nothing but help us achieve our goals."
Hartman, who graduated in May of 2016, is expected to continue working towards a graduate degree.
Filed to: Collin Hartman