Film Session: Maui Jim Maui Invitational
Here's a typical offensive set for the Hoosiers. After some weave action on the perimeter, Bryant comes up and sets a pick for Troy Williams: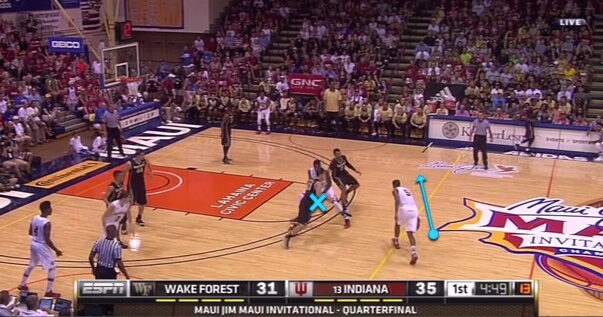 With both Bryant and Williams' man converging to the ball, Bryant works his way into the paint. Williams makes the pass — a one-handed whip with his body facing away from Bryant: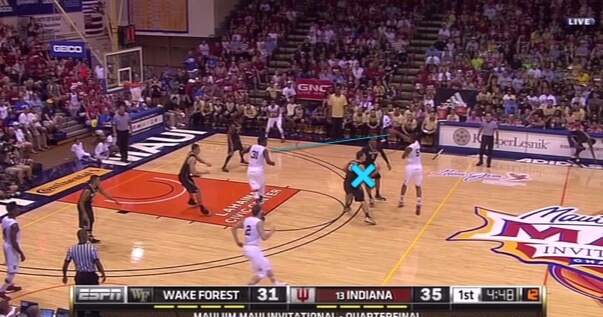 Instead of leading Bryant into further good position lower on the block, Williams pass sails behind Bryant's head and it's a turnover for Indiana: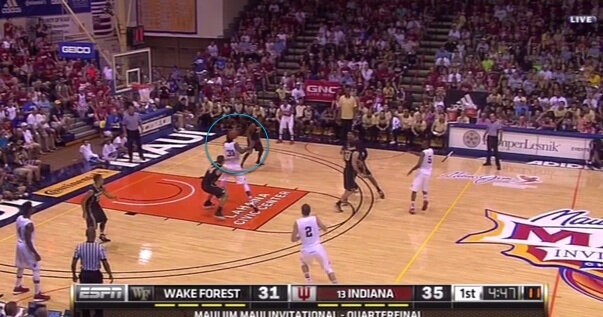 A more fundamentally sound pass from Williams may have saved Indiana on this possession.
This was far from the only time the Hoosiers turned the ball over on entry passes to Bryant in Maui. Against St. John's, Collin Hartman telegraphed for too long and Federico Mussini left Yogi Ferrell to steal the entry from behind. Against UNLV, Robert Johnson tried passing over the top of Derrick Jones Jr. to Bryant too far away, and Jones Jr. jumped up and intercepted the pass.
Ferrell also tried passing over the top to a sealed-off Bryant and it ended up landing too far away from him and out of bounds. The entry pass to Bryant was just one of the many ways Indiana turned it over in Maui.
Video:
Filed to: 2015 Maui Invitational, Film Session