Offseason storylines: What IU needs from Mosquera-Perea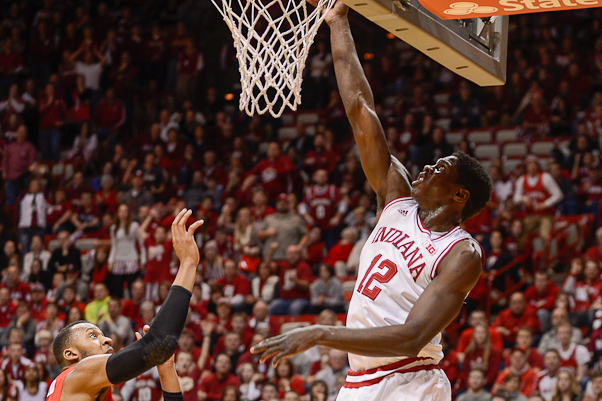 Welcome to offseason storylines, a look into some of the biggest storylines surrounding the 2014-2015 Indiana Hoosiers. Next up, a look at the potential role of Hanner Mosquera-Perea as a junior. (Previously: A look at Indiana's youth and how it got here, Is Troy Williams ready to make a leap?, Where can Ferrell grow as a junior?)
Indiana will enter the 2014-2015 season with one of the Big Ten's best backcourts. Yogi Ferrell returns with a legitimate shot to challenge for first team All-Big Ten honors. James Blackmon Jr. arrives with numerous accolades, including a selection to the McDonald's All-American team. Stanford Robinson will bring a year of experience and the ability to get to the basket. And Robert Johnson arrives with a college ready body and shooting stroke.
The frontcourt situation, however, is far less certain and full of questions.
The loss of Noah Vonleh to the NBA and the midseason transfer of Luke Fischer to Marquette leaves the Hoosiers with very few options up front. IU did add a bit of depth last spring with the signing of Jeremiah April, a 7-footer from Phoenix, Arizona, but the majority of the frontcourt minutes figure to go to sophomore Devin Davis and junior Hanner Mosquera-Perea.
At 6-foot-9, Mosquera-Perea is much more of a center than the 6-foot-7 Davis, although IU did use Davis at the five situationally last season against teams with similar size up front, like Michigan. But against teams with size, it stands to reason that Mosquera-Perea should get the first crack at the minutes that were mostly taken by Vonleh a season ago.
So what does Indiana need from Mosquera-Perea, largely unproven through his first two collegiate seasons, as a junior? In comments last week, Tom Crean said that it starts with consistency for the Colombia native.
"His body looks extremely good," Crean said. "He's gaining confidence. He's gaining stature around his teammates. He's gaining more of a voice. He's becoming a better worker, but it's July 15, he's got to keep it up."
A quick dig through Mosquera-Perea's numbers over his first two seasons reveals a player that has finished the offensive opportunities he's received relatively well, but has struggled with turnovers and foul issues.
As a sophomore, Mosquera-Perea made 57.5 percent of his 40 field goal attempts and boasted a ridiculous free throw rate (117.5), albeit in very limited minutes (7.7 per game). He actually attempted more free throws (47) than field goals (40), which isn't easy to do. And when you consider that he made 72.3 percent of his free throw attempts last season, this could be an area of offensive strength for Mosquera-Perea, who figures to get a majority of his offensive chances on putbacks and lobs.
The key, however, to translating those numbers while in a bigger role, lies in Mosquera-Perea's offseason improvement in limiting mistakes when opportunities do arise. He's not going to be a featured offensive weapon given IU's assortment of options on the perimeter, but a turnover rate of 25.7 is a number that Mosquera-Perea must clean up considerably. Some of it will come with repetition and becoming more comfortable with the speed of the game, but instinct things like anticipating when a ball is coming his way or catching a pass will be major factors in determining just how effective he can become.
One thing to also consider, as pointed out recently by Luke Winn of Sports Illustrated, is that the emphasis on playing through the post in college hoops is on the decline:
A brief summary of "polished" five-star freshman bigs in the past five seasons: (DeMarcus) Cousins' absurd level of offensive production as a freshman helped Kentucky earn a No. 1 seed in '09-10; Jared Sullinger's low-block play made Ohio State a title contender in '10-11; Cody Zeller helped Indiana break through to the Sweet 16 in '11-12; Julius Randle's bullishness around the rim was a big reason UK reached the championship game in April; and Joel Embiid, who had been billed a project but in reality was highly skilled, helped Kansas win yet another Big 12 title in '13-14.

Yet in that same time period, there's been a drop-off in the frequency of overall post-up play in the NCAA tournament. An examination of every offensive possession logged by Synergy Sports Technology from the past five NCAA tournaments — a sample of roughly 50,000 possessions — reveals that post-ups accounted for 10.0% of offense in both 2010 and 2011, then 9.9% in 2012, before dropping off to 8.5% in 2013 and 8.8% in 2014. That may seem small, but it represents a decline of more than two post possessions per game, per team — a noteworthy number.

There's no clear answer for why this is happening, although multiple coaches suggested to me the possibility of a trickle-down effect from the NBA, which has begun to fetishize the "stretch four" over the traditional power forward. The pros have also offered fewer classic, low-post centers for young players to emulate.
That's not to say that having an effective true post player isn't important, but a team like Connecticut winning the national championship without much of a post presence this past season proves that winning largely with guard play is possible.
The other side of the ball will be equally important for Mosquera-Perea, who will be tasked with helping replace the defensive rebounding prowess of Vonleh. As a sophomore, Mosquera-Perea's defensive rebounding percentage was 20.5 percent, which would have ranked near the bottom of the top 10 in the Big Ten had he played enough minutes to qualify. That would be a number that Indiana could live with from Mosquera-Perea as a junior, assuming he gets help on the glass from Davis, Troy Williams and a guard core that may have to crash more aggressively than in year's past.
Also of importance is cutting down the fouls, which have been a problem for Mosquera-Perea over his first two seasons. In 338 career minutes, he's racked up 58 fouls, which is one foul every 5.8 minutes. By comparison, Vonleh fouled once every 9.8 minutes last season. In two college seasons, Zeller fouled just once every 11.8 minutes. In a season where Indiana will need Mosquera-Perea on the floor for major minutes, cleaning up the fouls is pivotal.
Ultimately, what Indiana needs most from Mosquera-Perea was summed up succinctly in early June by Crean, who challenged the rising junior to embrace what awaits in his third season.
"It's time to play. It's time to be really serious about playing extended minutes," he said. "It's time to be an enforcer at the basket. It's time to show that toughness that his body gives you. It's going to have to happen or he won't be out there as much.
"We need his consistency. It's no more fun and games, now it's time for you to lock in and mature and not anymore talk, let's get at it."
Filed to: Hanner Mosquera-Perea, Tom Crean