Offseason storylines: A look at Indiana's youth and how it got here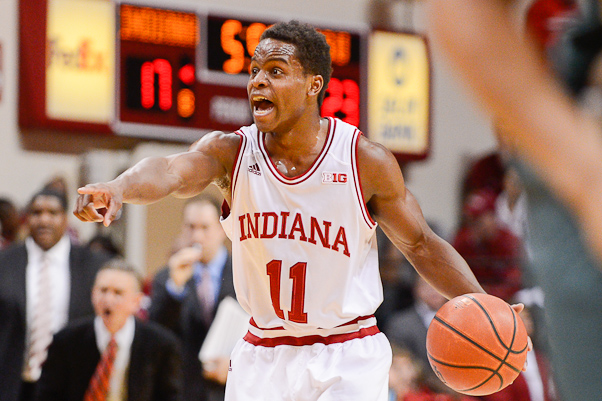 Welcome to offseason storylines, a look into some of the biggest storylines surrounding the 2014-2015 Indiana Hoosiers. First up, a detailed look at Indiana's youth and where it stacks up in terms of returning production in the Big Ten.
Just one year removed from having the second least experienced team in the Big Ten, according to the KenPom.com experience rankings, Indiana is again looking at putting one of the league's youngest teams on the floor for the 2014-2015 season.
It was one of several topics Tom Crean discussed at last week's "On the Road" tour stop at Huber Winery in Starlight, Indiana when he met with the media for the first time this offseason.
"We are going to be really young again," Crean said. "I don't know where we will stack up in the Big Ten, I have to believe we are right there. The bottom line is we have to have guys come together throughout the summer."
While it's impossible to forecast where Indiana will end up in those same rankings for the upcoming season — the ranking uses eligibility class weighted by minutes played for a particular season — a quick look at the returning percentage of minutes across the league bears out Crean's assessment.
Before getting to what we found in our examination of both percentage of points and minutes returning for each Big Ten team, it's equally important to look at how the Hoosiers got here.
In the 2012-2013 campaign, a season in which the Hoosiers won the Big Ten outright for the first time since 1993, Indiana was the sixth most experienced team in the conference with a solid mix of upperclassmen (Christian Watford, Derek Elston, Jordan Hulls, Victor Oladipo, Will Sheehey) and youth (Cody Zeller, Remy Abell, Yogi Ferrell).
As scrutinized as Indiana's 2010 recruiting class was at the time, it was one of the better recruiting classes Crean has landed when you consider the production, culture building and length of time in the program provided by Oladipo and Sheehey.
Since that class, the Hoosiers have landed a McDonald's All-American each year, but the complimentary pieces in both the 2011 and 2012 classes either leaving the program or providing less than anticipated production is a major reason IU will be lacking in experience for a second straight year.
Of the 2011 and 2012 recruits Indiana signed not named Zeller or Ferrell, only Mosquera-Perea and Jurkin remain in the program. Austin Etherington, Abell, Jeremy Hollowell and Ron Patterson have all moved on for various reasons, which is why Ferrell is the only returning upperclassman who has logged more than 350 career minutes.
Mosquera-Perea and Jurkin, Indiana's two returning upperclassmen besides Ferrell, have combined for a total of 99 points in two seasons.
In his comments last week, Crean talked at length about the leadership role Ferrell must shoulder as a junior along with the importance of the upcoming summer for a roster that will include five freshmen and four sophomores.
"Yogi has to become better, he has to be a leader and mature. Our whole team has to mature," Crean said. "We lost 6,900 (career) points the year before, which we knew we weren't going to replace that easily. The decision making, the maturity of that team, we really lost that. It is not just the obvious guys that were in the lottery. It is guys like Derek Elston. We never had a replacement for Christian Watford and Jordan Hulls this past year. We didn't have a replacement for the energy of a Derek Elston. We had guys that were mature enough to put people in their place when they needed to be put there.
"Our guys last year spent too much time being buddies, than being absolute comrades. Comrades and even friends, they don't let you make mistakes. It is not just what goes on, on the floor, it is what it is off the floor. Buddies are afraid sometimes of telling each other what needs to be done and we have to outgrow that and Yogi is a key component of that."
When Indiana ultimately takes the floor for the start of practice next fall in Assembly Hall, the Hoosiers will have summer workouts, 10 practices and a five-game foreign tour to Montreal under their belt. It will be the first time Crean has taken a foreign trip at Indiana and the first for the program since 2007. By NCAA rules, the program can take a foreign tour once every four seasons.
Those experiences will be valuable, but ultimately the Hoosiers will still be close to the bottom of the conference in percentage of minutes and points returning.
Indiana will return 44.7 percent of its minutes played from the 2013-2014 season, the lowest number in the Big Ten. Only three other conference teams, Michigan (47.2), Purdue (47.6) and Ohio State (48.6), are also under the 50 percent plateau.
In terms of actual scoring production returning, Indiana will return 50.1 percent of its points from the 2013-2014 season. Only Michigan (42.7), Ohio State (42.7), Michigan State (45.5), and Purdue (50) will return less scoring.
Youth, of course, shouldn't be the only definition of Indiana in 2014-2015. The Hoosiers had bigger issues, namely turnovers, in the 2013-2014 campaign that Crean said must be overcome.
"The turnovers and the lack of timely shooting, which goes into the decision-making, were not where we needed it to be," he said. "When you can pinpoint that like we have been able to do and you know you are going to get better with that, that gives you a lot of optimism. We don't want to give in some other areas, that is going to be why it is important we have a great summer."
Filed to: Tom Crean, Yogi Ferrell