Former IU big man Luke Fischer picks Marquette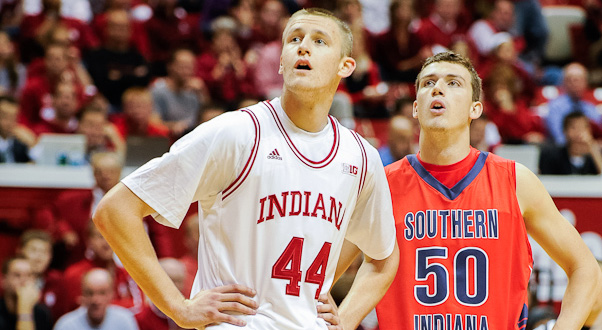 Former Indiana center Luke Fischer is making a move closer to home.
The 6-foot-10 Wisconsin native announced via his Twitter account on Sunday morning that he is transferring to Marquette. Fischer said he also considered UW-Milwaukee and Creighton.
"I am excited to say I will be transferring to Marquette University to play for Coach (Buzz) Williams and the Golden Eagles," Fischer said on Twitter. "Marquette allows me to be closer to home while playing at the highest level for a great academic institution."
Fischer, who averaged 2.8 points and 2.1 rebounds in 13 non-conference games, announced that he would leave Indiana on Dec. 30, just a day before the Big Ten opener at Illinois.
In his final outing for Indiana on Dec. 22 against Kennesaw State, Fischer recorded a career-high 10 points and also had three blocks. He missed significant time in IU's preseason practices as he recovered from a torn labrum.
Over his final two years of high school basketball at Germantown (Wis.), Fischer led his team to a 56-0 combined record and back-to-back state titles.
Fischer will have 2.5 years of eligibility remaining if he chooses to play beginning with the second semester of the 2014-2015 season.
Filed to: Luke Fischer