Offseason storylines: Is Troy Williams ready to make a leap?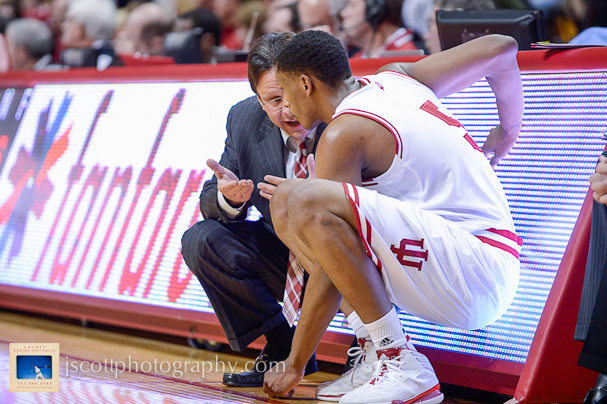 Welcome to offseason storylines, a look into some of the biggest storylines surrounding the 2014-2015 Indiana Hoosiers. Next up, a detailed look at sophomore Troy Williams and whether he can make a major leap in production as a sophomore. (Previously: A look at Indiana's youth and how it got here.)
As one of two returning players who started each of Indiana's 32 games last season, much will be expected of Troy Williams as he enters his sophomore season in Bloomington. Williams is back on campus now, but spent time last month working out in Texas under John Lucas.
There's little doubt that Williams arrived on campus possessing the athleticism necessary to make plays right away in the Big Ten, but the nuances of the games like reading defenses and making the simple play rather than trying to do too much were slower to come along. He admitted as much in an interview earlier this month with IUHoosiers.com, while also noting that the physicality was a major adjustment:
"I also had a lot to learn about the game itself, things like different ways to play pick-and-roll defense or how to defend other screening situations," he said. "That was the biggest adjustment for me."
With one season under his belt, a healthy amount of minutes played and a roster packed with youth, Indiana is going to rely on Williams to take a significant jump forward in order to reach its goal of returning to the NCAA tournament. In terms of career minutes logged, Williams will be Indiana's second most experienced player entering the 2014-2015 season.
So what does Indiana need out of Williams as a sophomore? Improved shooting, much better decision making and a bigger presence on the glass would be near the top of the checklist.
On the shooting front, Williams wasn't called on to score much as a freshman, but made 56.9 percent of his 2s, 67.5 percent of his free throws and 20.7 percent of his 3s. In terms of usage, Williams was sixth on the roster in terms of percentage of possessions used (19.4) and third amongst the returnees behind Yogi Ferrell (25.0) and Stanford Robinson (23.0).
As the shot chart below from ShotAnalytics.com shows, he was easily most effective around the basket: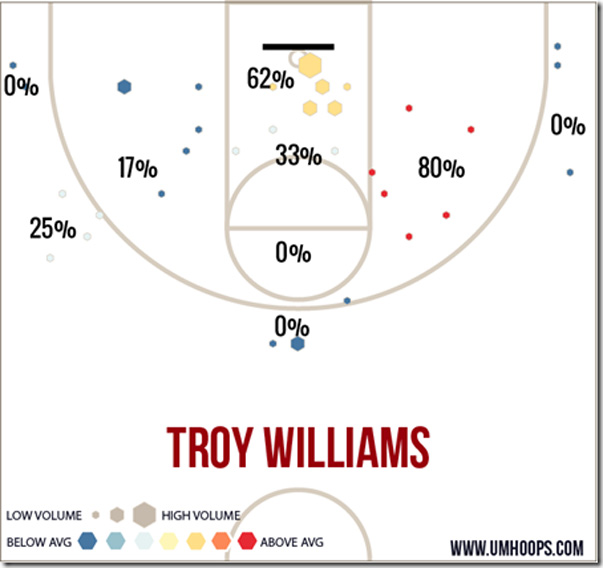 When he did move away from the basket, Williams was more effective as a right wing shooter than anywhere else. Given what Indiana is adding on the perimeter with James Blackmon Jr. and Robert Johnson from a shooting perspective, the need for Williams to make or even attempt 3-pointers should dwindle significantly, but being able to knock down a timely 3 when left open will keep defenses from overplaying him on the drive.
According to Synergy Sports, Williams was most effective offensively off of cuts, where he had 44 of his 258 possessions as a freshman. On those possessions, he averaged 1.61 points per possession (71 points in 44 possessions). A little surprisingly given his ability as a finisher, he wasn't particularly good in transition possessions. In 73 transition possessions, he scored just 64 points for 0.877 points per possession. With experience, Williams should learn to convert more of those transition possessions into easy baskets rather than going for the home run play.
Williams also did a nice job of getting to the free throw line as a freshman (44.5 free throw rate), but converted just 67.5 percent of those attempts, which is another area for offseason improvement. If his free throw numbers can come closer to the numbers we saw out of Victor Oladipo as a sophomore (49.8 free throw rate, 75.0 percent), Williams should easily be able to add 1.5 to 2 points to his scoring average at the free line alone.
The turnover piece, an issue that affected just about every Indiana player last season, is a major area of opportunity for Williams to improve upon. Of the six Indiana players with the highest usage percentages, Williams had the highest turnover percentage at 24.8. Getting that number to a more manageable figure — 20 percent or lower — would do wonders for his efficiency as well as put the coaching staff more at ease with having the ball in his hands more frequently.
And last, but certainly not the only remaining focus for Williams as he enters his second season, is his work on the glass. As a freshman, Williams posted an offensive rebounding percentage of 8.1 and a defensive rebounding percentage of 15.1. His defensive rebounding number figure was very solid, but given how much Indiana lost on the glass and how big of a focus this is in the style Tom Crean likes to play, the 6-foot-7 Williams, much like Hanner Mosquera-Perea, is going to be called on to become an even bigger factor on the glass.
Yogi Ferrell is easily Indiana's best returning player and Blackmon Jr., Johnson and Stanford Robinson should give the Hoosiers enough backcourt depth to win games. But the frontcourt rotation is largely a mystery going into the season and given that Crean said earlier this month that he expects Indiana to be "unconventional" in how it plays, it's not hard to envision Williams spending a lot of minutes in a role similar to what we saw out of Glenn Robinson III at Michigan as an undersized four.
For his part, Williams is embracing the challenge that awaits him as a sophomore.
"The team prior to us getting here – with Victor Oladipo, Cody Zeller and all of the upperclassmen – they all knew what their role was and they stuck to them," he said recently. "Last year, there were some people, including myself, that would try to do more than what their role was. So for this year, we are going to try to help the new players understand what they are good at and then help them evolve around that."
Filed to: Troy Williams