Offseason storylines: Where can Ferrell grow as a junior?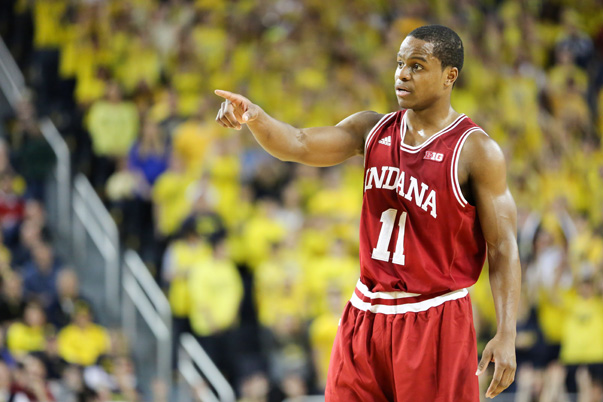 Welcome to offseason storylines, a look into some of the biggest storylines surrounding the 2014-2015 Indiana Hoosiers. Next up, a look at where Yogi Ferrell could improve as a junior in Bloomington. (Previously: A look at Indiana's youth and how it got here, Is Troy Williams ready to make a leap?)
Before the book was definitively closed on the 2013-2014 season, Yogi Ferrell sat in front of his locker at Bankers Life Fieldhouse in Indianapolis following IU's loss to Illinois in the Big Ten tournament and reflected on a year that had been, in a word, disappointing.
While many of his teammates didn't offer much in terms of an explanation of what had just transpired over the last 32 games, Ferrell was speaking like a player who already knew he needed to do more.
"Maybe we just don't know how to overcome adversity," he said, bluntly. "Next year, we've got to hold guys more accountable, make some guys angry, get in some guys faces sometimes. I didn't do that enough this year not knowing how they'd respond to it. Next year is going to be a different story."
Ferrell's offseason, of course, didn't get off to a great start as he was arrested in late April during Little 500 week, but all has been quiet since then for IU's junior point guard.
He's no longer tweeting publicly and in early June at Huber Winery, Tom Crean outlined the shift he is hoping to see internally with his team as it enters the 2014-2015 season.
"Our guys last year spent too much time being buddies, than being absolute comrades," Crean explained. "Comrades and even friends, they don't let you make mistakes. It is not just what goes on, on the floor, it is what it is off the floor. Buddies are afraid sometimes of telling each other what needs to be done and we have to outgrow that and Yogi is a key component of that."
As Indiana's best returning player who has been tasked with primary ball handling responsibilities for the past two years, the time for Ferrell to become one of the team's definitive leaders is now.
"He had a great spring. We had spring break that week and started the following Monday," Crean said last month. "We had 21 individual workouts. We had over 35 lifts. It started to come and there is no question Yogi has to become better, he has to be a leader and mature."
But as you sift through Ferrell's numbers from his sophomore season, where he was one of the most improved players in the Big Ten, the question becomes this: Where exactly should improvement be expected to come in his junior season?
As a sophomore, Ferrell shrunk his turnover rate by more than six percent from his freshman season (24.5 to 18 percent), but it was still too high of a number despite being the lowest figure among IU's regulars. Given how big of an issue turnovers were for Indiana last season, Ferrell must spearhead improvement in that area as IU's point guard.
From a shooting and scoring perspective, it's hard to find much fault in how Ferrell performed as a sophomore. He was IU's leading scorer, improved his effective field goal percentage by close to seven percent and hit 40 percent of his 3-point attempts.
However, a look at his shot chart (via Shot Analytics) shows there are still areas in which Ferrell can shore things up offensively: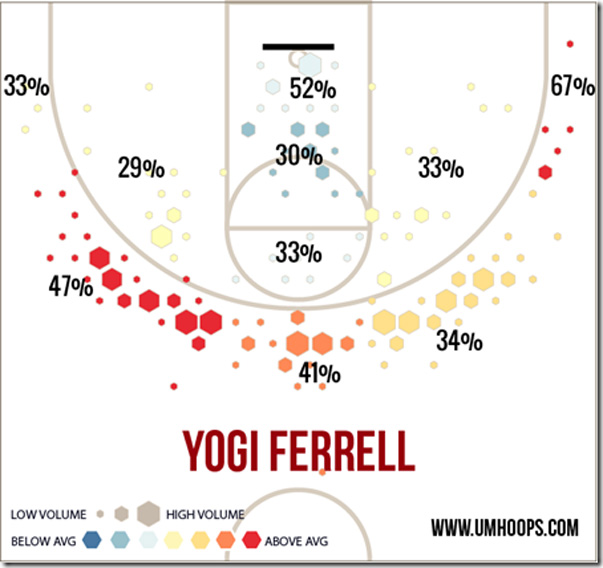 As the graphic shows, Ferrell was very solid from straight away and deadly on the left wing as a 3-point shooter, but his midrange game, a lost art in college basketball in present day, has room to grow. Ferrell's overall 2-point field goal percentage actually dropped from 45.3 percent as a freshman to 42.9 percent as a sophomore.
There are a couple of potential shifts that may occur this season for Ferrell, which could aid his overall shooting percentages.
The first and most obvious is that Indiana has added shooters to accompany him on the wing in James Blackmon Jr. and Robert Johnson. Those additions should decrease the number of possessions in which Ferrell is essentially forced to shoot late in the shot clock because IU has no other options.
The second, which may or may not come to fruition, is that Ferrell may be less inclined to settle for 2-point jump shots, where he hit just 31.2 percent last season, if he has other capable scorers around him that he can set up for scoring opportunities.
While it's important for any player to be able to knock down the wide open midrange shot when it's given, it's was somewhat of a no man's land for Ferrell as a sophomore when you consider he hit 40 percent of his 3s and 54.2 percent of his shots at the rim compared to the aforementioned 31.2 percent on 2-point jumpers.
Other storylines like youth, the growth of players like Troy Williams and Hanner Mosquera-Perea and turnovers may dominate preseason headlines, but Indiana could stand to gain plenty if Ferrell continues the ascent he started upon his arrival on campus in the summer of 2012.
Although Crean stopped short of calling it Ferrell's team last month at Huber's, with the right mix of leadership and production, it could become just that.
"This is not a situation where it is Yogi's team or it is the junior's team, there are no seniors for it to be their team," Crean said. "It has to be a team that really comes together in a lot of different ways, but he really has to lead the way in a sense of what it takes to do it at this level."
Filed to: Yogi Ferrell