Notebook: James Blackmon Jr. to visit IU this weekend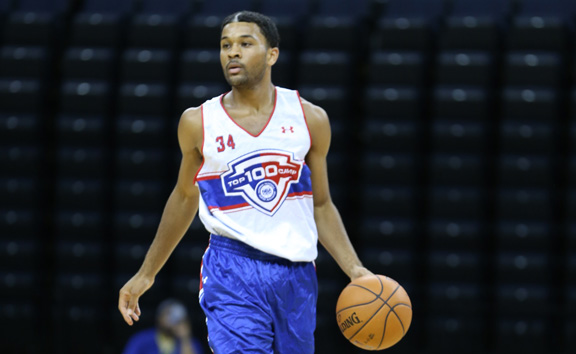 Former 2014 Indiana commit James Blackmon Jr. said he would take a final visit to Bloomington before making his second college decision.
Wednesday evening, he made it clear he was following through with his promise. Blackmon announced via his Twitter account that he will visit IU this weekend, only a week after his official visit to Kentucky.
"IU visit this weekend #IUBB," he said.
The 6-foot-3 combo guard from Marion High School has also taken an official visit to Michigan (Sept. 27) and is considering Michigan State and Kansas, as well.
The 247Composite rates him as the No. 31 prospect and No. 12 shooting guard in the 2014 class.
Lyle might visit, as well
According to multiple media reports, 2014 guard JaQuan Lyle said there's a "possibility" he will visit IU this weekend for its exhibition against Southern Indiana.
The long-time Indiana target has recently reappeared on the Hoosiers' recruiting radar after he transferred from Evansville Bosse to Huntington Prep (W.Va.) and subsequently parted ways with Louisville.
Indiana coach Tom Crean visited Lyle in West Virginia on Tuesday, and the No. 22 prospect in the 2014 class has said he still has plenty of interest in the Hoosiers' program.
"Coach Crean is a man who I feel like I can talk to at any time," he told Inside the Hall recently. "We have a great relationship. I can call him at any time, he can call me at any time. He's just a great guy."
Mosquera-Perea in walking boot
An Indiana spokesman told Inside the Hall tonight that sophomore forward Hanner Mosquera-Perea has been walking around campus in a walking boot, though it is only for precautionary reasons.
Mosquera-Perea dealt with a foot injury before last season as well, though the spokesman said the move is only a "preventative measure" and that he "hasn't been limited in practice in any way."
He is expected to play in Indiana's exhibition Saturday night.
(Photo credit: Kelly Kline/Under Armour)
Filed to: Hanner Mosquera-Perea, James Blackmon Jr., Jaquan Lyle