Glass talks IU-Purdue scheduling, a golden age and more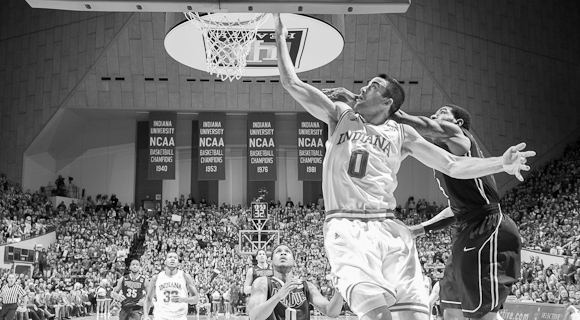 In our recent conversation with Fred Glass, we covered a variety of topics. Among them: Big Ten expansion, student ticket sales and the future of Assembly Hall.
Also discussed in that conversation were Indiana and Purdue only playing once this year in basketball, guarantee games and the absence of a marquee non-conference home game and returning to a "golden era" of athletics at Indiana.
Here are the athletic director's thoughts on both of those topics, in Q & A format:
Inside the Hall: We talked to you about this at Huber Winery over the summer at the Tailgate Tour and it was kind of a hot topic at the time because a couple weeks before that, it was announced that Indiana and Purdue would only play once this year in basketball. I know at that time you said you'd be in favor of a protected rivalry where the schools would play twice every year. What would be the process as far as getting something like that done? In football, there's something like that, but what would the process to be able to do something like that look like and is that something you're actively engaged in dialogue on?
Fred Glass: Yeah, I talked to the commissioner about expanding, in a limited way because there just aren't as many bed rock rivalries as there are in basketball as there are in football, and because of the frequency of games, there would be fewer situations where you're only talking about one game in a real storied rivalry. And I guess I don't understand why we'd go to pretty great lengths to protect those in football and just sort of ignore them in basketball.
And I think there's some interest in doing that. The schedule makers in the conference would have some frustration with that because they've already got so many things to work around with arena availability and all of that stuff, it would be one more thing they'd have to include in, but I think if we didn't go crazy and recognized that there's a handful of basketball rivalries that we just ought to protect, Michigan-Michigan State, Indiana-Purdue.
ITH: On the scheduling front, a lot of it is the head coach doing the scheduling, but as far as negotiating how much is paid to the smaller schools to come play at Indiana, what role do you play in that?
Glass: I'm ultimately responsible for the schedule. And I am pretty deferential to Tom (Crean) and the balance of the men's basketball staff to put that together, but we agree on broad based parameters that we want to have. And then work together to get that done. But I'm ultimately responsible.
So for example, one of the things we want to do every year is have a, what I call for lack of a better term, marquee non-conference home game. And candidly, we don't this year and that's on me. That's my responsibility. We used to have it pretty well set that it was Kentucky and then the ACC Challenge home game and had that pretty well set. Duke was in here, North Carolina was in here and so forth. We haven't quite recovered from the Kentucky series going away. There's some other things on the horizon that complicate that a little bit. We just didn't get that done this year and that's on me.
We do set parameters. We want 20 home games, that includes exhibition games. That makes our economic model work. And then we generally want to have what I call a marquee home non-conference game which I'm sure we'll get back to, it just that I didn't get that done this year.
ITH: We're obviously focused on basketball, but I think a lot of people would be interested in some of the other sports. You've talked about the return to a golden age in athletics. Maybe define what you mean and how you see that progressing as the years move on and your vision for the department moving forward.
Glass: The funny thing about a golden age, whether its athletics or anything else, is you don't really realize you're in one when you're in one. You may or may not have seen the movie, 'Midnight in Paris,' but it was a Woody Allen movie. It was all all about people only think there's a golden age, whether it's in literature or music or whatever, if it is like 30 years earlier no matter how good it is at the time.
So when I was here as a student, I submit that we were in a golden age of IU athletics then. We didn't sit around talking about it or thinking about it, but looking back, we had coach (Bob) Knight, coach (Jerry) Yeagley, coach (James) Counsilman, coach (Hobie) Billingsley, coach (Sam) Bell. It was just the beginning of the coach (Bill) Mallory era. That was an unbelievable cadre of coaches. If you came to IU as a student and didn't win a national championship when you were here, you were pissed off, because they were kind of coming like that. It was a great, great time, but we didn't sit around thinking we were in this golden age.
So when I came here, I thought, 'I want to be a part of a new golden age of IU athletics.' And we've tried to make a variety of investments and hiring decisions and so forth and so on to put us in that place. And I'm not ready to declare that we're in one, but I think we're close to being in one.
For example, last year was pretty extraordinary. We get our 25th national championship when soccer wins the national championship. Todd Yeagley is the national coach of the year. Baseball goes to the College World Series for the first time ever, first Big Ten school since 1984. First outright Big Ten championship (in baseball) since 1932. Think about that. As long as we've been playing baseball, we hadn't won one is however long that is. Tracy Smith is national coach of the year. And in all of the history and all the great coaches in IU athletics, we've never had two national coaches of the year before in the same year. So that's pretty extraordinary.
Then basketball, and you guys are young so you don't think of it like this, but for guys my age, it feels like we were just really good in basketball, like we've always been really good in basketball. Well the reality is, we hadn't won an outright Big Ten championship since 1993, hadn't had back-to-back Sweet 16 appearances since I think 1994. So it'd been a long time. 2002 was a little bit of an aberration, but generally we hadn't been very good over a sustained period of time, for a long time. Now we are. So we get the first outright Big Ten championship since 1993, get a national player of the year, two guys picked in the top four picks (of the NBA Draft). That's pretty extraordinary.
Curt Miller isn't there yet, but he's the real deal and is going to get us there in women's basketball, which we should be good in women's basketball. Amy Berbary, we should be good in women's soccer, generally haven't been, she went undefeated in the non-conference season and already has won more games than we have for the last several years. She's going to get it done. Men's swimming and diving finished in the top ten in nation, that was the best finish in 33 years. We've got a fabulous tradition in swimming and diving, that's coming back. Track and field was ranked as the seventh best track and field/cross country program in the country in this thing called the McDonnell Cup.
I usually don't like to tout finishing second in anything because I'm a pretty competitive person, but we finished second in the Capital One men's cup. Think about that for a second, the second best men's program in the country. I don't remember the exact numbers, but 15 teams qualified for postseason play, I think nine finished in the top 15 in the country, more academics all-americans, more all-americans. Last year we had more Big Ten athletes of the year than any other school in the Big Ten. Derek Drouin wins his fifth high jump national championship and is named the Jesse Owens Big Ten Athlete of the Year. The last person to win that at IU was Anthony Thompson in 1990.
So all of these firsts and first in a long time things, I think, enable us to lay claim to at least being close to a golden age, a new golden age, not the only golden age, but a golden age of IU athletics. I don't think we'll be able to lay claim to a golden age unless we're good in football because football is just too big of a deal. But I think Kevin Wilson is the right guy, he's got the right staff and we're going in the right direction.
And so how crazy is it going to be when we're good in both basketball and football, as well as a lot of other sports at the same time? I think it'll be crazy around here.
Filed to: Fred Glass