Assembly Hall isn't going anywhere, AD Fred Glass says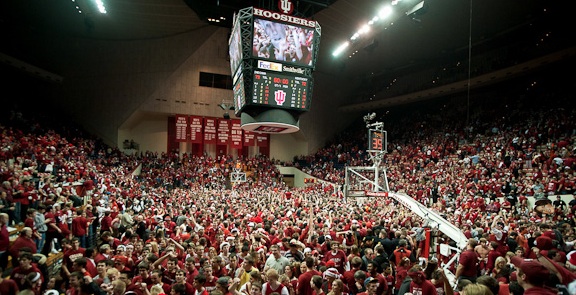 Fred Glass knows how the script goes.
From growing up in the Indianapolis area, to now as Indiana's athletics director, Glass would watch the same scene play out over and over, year after year: Opponents would enter Assembly Hall optimistic, maybe even confident, and then after looking up at the wall of 17,400-plus fans clad in cream and crimson "going absolutely crazy," they cringe. They unravel.
In a world of college basketball that has become increasingly known for its games being played in multi-purpose arenas, Indiana's Assembly Hall is becoming the anomaly. Since the 1971-1972 season, the building has been home to three national champions. The tradition, the history, even the angle of the building's seating in relation to the court, is exactly what makes Assembly Hall different from any other college basketball venue. And for Glass, being far from the norm is exactly what he wants.
"When the lights come on, Gus Johnson doesn't need to say you're in Assembly Hall," Glass told Inside the Hall in an interview in his office at Memorial Stadium earlier this week. "You know you're in Assembly Hall."
But for a building that has been around for more than 40 years, it has flaws. The steps are at different lengths. Not all the seating is considered "premier." A segment of fans want the building torn down and replaced with a new, state-of-the-art arena. That's not happening, Glass said. But he is quick to admit Assembly Hall needs renovations, especially to make it more "fan-friendly." He is ready to lead that effort.
"I really try to never go to the bathroom there if I can because the restrooms there are so nasty," Glass said. "We just need to do better with that sort of thing."
Some of those improvements, which Glass said will include the concourse and the overall environment of the building, will be made as part of IU's major fundraising campaign for its upcoming bicentennial in 2020. Though IU's athletic department has not definitively selected which projects they will pursue, one or more Assembly Hall renovations are at the top of the wish list.
An announcement could come as early as the end of the calendar year.
"I think we need to do some things to improve it as a venue," Glass said. "But not anything that would dramatically change the bowl or the essence of the place."
Still, there are those who want Assembly Hall replaced with a modern arena to compete with the improved facilities of other teams. Glass said that he believes the addition of Cook Hall, a modern training facility with its own "bells and whistles," extends the life of its neighboring arena but if that's not enough, the amount of money it would take to build a new "Assembly Hall" would be just an unreasonable amount.
A rebuilding project that would satisfy IU's wants would cost around $300 million. And though that money could be earned through commercial naming rights, University policy does not allow corporate sponsors to name campus buildings. Yes, IU could pursue the private donor route, but Glass believes that is simply unreasonable due to such a high cost.
"That would suck the oxygen out of everything else we're trying to do. I mean, that's just a crazy amount of money to raise," Glass said. "We could probably raise it, but everything else would sort of stop while we'd do that. I don't know how long that would take."
And then, Glass refers back to the environment and history of Assembly Hall. It's the building in which fans have reached noise levels of 116 decibels, louder than sandblasting or even a rock concert. It's where teams ranked No. 1 have come to lose in each of the past two seasons. It's where Glass grew up watching Indiana basketball play. It's where his four kids have had the chance to watch Indiana basketball.
You can make an argument, but for Glass, there's no decision to be made.
"I personally think tearing down or replacing Assembly Hall is the wrong thing to do," Glass said. "One, because it would be so unbelievably costly, and two, because it would by definition, change what right now is a really terrific venue that is different from any place else and gives us that competitive advantage."
Filed to: Assembly Hall, Fred Glass