Glass reflects on 15,000 student season ticket sales for 2013-2014 season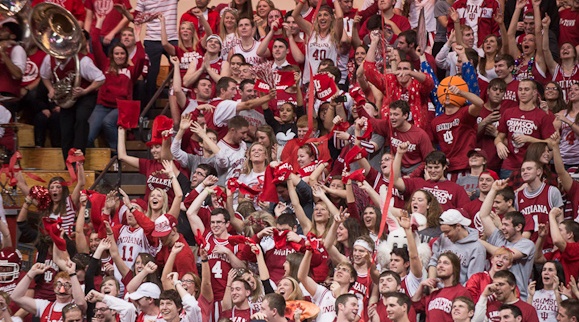 In a recent conversation with Indiana basketball coach Tom Crean, Fred Glass reminisced to his first year as IU's athletic director.
Crean was in the midst of his first season as IU's head coach in 2008-2009, and the team was on its way to its worst record in school history. Student season tickets sales were so poor, just more than half of its allotted space of 7,800 seats had been filled.
"Shoot, we were doing everything we could. I can't remember the exact number that first year, I think we ended up with 4,200 or something like that," Glass said in a recent interview with Inside the Hall. "Which at any other university in the country would be the best year they've ever had, but for us, was extremely disappointing."
For the next three seasons, students who bought season tickets would have access to every home game. But as Indiana's on-court success returned, demand grew as well. Last season, with a preseason No. 1 team, students were given access to only 10 games each. However, heading into this season with far-fewer on-court expectations, demand is up. Around 15,000 student season ticket sales have been sold, and students who bought season tickets were given eight games — only half of the amount they had received only two years ago.
"In fact, I had to remind myself that that wasn't normal for the new students, and when we went to (fewer games), there would be a little a culture shock, of, 'Wait, what do you mean? We always get every game'," Glass said. "Well that was their normal for two or three years, but still, it was their normal. And we probably didn't do a very good job, especially that first year, of letting people know that's how that was going to work.
"And I take responsibility for that, because to me, it was so part of Indiana that that's how it worked, that I sort of forgot that it wasn't the reality of the kids who had been here for two or three years."
When Glass was a student at Indiana from 1977 to 1981, receiving only half — maybe even a third — of home games as part of a season ticket package was normal. Back then, 15,000 students purchasing season tickets was typical. But Indiana's basketball team hasn't received this much attention from its students in years.
Once student demand for tickets eclipsed the supply available, Glass's instincts were to go back to the way it worked back when he was a student: sell as many tickets as possible and then determine a number where all students can attend an equal amount of games. With tickets being a scarcity, attendance isn't an issue. And to reward upperclassmen for continued attendance, IU gives them tickets to the "most marquee" home game. It's tradition, Glass said. He's a fan of maintaining that.
"I get that it's controversial. I get that people can have different views on that," Glass said. "I just really believe that rationing, if you will, of the tickets is the right way to go.
"I think it's better for more people to experience Indiana University basketball as students going to the game, even if that means they can't go to every game."
When Glass saw the number of this season's total student season ticket sales, he wasn't surprised. Yes, he said he was "very, very pleased" and that it is "very heartening," however, he knew that because of Crean's efforts the past five seasons, student demand would be back to where it should be.
But the memory of 4,200 total student ticket sales remains fresh in Glass's mind. And he does not want to return to that number again.
"Some people would say, 'Hey, let's take our most loyal fans, maybe the kids that are upperclassmen or first-come, first-serve or however you would do it,' but they would argue that it's better for 7800 kids to be able to go to every single game than for 15,000 kids to go to half the games," Glass said. "I guess I'm for the more people that can be happy, the better."
Filed to: Fred Glass