2013-2014 Big Ten Preview: Top non-conference games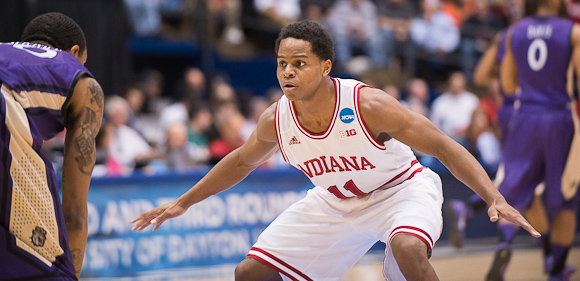 We continue our 2013-2014 Big Ten preview today with a look at ten non-conference games, listed in chronological order, that you'll want to mark on your calendars as must see.
Michigan State vs. Kentucky on Tuesday, Nov. 12
Event: Champion's Classic at the United Center in Chicago
TV coverage: ESPN
It's never too early for No. 1 vs. No. 2, right? The Spartans are No. 2 in the first coaches poll and Kentucky is No. 1 and this is an early preview of a game that we could see again in early April. Michigan State is the more experienced group, but the Wildcats have another mega recruiting class.
Florida at Wisconsin on Tuesday, Nov. 12
TV coverage: ESPN
The Badgers will get an early test against a top ten team in the country when Billy Donovan and Florida come to Madison. Wisconsin's frontcourt, which lost Jared Berggren, Ryan Evans and Mike Bruesewitz, will be immediately tested when it tries to contain Florida senior Patric Young.
Ohio State at Marquette on Saturday, Nov. 16
TV coverage: Fox
In a second attempt at a game that was canceled due to inclement weather last season on the USS Yorktown, both teams are looking to replace their leading man. Marquette lost Vander Blue and Ohio State lost Deshaun Thomas early to the NBA Draft and leave big shoes to fill.
Indiana at Syracuse on Tuesday, Dec. 3
Event: Big Ten-ACC Challenge at the Carrier Dome in Syracuse
TV coverage: ESPN
In a rematch of a Sweet 16 meeting from a season ago, Indiana travels to Syracuse where the Orange will again present their signature 2-3 zone. Both teams lost several significant contributors, but Syracuse returns C.J. Fair, who scored 22 points in a Final Four loss to Michigan.
Michigan at Duke on Tuesday, Dec. 3
Event: Big Ten-ACC Challenge at Cameron Indoor Stadium in Durham
TV coverage: ESPN
It's hard to not get excited by a matchup involved two preseason top ten teams and that's exactly what we have in this game. How will Michigan manage a tough environment without the leadership of Trey Burke?
North Carolina at Michigan State on Wednesday, Dec. 4
Event: Big Ten-ACC Challenge at the Breslin Center in East Lansing
TV coverage: ESPN
The Spartans boast one of the nation's best homecourt atmospheres and the Izzone will no doubt be charged to welcome North Carolina. Assuming P.J. Hairston's suspension is lifted by this time, two of the best backcourt players in the country will go head-to-head in Hairston and Gary Harris.
Marquette at Wisconsin on Saturday, Dec. 7
TV coverage: BTN
Marquette has won the previous two meetings between the in-state rivals, but going into Madison with an inexperienced backcourt isn't typically a recipe for success. On the flip side, Marquette is decidedly better in the frontcourt in terms of talent and experience.
Arizona at Michigan on Saturday, Dec. 14
TV coverage: CBS
The first of a two-year home-and-home agreement, this matchup features a pair of frontcourts stacked with future NBA talent. For the Wolverines, it's sophomores Glenn Robinson III and Mitch McGary and for the Wildcats, it's star freshman Aaron Gordon and sophomore Kaleb Tarczewski.
Indiana vs. Notre Dame on Saturday, Dec. 14
Event: Crossroads Classic at Bankers Life Fieldhouse in Indianapolis
TV coverage: ESPN
In what has become an event that the state of Indiana looks forward to each year, Indiana and Notre Dame will lock horns at the Crossroads Classic, which also features Butler vs. Purdue. The Fighting Irish have an experienced backcourt in Jerian Grant and Eric Atkins, but will need to find an answer for Noah Vonleh up front.
Ohio State vs. Notre Dame on Saturday, Dec. 21
Event: Gotham Classic at Madison Square Garden in New York City
TV coverage: ESPN2
A week after facing Indiana, the Fighting Irish will again play a Big Ten team on a neutral court. Eric Atkins vs. Aaron Craft will be a lot of fun to watch under the bright lights in Madison Square Garden.
Filed to: 2013-2014 Big Ten preview