Glass talks Big Ten expansion, addition of Maryland, Rutgers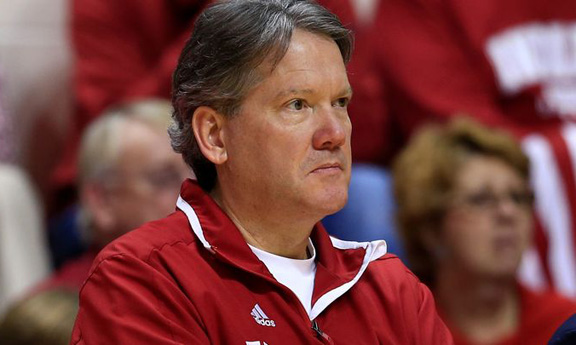 Conference expansion and realignment have changed college athletics significantly.
And whether you are a fan of what has taken place or oppose the breakdown in tradition brought about by these changes, the Big Ten has been ahead of the curve.
With the conference reportedly paying out close to $26 million to each member institution in the last fiscal year, including $7.6 million from the Big Ten Network, it's not hard to see why schools like Nebraska, Maryland and Rutgers opted to leave their respective leagues to join.
The Big Ten is distributing the most money of any conference to its members and with the growth of BTN and network TV contracts, the numbers should only continue to grow.
While the ultimate decisions on expansion are handled at the presidential level, the Indiana athletic department plays a key role in advising President Michael McRobbie.
In a conversation last week in his office that overlooks Memorial Stadium, Fred Glass spoke to Inside the Hall about IU's role in the expansion process, the potential for future expansion and the additions of Maryland and Rutgers, who will join the league next fall.
"The athletic departments are a little like the working group," Glass said. "They'll sort through things and take a recommendation to the presidents and I think it's highly unlikely that the athletic directors would agree on something that the presidents wouldn't ultimately adopt."
Glass was quick to point out that consensus amongst conference members is important in any discussions on expansion, which makes the role of each institution a significant one in the overall process.
"I think the view of the conference is and the view of the commissioner is, we're not going to go that way unless there is basically a consensus view that we should do that," he said. "We're not going to expand on a 7-to-5 vote or I guess now it'd be a 8-to-6 vote when those two new schools come in. It's going to be pretty much everyone thinks this is a good idea.
"So I tell you all that because I think our role is pretty significant because I think it's certainly possible that if everyone was for it and we were against it or if everyone was for it and Minnesota was against it or if everyone was for it and Penn State was against it, it may not happen. And certainly if two or three institutions were against an expansion, I don't think it would happen."
There's been little news on expansion since April, when the Atlantic Coast Conference (ACC) announced that its members had agreed to a grant of rights, leaving the SEC as the only major conference without such an agreement.
The lack of recent movement, however, doesn't mean that the Big Ten or the IU athletic department have moved the issue off of the radar completely.
"That's one of the more important things we've been working on is expansion. Whether we continue to expand, I don't know. I can tell you that there's no active efforts to identify partners to expand with," Glass said. "But having said that, I think 16 (members) might be a bit of a sweet spot and if two high caliber academic and athletic institutions applied for membership, my guess is, if they met our criteria of being academically excellent and hopefully geographically contiguous, although I'm not sure if that's completely critical, my guess is we'd do that."
The Big Ten will grow by two members late next summer as Maryland arrives from the ACC and Rutgers, a former member of the Big East, arrives after a one-year stint in the American Athletic Conference (AAC).
Glass says he's excited to welcome both schools into the conference.
"I think they're terrific additions. They're public research universities, they're members of the AAU (Association of Academic Universities), they check all of the boxes on the academic side, which is really important to the presidents and it's important to the athletic directors as well," he said. "While they're fairly far flung geographically, they are contiguous to our Big Ten footprint. So for us to go from the eastern seaboard to the plains or close to the mountains is a nice area to dominate, so I like that part of it, too."
There could be benefits for Indiana basketball as well as the Hoosier staff has placed an emphasis on recruiting the east coast. Those efforts should only be strengthened by the addition of Maryland and Rutgers, which are both located in fertile recruiting ground.
"Selfishly for Indiana I think they're great because Tom has been doing terrific recruiting that eastern corridor, Washington D.C., New York, New Jersey and for us to be out there on a regular basis and the Big Ten Network, presumably, will expand in that area, I think it will be good for our recruiting," Glass said. "I think we're a little bit ahead of the game because we've been working that area already."
Filed to: Big Ten Expansion, Fred Glass, Maryland Terrapins, Rutgers Scarlet Knights