JaQuan Lyle reflects on recruiting process, talks IU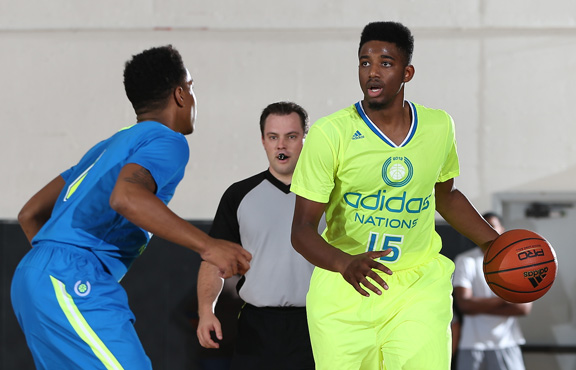 The recruiting process for class of 2014 guard JaQuan Lyle has had its share of twists and turns.
He's been offered scholarships by elite schools. He's switched AAU teams multiple times. He's transferred from Evansville Bosse to Huntington Prep. He's made a verbal commitment, only to rescind it months later. He's drawn love and scorn from fans on social media.
For Lyle, it's all been a learning process.
In an interview on Friday afternoon with Inside the Hall, the No. 22 prospect in the 247Composite reflected on what he's learned over the last three years.
"A lot of kids get lied to or whatever or coaches tell you what you want to hear," he said. "What I've learned from it is that you can only believe so much. Everything sounds so good, but when you get there, it could be the complete opposite."
In late June, Lyle appeared set on attending Louisville. He gave a verbal commitment to the defending national champions after a lengthy recruiting process in which Indiana was involved.
And even though he'd been going through the process for three years, Lyle looks back on that decision and admits he made it too quickly. He re-opened his recruitment on Sept. 13.
"I just kind of feel like my first decision was pretty much rushed and it was too quick," the Evansville native said. "My decision was kind of rushed upon me and I think just made it without thinking. Now I'm going through the process again, thinking everything through and we'll see where I end up at."
Now Lyle has hit the reboot button on the recruiting process. He hasn't taken a standardized test that is required to take official visits, but plans to do that on Nov. 2. Since transferring to Huntington Prep, he's taken unofficial visits to Connecticut and Memphis, where he is this weekend. Schools like Indiana, Kansas State and Oregon have also expressed interest.
Last Wednesday, he posted a text message from Tom Crean, who was speaking to Indiana fans that night at an event in Evansville, on his Twitter account. Crean's text to Lyle read: "I am in Evansville speaking. A sold out crowd." Lyle's response on Twitter: "My own city loves Coach Crean more than me. I know why though. He's a great guy. #Respect"
As the first school to offer him a scholarship, Lyle has built a relationship with Crean and Indiana that he speaks highly of.
"Coach Crean is a man who I feel like I can talk to at any time," he said. "We have a great relationship. I can call him at any time, he can call me at any time. He's just a great guy."
Lyle also believes he's learned to deal with social media better as he continues to mature. Now an integral part of recruiting, services like Facebook and Twitter leave recruits open to constant scrutiny from fans and media.
When Lyle committed to Louisville, he was welcomed by fans, only to become the subject of negative feedback when he opted to look elsewhere. It's a common theme with Twitter and recruiting.
"You've got to understand that because its fans and they feel like you let them down, but again, that's just something where you have to do what is best for you," Lyle said. "And if they don't understand that, that's their problem, not yours.
"That goes on with life, too. If you're committed to something or doing something that makes somebody happy and you back out of it and do something that betters yourself, they're not going to be satisfied with it and they're going to get down on you too, drag your name through the dirt. It's just something that you have to get through and be mature about the situation and move on with your life."
Lyle's senior season at Huntington Prep begins on Oct. 30 and it's unlikely that he'll have many weekends free to take visits until the spring. Indiana is a school that Lyle is definitely interested in seeing again.
For now, the focus of the 6-foot-5 guard is his final year of high school, which he says is off to a good start.
"I actually love Huntington Prep. I think it's one of the best decisions I could have ever made in my life. It's bettering me on the court it is also bettering me off the court. There's a lot of things that we do outside of basketball that makes us better people.
"It's a very good school, but also it's helping me off the court. It's introducing me to the weight room. We lift every Monday, Wednesday and Friday and at Bosse, I probably lifted once every two weeks. I'm getting a lot stronger and work out a lot. I'm getting a lot better overall. It's real good."
(Photo credit: adidas)
Filed to: Jaquan Lyle