Recruiting notebook: IU staff visits Lyle, Hoetzel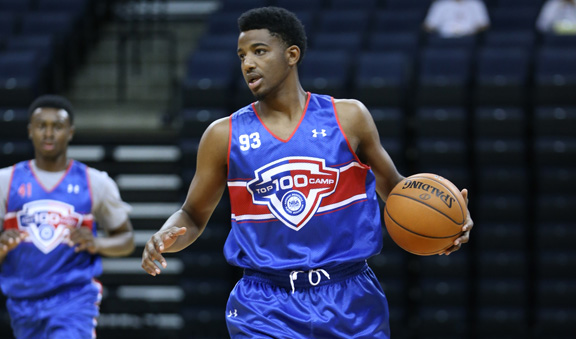 The Indiana coaching staff was on the road Tuesday, making stops at Huntington Prep in West Virginia and at Wilbraham and Monson Academy in Massachusetts.
At Huntington Prep, the staff stopped in to see 2014 guard JaQuan Lyle, the former Evansville Bosse guard who will finish his high school career against an aggressive national schedule. Huntington Prep is also home to other top prospects like Miles Bridges (2016), Thomas Bryant (2015) and Montaque Gill-Caesar (2015).
Lyle, the No. 22 prospect nationally in the 247Composite, told Inside the Hall recently that Indiana is a school he's considering in the aftermath of his decision to de-commit from Louisville. He's taken unofficial visits to Connecticut and Memphis this fall, but won't be able to take any official visits until taking the SAT next month.
On his Twitter account, Lyle posted the following late Tuesday afternoon: "Shoutout to Coach Crean for coming in after school today."
The staff also saw Max Hoetzel on Tuesday, who is originally from Calabasas (Calif.), transferred to Wilbraham and Monson this fall and his recruitment has taken off as a result.
The 6-foot-7 shooter has offers from St. John's, Rhode Island and Pennsylvania and interest from Florida, Kansas, Indiana, Iowa State and Harvard.
Crean and assistant coach Kenny Johnson stopped in to see Hoetzel, who has reclassified to 2015, but could also opt to return to the 2014 class if the fit is right.
Hoetzel told Inside the Hall's Jordan Littman that he could potentially visit Bloomington the weekend of Nov. 3.
All quiet on Devin Robinson front
Despite wrapping up his official visits more than a week ago, class of 2014 Christchurch (Va.) forward Devin Robinson has yet to set an announcement date.
Robinson took official visits to Florida, Indiana, Notre Dame and Oklahoma State and his high school coach, Ben Thompson, told Inside the Hall on Tuesday that he's still considering all four finalists.
The 6-foot-8 wing is the No. 21 recruit nationally according to the 247Composite.
Blackmon Jr. closing in on decision?
Class of 2014 Marion guard James Blackmon Jr., who was committed to Indiana for almost three years, took an official visit to Kentucky last weekend and is expected to make an announcement before the early signing period begins on Nov. 13.
Blackmon Jr. also took an official visit to Michigan earlier this fall and an unofficial visit to Bloomington in late August.
According to Reggie Rankin of ESPN.com, Blackmon Jr. is now moving into the decision making phase of his recruitment.
"My mom and dad along with my brothers (16-year-old Vijay and 11-year-old Jalen) is who I will talk to and will help me with my decision," Blackmon told ESPN.com.
(Photo credit: Kelly Kline/Under Armour)
Filed to: Devin Robinson, Jaquan Lyle, Max Hoetzel