Collin's story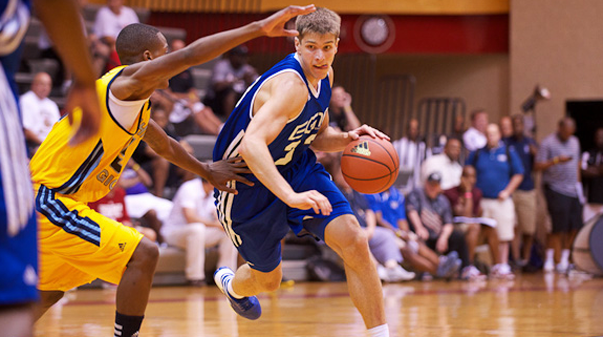 From star freshman to overlooked senior, Hartman ready to prove doubters wrong
By Justin Albers
When Collin Hartman verbally committed to Indiana in November of 2010, it came as yet another sign that Tom Crean was taking back the state on the recruiting trail.
Hartman, recognized as one of the top players in the state at the time, committed within 10 minutes of classmate and close friend Devin Davis, and within days of 2011 prize Cody Zeller and weeks of 2012 point guard Yogi Ferrell.
It was a whirlwind period for the Hoosiers on the recruiting front. In the span of only a few months, Crean effectively built the foundation to four different classes. And it all started with Zeller.
For many of those recruits, like Ferrell, the hype only continued to rise after they committed to Indiana. But for Hartman, it has been a different story entirely.
When he committed to Crean and the Hoosiers, he was projected to be near the top when the first rankings for the class were released in the spring. ESPN ranked Hartman No. 22 in the Class of 2013 in January of 2011, and he was No. 82 on the Rivals.com Top 100 in May.
But Hartman's name soon would be missing from every ranking list. As time went on, fans began murmuring that perhaps Crean had made a mistake by offering Hartman a scholarship so early. He's an unranked recruit in a stacked 2013 class that now includes Noah Vonleh and Troy Williams.
Hartman is out to prove everybody wrong. He insists his game hasn't changed, simply the perception of it has. This is Collin Hartman's story.
Like mother, like son
Hartman grew up in Broken Bow, a small town in west-central Nebraska. His mother, Melissa Compton, a former Indiana All Star at Rushville who played collegiately at both Butler and Nebraska, introduced Collin to basketball at a young age. He began playing in a co-ed church league in kindergarten, and showed an interest in the game almost immediately.
Melissa didn't enjoy the league quite as much.
"He had just a volunteer dad as a coach, and it just drove me crazy because the dad wasn't teaching the fundamentals," says Compton, who was named to this year's Indiana Silver Anniversary Team. "I know they're only in kindergarten, but I was like, 'Oh, come on, you can teach them how to dribble the ball at least.' So I said, I can't complain about it, I can coach him. So then the next year I started coaching him."
Compton would continue coaching Hartman for the next five years in various summer leagues. Hartman's uncle, Mike Nelson, also helped coach the team, and Hartman has remained close with him.
"It was just a fun family gathering because then the rest of the family started coming," Compton says.
By the time Hartman's family moved to the south side of Indianapolis before his second grade year, he had developed a love for the game. He, his brother, Zach (13 months younger), and cousin, Hayden (Collin's age), played 2-on-1 games on the black top until well after dark every night. The teams were always the same: Hayden and Zach vs. Collin.
So was the result.
"He'd always win," Melissa says of Collin. "It would frustrate the two other kids, but he'd always win."
"It was still unfair that they didn't have a third person," Hartman says. "But it was always fun. By the end of the night, the ball would be all black and our hands would be black, and my mom would come tell us we had school in the morning, we had to come inside. We would always try to shoot from the garage because that was far to us back then. Looking back, it wasn't very far, but we were young and it was a long ways for us."
Hartman says basketball has always been his passion, but that didn't stop him for trying out some other sports when he was younger. He played baseball until middle school, specializing as a catcher.
"I could get it to second base real quick if somebody tried to steal," Hartman says.
He also played football up until the eighth grade and contemplated being a two-sport athlete at Cathedral his freshman year. Hartman was a national finalist in the NFL's Punt, Pass and Kick contest in 2009, finishing runner-up for his age group. Prior to his freshman year, Hartman could throw a football 70 yards in the air, and he planned to play quarterback for the Irish.
"I went to summer workouts and stuff to see how it was, and I decided it really wasn't worth it because I really didn't love the game, I just played it because I was good at," Hartman says.
"I thought for awhile there it was a toss up between football and basketball," Compton admits.
Filed to: