Freshman Focus: Collin Hartman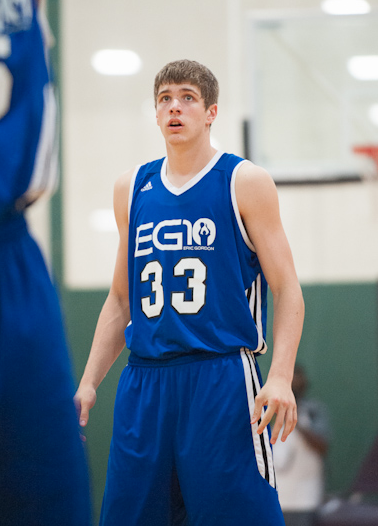 "Freshman Focus" is an Inside the Hall series on each of Indiana's six incoming freshman. Over the next couple of weeks, we will examine what kind of an impact each player can have for the Hoosiers next season. Today: Collin Hartman.
It didn't take long for Cathedral coach Andy Fagan to come up with Collin Hartman's way to get on the court quickly during his upcoming freshman season at Indiana.
"The obvious answer is Collin's ability to shoot the ball," Fagan said. "That certainly is an unquestioned part of his game."
Hartman, one of only two unranked players in Indiana's six-man recruiting class (Devin Davis), will have to put in some serious work to get minutes on a talented Hoosiers team this season. Hartman's calling card could indeed be his ability to knock down the perimeter jump shot, something the Indiana roster seems to lack.
The Hoosiers lost 3-point threats Jordan Hulls and Christian Watford to graduation.
"I think that's going to be one of my main tickets to the floor, being able to come in and knock down shots and play defense," Hartman said. "Starting from my freshman year, I shot a lot so I made a lot of shots. But the coaching staff was really dedicated to getting us better. They would stay and help us get up shots whenever we asked, and that really helped me move along. I think the accessibility of Cook Hall will help me only get better."
Added Fagan: "As Collin continues to get up reps at a high rate over the offseason, I think he can be a guy to come help fill that void. IU's graduating significant 3-point shooting, and that is something you can expect Collin to come in and add."
Regular gym access in the form of Cook Hall will undoubtedly help Hartman grow into a more consistent outside shooter. But to get regular minutes and to find a spot in Tom Crean's rotation, Hartman will have to also develop the other areas of his game.
From a purely statistical standpoint, Hartman didn't do anything overwhelming after his freshman year of high school. But one thing he did do was lead a team that won, and won often. The Irish made the Class 4A state championship game during his senior season.
"I'm definitely not going to be a project to any coach because I've been around the game so much and been blessed with all the coaches I've played for," Hartman said.
Fagan said Hartman is much more than just a shooter.
"He was one of the best passers on the team," Fagan said. "He was our best rebounder, he understands how to guard. He has no problem communicating on the floor. He's a confident and smart kid, so he knows where other people are supposed to be on the floor. All those extra intangibles are things that that he'll be able to bring to help him getting on the floor quickly."
At April's Derby Festival Classic in Louisville, Hartman said it was sometimes hard to get regular shots up outside of practice in high school because Cathedral's gym was often being used for other sports and activities.
As a result, Hartman had to be more efficient with the time he did get to shoot. Fagan and his staff gave Hartman a plan to get more out of his shooting workouts, something that figures to continue to benefit Hartman when he arrives on campus later this month.
"He's a kid that's going to put in his time in the gym," Fagan said. "He's always gonna find a place to get shots up. That's never gonna be a problem. It's just a matter of having a better plan when he was in there, so that's what we really tried to help him develop."
"All it takes is an open gym," Hartman added. "You just get in there and work every day. Hard work pays off, and I'm comfortable with my work ethic and I'm comfortable in it."
Filed to: Collin Hartman, Freshman Focus