Collin's story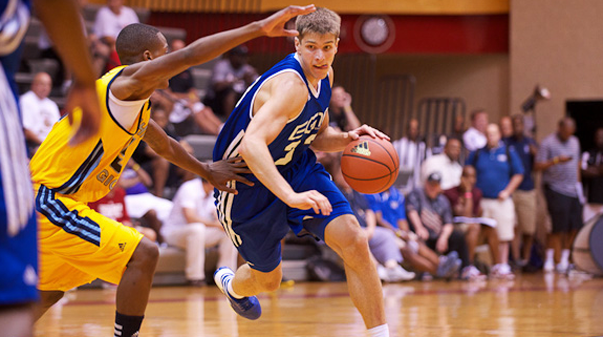 'Why wait?'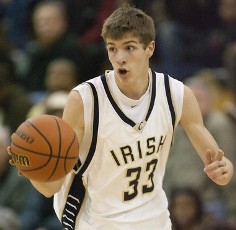 Hartman didn't initially love the idea of going to a new school, but basketball helped him make the transition more quickly. He made Cathedral's varsity team as a freshman, and started every game. He was the star, and universities quickly took notice.
Indiana, Purdue and Butler showed interest right away. Illinois did shortly thereafter. All of a sudden, Hartman was one of the state's most coveted recruits.
"It was like someone all of a sudden turned the lights on and the floodgates opened," Compton says.
Hartman doesn't remember the first time Indiana contacted him, and he didn't think a whole lot of the Hoosiers at first. Even though he lived just an hour north of the school's campus, he didn't know the history surrounding the program. He just knew the Hoosiers had been struggling.
"They contacted me early and showed a little bit of interest, but I really wasn't aware of what IU basketball was about and I wasn't comfortable with the coaching staff that was there at first," Hartman says. "When coach Crean and all the coaches came in to start recruiting me harder, they became more personable with me. It really caught my interest and I took more visits there and got more comfortable with the coaches and players there and got more familiar with their style of play."
Hartman made a couple trips to Bloomington, and then a few more. Each time, he liked it more than the last. After meeting with Crean one day in November of his sophomore year, Hartman told his mom in the car that he was ready.
"As soon as we leave any place, he's talking about it. And he's like, 'Mom, I just don't know why I should wait. I just keep wanting to come back, so why not just go ahead and commit,'" Compton says. "I was like, 'Well, this wasn't in the game plan.' Obviously, otherwise we wouldn't have left and had to turn back around. When he's telling me this, I had that feeling inside, that feeling of excitement that you can't replace. I teared up.
"I never told him it was one of my dreams because I tried to be very open to any decision, but it was."
"Some of the guys I feel like just wait to commit just to see how many offers they can get," Hartman says. "I kind of came to terms that Indiana was where I wanted to be so it was like, 'Why wait?' I knew that was where I was going to ultimately choose, and I decided to commit. I never one day after I committed regretted committing because I knew where Indiana basketball was going, and I've been right so far."
Filed to: