Collin's story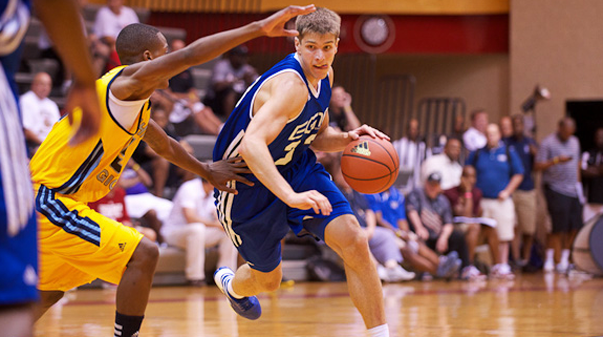 Perception or reality?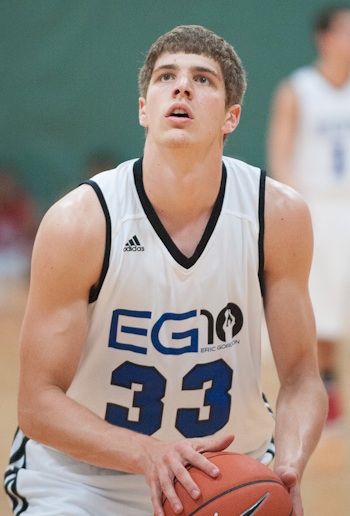 As Hartman's career went on at Cathedral, his numbers dipped slightly. The Irish added more talent — 2015 guard Jalen Coleman joined during Hartman's junior year — and Hartman's role wasn't nearly as big. He averaged 14.9 points and 6.9 rebounds as a junior and then 14.3 points and 6.1 rebounds as a senior. The drop wasn't exactly significant, but when you put up the numbers Hartman did as a freshman, people expect them to improve by the year. Fair or unfair, that's the way it is.
Hartman remained a team leader and started every game during his four-year career, but fewer and fewer people were paying attention to his game. He was overshadowed by his younger teammate and other players in Indiana's ever-growing 2013 recruiting class.
"To really see what he brings to the table, you really gotta watch him play a lot," says Cathedral coach Andy Fagan. "He's not a flashy player. He's not coming down dunking on people, he's not coming down after he scores beating on his chest. He makes plays to help you win games."
With Hartman leading them, the Irish increased their win total from 12 in 2010 to 17, 20 and then 25 last season. Sounds remarkably similar to another program's rebuilding job, doesn't it?
"When you look at Collin, what you can say is the kid won at the highest level he could. Those are things that are more important, and you put more value in those numbers than an individual ranking."
Hartman also dealt with multiple injuries that did little to help his stock, including lower back troubles and several concussions. When Indiana signed highly-regarded recruits Williams and Vonleh, some began to clamor that Hartman's scholarship should be pulled to make the numbers work.
Hartman and his family read and heard all of the noise. Compton sat in front of her computer on many days and couldn't help but to feel irritated by the online posts criticizing her son.
"As a mother, my protective instincts would want to go through the computer and strangle whoever's probably sitting on a couch and a person who's never played a game of basketball before," Compton says, laughing. "I go and watch a game and I'll know who's there writing about whatever, and they watch 10 minutes of the game. They don't know his whole game, and they don't know the style of play and what the coach is demanding out of him."
Earlier in his high school career, Hartman admits he had a difficult time dealing with some of the negative things he heard. As a freshman, he'd been a star, garnering interest from some of the area's top programs. And then suddenly, Hartman couldn't seem to do anything right.
"Maturity had to set in," Hartman says. "It really doesn't bother me what other people say about me or opinions because I know at the end of the day I control how I play and how hard I work. That's really what it comes down to, is who's willing to work the hardest? That's never been a problem with me.
"I really don't pay attention to the rankings because they don't really mean anything to me. It's what it is. People can talk, people can say what they want. It takes a lot more of a person to say it to somebody's face then to put it on the internet or put it online or blog it or whatever."
Filed to: