2012-2013 Big Ten Preview: Five impact freshmen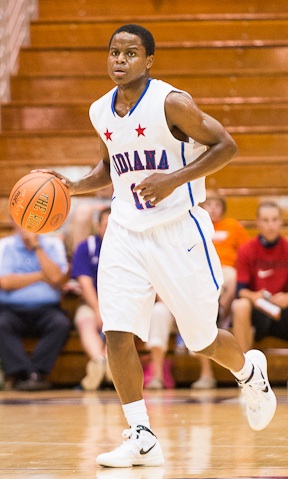 With the start of the fall semester underway and less than five weeks until the official start of practice, it's time to begin looking ahead to the 2012-2013 season.
We continue our Big Ten preview with a look at the five freshmen, listed in no particular order, who could make the biggest impact next season.
Gary Harris, Michigan State, Guard — The frontcourt in East Lansing may regress following the departure of Draymond Green, but the backcourt will receive a significant boost with the arrival of Harris, the highest rated incoming Big Ten recruit according to the RSCI rankings. The Hamilton Southeastern product, who was named Indiana's Mr. Basketball last spring, has the physique to compete right away against the Big Ten's most physical guards. He's also stepping into a position that was vacated following the graduation of Brandon Wood, which should allow for major minutes right away. Tom Izzo is historically tough on freshmen, but he showed little hesitation in using Branden Dawson in a major role last season and the same should be true with Harris.
Adam Woodbury, Iowa, Center — While the Hawkeyes have two valuable pieces up front in Melsahn Basabe and Aaron White, they don't have a true center. Enter Woodbury, a 7-foot-1 Iowa native who chose Fran McCaffery's rebuilding project over several major programs, including North Carolina. Woodbury has a solid repertoire of moves around the basket, including a left-handed baby hook that can be difficult to block. There will certainly be an adjustment period for Woodbury once Big Ten play begins, but Iowa's weak non-conference schedule should give him plenty of confidence early.
Glenn Robinson III, Michigan, Forward — John Beilein loves to play undersized guys at the four and that's exactly where Robinson could be slotted in this winter. Following his commitment to Michigan, Robinson went from a borderline top 100 guy to a consensus top 25 player over the course of two years. At 6-foot-6, he can play and guard multiple positions and will be one of the most athletic players in the conference right away. While he's not a great outside shooter, his midrange game has improved and with Trey Burke seeking him out in halfcourt sets, Robinson should have plenty of opportunities to score. Like Harris at Michigan State, Robinson is entering a situation at Michigan where minutes will be available following the graduation of Zack Novak and the transfer of Evan Smotrycz to Maryland.
Yogi Ferrell, Indiana, Guard — Tom Crean said on Thursday night that he "wouldn't put in a Sharpie pen just yet," but the Hoosiers will probably start a freshman this season. That freshman will likely be Ferrell, who arrives in Bloomington after leading Park Tudor to consecutive Class 2A state titles at Park Tudor in Indianapolis. The fact that Ferrell could supplant one of the starters who helped Indiana win two NCAA Tournament games last March speaks to the value he could have as the lead facilitator on a team expected to compete for a national championship. Ferrell can thrive as both a shoot-first or pass-first point guard, but he should wear the latter hat this season. Crean acknowledged in his IU Auditorium speech that Ferrell will need to adjust to playing man-to-man defense after playing almost exclusively zone in high school, but once he figures it out, he should quickly become one of the Big Ten's best point guards.
Sam Dekker, Wisconsin, Forward — The departure of Jordan Taylor is a significant loss for the Badgers, but the arrival of Dekker could certainly help ease the blow despite the vast differences in their game. When Wisconsin needed a play over the last two seasons, Taylor was the guy who typically stepped up to make it. Dekker could instantly be thrust into that role and even thrive in it as a freshman. The 6-foot-8 forward is no stranger to making big plays as he led Sheboygan Lutheran to a Wisconsin Division 5 championship by scoring 40 points, including a game-winning 3-pointer with four seconds remaining. While Dekker won't be able to account for many of the intangibles the more seasoned Taylor brought to the Badgers, his ability to score from everywhere is valuable on a team built mostly around role players.
More Big Ten preview content:
· Top non-conference games
· Top players: 1-5, 6-10, 11-15, 16-20, 21-25
Filed to: 2012-2013 Big Ten preview, Yogi Ferrell