Spring Scouting: Collin Hartman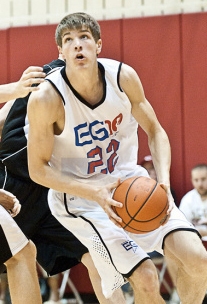 Inside the Hall continues its series of scouting notes from the spring AAU circuit today with 2013 Indiana commitment Collin Hartman.
(Previously: James Blackmon Jr., Trey Lyles, Mark Donnal, Jaquan Lyle, Hanner Perea, Devin Davis Jr.)
After watching the 2013 Cathedral and Eric Gordon All-Stars forward at a variety of events this spring, here are our thoughts on the 6-foot-7, 200-pound Hartman:
— Versatility: Hartman is a player with the ability to contribute to almost every area of the game. His solid ball-handling ability allows him to bring the ball up the floor and play a point forward type role in certain situations. Offensively, Hartman can score down low against undersized defenders. He's also a smart passer who can attack the defense off the bounce and find teammates on the move for open shots. Hartman is also a solid rebounder who isn't afraid to mix it up down low against bigger, stronger opponents.
— Shooting ability: Hartman is a respectable shooter from deep — though streaky at times — who can stretch the defense with his ability to knock down shots past the 3-point line. He moves well off screens and works hard to get open shots on the perimeter. One weapon that Hartman could add to his shooting arsenal is the ability to hit the pull-up, mid-range jumper which would make him more difficult to defend.
— Aggressiveness: A weakness of Hartman's has been his unselfishness. The rising junior is a good passer and willing distributor, but sometimes his deferring to others can be to his own detriment. He has the ability to score and make a big impact on games offensively, but he has a tendency to not be aggressive enough on offense. If Hartman can have an attacking mentality and look to score more often, he'll become a more productive and consistent player.
— Hartman on his role in AAU: "Just mix it up. Spot up when they (his teammates) drive or cut. Try to attack when I get the ball, rebound, play some defense and be vocal."
Watch our complete spring video collection of Hartman after the jump …
Filed to: Collin Hartman