Spring Scouting: Hanner Perea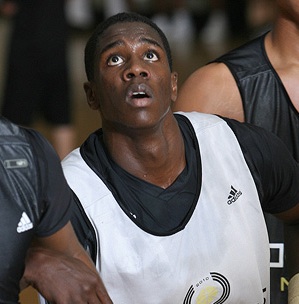 Inside the Hall continues our series of spring scouting reports this morning with 2012 commitment Hanner Perea.
(Previously: James Blackmon Jr., Trey Lyles, Mark Donnal, Jaquan Lyle)
After watching Indiana Elite games at the IndyBall.com Shootout, Spiece Run 'N Slam and the adidas May Classic as well as reviewing video of the Denver Double Pump, here are our thoughts on the 6-foot-8, 210-pound native of Colombia:
— Athleticism and finishing ability: From the first time we saw Perea play in the summer of 2009, it was clear that his athletic ability stood above nearly all of his peers. And with that athletic ability, the 2012 IU commitment has established himself as one of the top finishers in the country. It's not uncommon for video cameras to start rolling in warmups as Perea typically puts on a display of dunks (like this one) that will leave you scratching your head. After a game at the IndyBall.com Shootout in early April, Yogi Ferrell commented that he basically just had to "throw it up there" and Perea would grab the ball and finish. This is a pretty accurate representation of how things work with Perea as he can quickly turn what seems like an errant pass into a bucket.
— Improving defender: Perea is a solid shotblocker, but can get himself in foul trouble at times by leaving his feet on attempts where he'd be better served standing straight up. That said, his length coupled with his athleticism and quickness can make him a nightmare to score on in the paint. His upper body strength should allow him to step right into the paint and make a difference in a physical Big Ten. And as his instincts and understanding of the game continue to improve, he should be able to step out and effectively guard the perimeter from time-to-time.
— Developing offensive game: Besides scoring off of dunks and alley-oops, Perea gets the majority of his points via putbacks. He's been effective this spring on the offensive glass and for the most part, does a nice job of immediately going back up to finish plays after grabbing a rebound. He can, at times, fall in love with trying to make the spectacular play rather than the easy or fundamental play or simply lose concentration and drop a pass. One area of his game that's still lacking for Perea is a mid-range game from 7-to-12 feet. The touch on his shot is good from the foul line, but he rarely looks to score outside of the paint. While he might not be counted on to step out much in college, he'll certainly want to develop a reliable jump shot if he hopes to play in the NBA at 6-foot-8. Ball handling is another aspect of his game that Perea said he'd like to improve at the adidas May Classic.
— Transition and effort: Besides scoring on putbacks, Perea also runs the floor extremely well and is effective finishing on the fastbreak. But perhaps more important is the effort the Colombia native gives and his business-like demeanor on the court. No one can question how hard Perea plays and even as Indiana Elite's depth problems have taken their toll this spring, Perea hasn't let fatigue affect his production.
Watch our complete spring video collection of Perea after the jump …
Filed to: Hanner Perea