Spring Scouting: Trey Lyles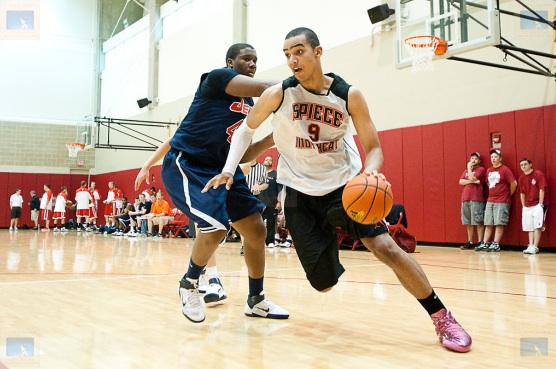 (Photo credit: Jamie Owens of J. Scott Sports)
Inside the Hall continues its first breakdown of IU's 2014 commits today with Indianapolis Tech and Spiece Indy Heat forward Trey Lyles.  After scouting five games at the Spiece Run 'N Slam and adidas May Classic, here are our thoughts on the 6-foot-8, 205-pound Lyles:
— Arsenal of moves: Most high school freshmen at Lyles's size are still adjusting to their bodies and often lack coordination. But the IU-bound freshman is a smooth player with an advanced game. Lyles can excel with his back to the basket, where he overpowers smaller defenders and finishes with either hand. He showed off a very difficult turnaround jump shot on several instances that he's still developing, but managed to knock it down a few times. He also possesses the capability to face up his defender and knock down shots all the way out to the 3-point line.
— Capable ball handler: This is one area where Lyles sets himself apart from other prospects at his size. While he was never put in a position to play the primary ball handler, he corralled several rebounds and started the fast break off the dribble. Lyles was also effective getting past defenders off the bounce (as shown in the photo above) from the perimeter.
— Solid defender: Lyles still needs to get stronger as a defender down low and that will come as his body continues to mature, but his length and instincts allow him to block a lot of shots without fouling. In one impressive sequence during a pool play game at Assembly Hall, Lyles made up significant ground as a trailer on a fast break and erased a shot that should have been a basket by his opponent.
— Lyles on what he needs to improve: "Probably just getting the mentality that I can score whenever I want, be more selfish, but I'm very much a team player. But sometimes I'm too much of a team player when it gets down to games where they really need me to score. I might be very passive at the beginning, but I need to work on being more selfish. Just playing against better competition and better guys will help me out a lot."
HD video of Lyles from the adidas May Classic after the jump …
Filed to: Trey Lyles