Spring Scouting: Devin Davis Jr.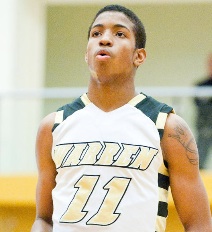 Inside the Hall continues its series of scouting notes from the spring AAU circuit today with 2013 Indiana commitment Devin Davis Jr.
(Previously: James Blackmon Jr., Trey Lyles, Mark Donnal, Jaquan Lyle, Hanner Perea)
After watching the 2013 Warren Central and Eric Gordon All-Stars product at a variety of events this spring, here are our thoughts on the 6-foot-6, 200-pound forward out of Indianapolis:
— High motor: Davis is a player who brings energy and effort to the court each time he plays a game. He hustles for loose balls and rebounds constantly and is relentless in his pursuit of second chance points on the offensive glass. Davis always plays with intensity regardless of the venue, pace or significance of the game.
— Length and athleticism: Davis possesses a wingspan of 7-feet and is a good athlete who can finish above the rim in traffic. These physical attributes allow him to play and rebound "bigger" than his height would suggest. Davis' length and athleticism also make him a formidable shot blocker.
— Smart passer: Not only is the 2013 forward a willing passer, but he's also a smart one. Davis knows when to make the pass and can find teammates both out of the post, off the dribble or in transition.
— Coast-to-coast finisher: Davis is a great rebounder and when mixed with his solid handle on the ball, he's a threat to grab a defensive rebound and take the ball the length of the court to finish. He has shown the ability to handle the ball well against pressure defense, as well as the ability to occasionally bring the ball up the court for his Eric Gordon AAU team.
— Undefined position: Davis has yet to clearly establish what his position will be at the collegiate level. He's not quite bulky or tall enough to be a four, nor does he have the polish to play on the wing full time. Assuming he doesn't grow any more, Davis' future could be on the perimeter. He's already a capable ball handler, but needs to continue to get better in that department and also improve his jump shot. If Davis's future is at the four, he'll have to add some bulk and work on his back to the basket scoring.
— AAU coach Matt Green on Davis: "Right now he's one of those guys that can get you those extra hustle plays. He's really good on the boards, a high-energy guy, a hard worker. He just brings another dimension to IU basketball that's not there right now."
Watch our complete spring video collection of Davis Jr. after the jump …
Filed to: Devin Davis