Spring Scouting: Jaquan Lyle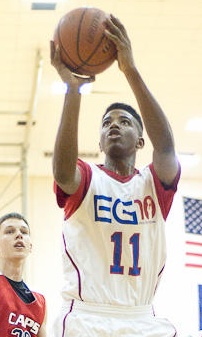 Inside the Hall continues its first breakdown of IU's 2014 targets today with Evansville Bosse and Eric Gordon All-Stars Guard Jaquan Lyle. At last weekend's State AAU Tournament, Lyle joined forces with the 2014 Derrick Rose Best Choice team, as his Eric Gordon squad was taking a weekend off.
Inside the Hall was in attendance for two of Lyle's games and here are some of our thoughts from the weekend:
— Willing and talented passer: To an unaware observer, Lyle didn't look like a new addition to the Derrick Rose Best Choice team. The 6-foot-4 freshman distributed the ball and played an unselfish style with a brand new set of teammates. Lyle knows how and when to find teammates, whether they're cutting to the basket, moving off of screens for a jump shot or running the break for easy baskets. He can pass using the dribble, at a standstill or out of the post as he backs down his man. No matter the method, Lyle is an effective passer who creates easy scoring opportunities with great vision and crafty passing.
— Ability to penetrate: Lyle has a keen ability to get to the rim and can make it look easy. He has a tight, crisp handle on the ball and uses a good first step to get by defenders and into the lane. Once in the lane, Lyle can finish at the rim, get to the line or dish the ball out to an open teammate when help defense collapses on him.
— Above average length and athleticism: Lyle appears to have improved his bounce over the past 4-6 weeks as he now appears more confident in his ability to make plays above the rim.  As Lyle continues to work on his strength and agility, his athleticism should only improve. Lyle's length also gives him an advantage on the defensive end where he can pester opponents and play the passing lanes for potential steals.
— Still growing?: While we certainly aren't doctors, it isn't out of the question to consider that Lyle could add a few more inches to his 6-foot-4, 187 pound frame. Just a year ago Lyle stood 5-foot-10, and having just turned 15 in February, there is reason to believe he could squeeze out another inch or two.
— Shooting consistency needs improvement: If there is one real weakness in Lyle's game it is his inconsistency shooting from the perimeter. Lyle has the ability to knock down jump shots, but is also very streaky. Improving his overall shooting consistency would make the freshman guard that much harder to defend and that much more potent offensively.
New video of Lyle from the State AAU Tournament after the jump …
Filed to: Jaquan Lyle