Spring Scouting: James Blackmon Jr.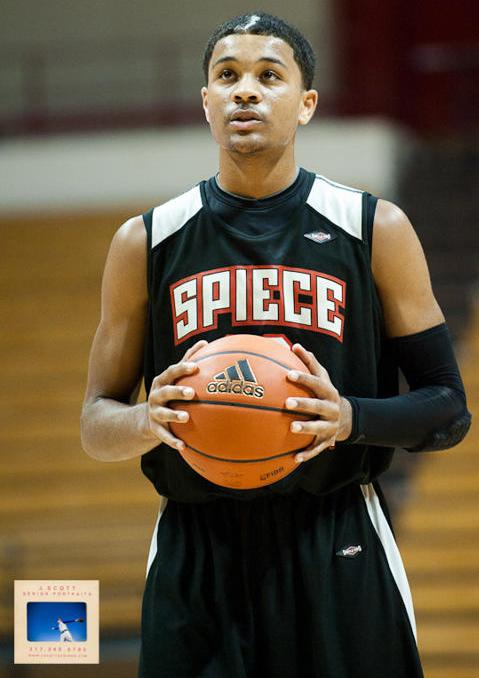 (Photo credit: Jamie Owens of J. Scott Sports)
Much of Inside the Hall's focus over the past two weekends at the Spiece Run 'N Slam and adidas May Classic has been on Indiana's two commitments for the class of 2014, James Blackmon Jr. and Trey Lyles.
It was our first in-person look at both prospects. After scouting five games, here are our thoughts on the 6-foot-1, 175-pound Blackmon Jr.:
— Wired to score: Blackmon Jr. is aggressive both from the perimeter and attacking the basket. In four of the five games we watched, the talented freshman wasted no time looking for his shot inside of the offense. Although he took his share of shots, there were few that were forced and he shot a very high percentage. He's capable of connecting from well beyond the 3-point line, has an efficient release and nice mechanics.
— Off the pick: One thing that Blackmon Jr. does well is use screens near the top of the key. Once he comes off a screen on the dribble, he doesn't need much room get his shot off and is nearly as good shooting off the dribble as he is off the catch. This should bode well for what Tom Crean is looking to do with his future teams at Indiana.
— Capable distributor: In a pool play game against The Family at the Spiece Run 'N Slam, Blackmon Jr. got on an early run from the perimeter and the defense adjusted to slow him down. The 15-year-old quickly shifted his focus to facilitator and looked for open teammates in the lane off the drive. He's currently playing more of a two-guard role with Spiece Indy Heat, but he's capable of filling in at the point when needed.
— Student of the game: One common theme with Blackmon Jr. and Lyles is that both players have been taught the nuances of basketball from an early age. Blackmon Jr. rarely looks to make a flashy play, but instead makes fundamentally sound decisions.
— Athleticism and strength: These are the two areas where Blackmon Jr. is still developing. He's an above average athlete, but doesn't possess a "blow by" first step. It doesn't seem to affect his game at this point because he's talented and intelligent enough to find openings and score. Strength wise, his upper body is still developing, but he's got plenty of time to bulk up and playing up a year in AAU should only help him.
— In his own words: "I'm just trying to get quicker and stronger. I already know how it's going to be next year. It was a good test for me my freshman year, so I just want to come back even better sophomore year."
HD video of Blackmon Jr. from the adidas May Classic after the jump …
Filed to: James Blackmon Jr.