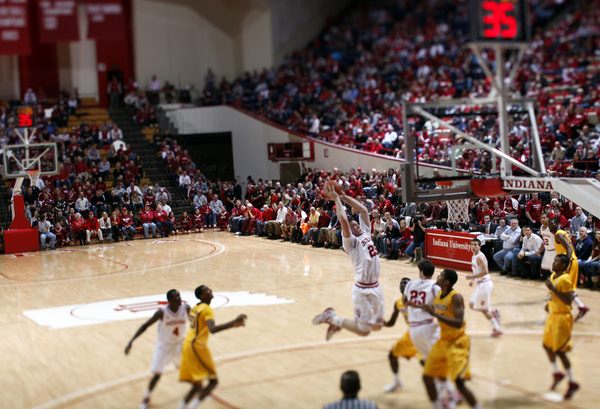 (Photo via Peter Stevenson on TwitPic)

Welcome to "That's A Wrap," our attempt to make some sense of the 2010-11 season. Sit back. Relax. Grab some popcorn. Get your read on. Today: Tom Pritchard.

Final Stats (31 games): 2.5 ppg, 3.8 rpg, 0.7 apg, 59.0% FG, 34.8% FT in 18.2 minutes per game

So is it me, or was Tom Pritchard one of the most quietly impressive Hoosiers on the court this season?

Granted, his offensive game was just as stop-and-go (putting it lightly) as ever. But Pritchard was quite possibly Indiana's most improved and most consistent defender, and a significant minority of fouls he committed this season were in covering for a teammate that had lost his mark.

We also started seeing some of the Pritchard that Tom Crean and other Hoosiers have talked about – the one with strong footwork, underrated athleticism and some actual swagger around the rim.

This rather emphatic, ridiculously surprising putback dunk not withstanding, when Pritchard was assertive and aggressive on the offensive end, his teammates fed off that energy more clearly and efficiently than perhaps anyone else on the team.

Looking back, it's probably fair to say that, in a sense, Pritchard came out of his shell a little bit, and began to define the final product he'll become. Though it's hard to picture him becoming a scoring force in his senior season, it's certainly not beyond even the adventurous imagination to see him put up nicely improved numbers next year. And as his strength has improved, so has his rebounding, a significant need for Indiana next season as well.

All of this swells up to create the potential for Pritchard to play a critical role on the 2011-12 Indiana basketball team: foil to Cody Zeller.